Claire Marie Diamond and Stoneledge Special Request Shine at USHJA Pony Hunter Derby Championship – West
San Juan Capistrano, Calif.—June 28, 2022—Ponies took to the stage at the Blenheim June Classic III for the 2022 USHJA Pony Hunter Derby Championship – West on Saturday, June 25. Shining bright and leading the victory gallop was Claire Marie Diamond aboard her own Stoneledge Special Request, boasting a two-round score of 168.75. Finishing close behind the leaders was Kathryn Padilla and Buzzworthy, followed by Kalea Iuliano and So Dapper.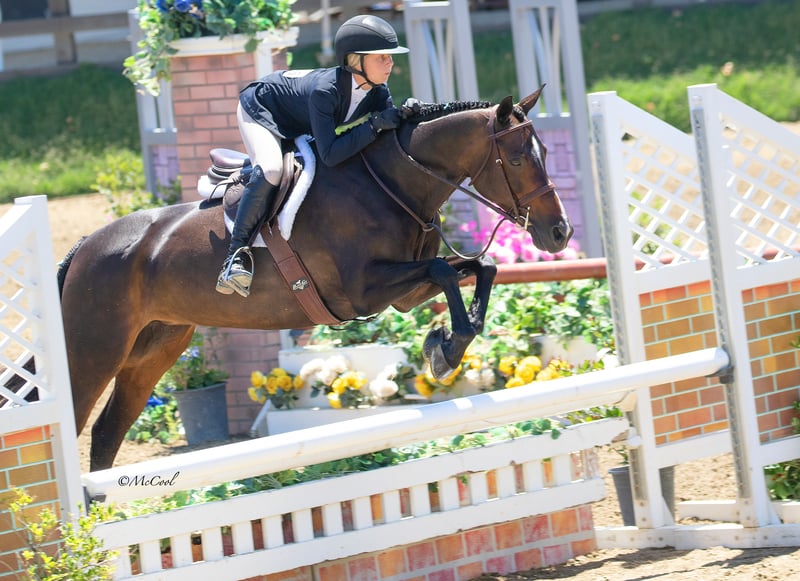 Thirty-two ponies took to Scott Starnes' first-round course at Rancho Mission Viejo Riding Park, and the top 12 were called to return for the second course. No strangers to the USHJA Pony Hunter Derby Championships after finishing tenth in 2021, Diamond, of Sandy, Utah, and Stoneledge Special Request stepped into the ring for the Classic Hunter Round and made an impression. The pair earned an 86.25 that put them well into the lead heading into the Handy Hunter Round and garnered them the High Score Award for the Large Pony section. They maintained their spot on top of the leaderboard through the Handy course, adding an 82.50 to secure the win.
"I usually do get really nervous, but after a really hard week in the [Blenheim West Coast] Pony Challenge the previous two days, I wasn't really expecting much so I wasn't very nervous going into my first round. My second round, I was really calm at first. Warming up I was fine, and then when I walked up to the gate I got really nervous right when I was about to go in," said Diamond.
"I've had 'Bam Bam' for about three years now," she continued. "It's been such a fun experience getting to learn and grow with her. She has made a huge impact on my riding career. She is definitely not the fanciest pony at the ring, but she has the biggest heart!"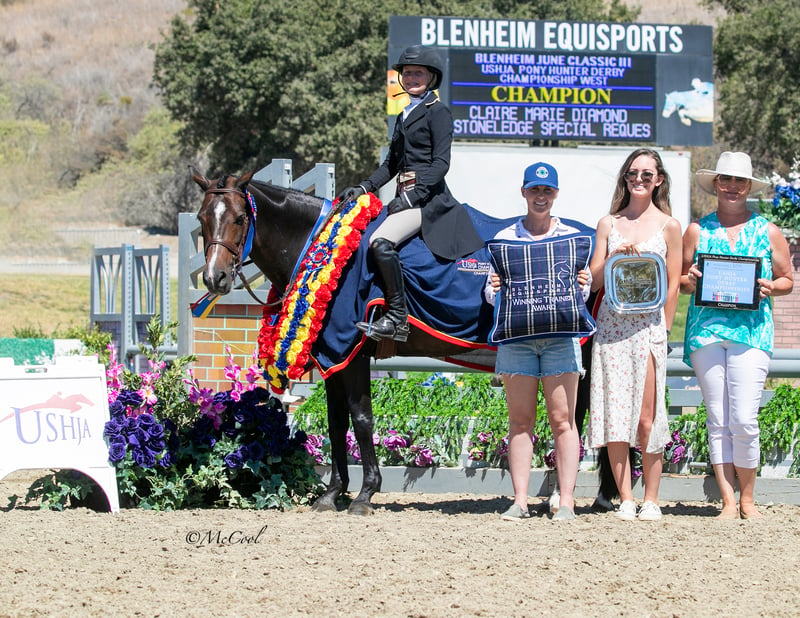 Padilla, of Palos Verdes Peninsula, California, sat tied for second with Iuliano before taking to the second course. Padillia's mount, Buzzworthy, owned by Highland Farm, LLC, is also a veteran Pony Hunter Derby Championship competition, having taken fifth in 2020 and fourth in 2021 with Lauren Padilla. The seasoned mount and his rider added an 83.25, the highest score of the second round and the High Score Award for the Small Pony section, to their first-round score of 83.50 to break the tie and finish as reserve champions.
Iuliano, of Santa Cruz, California, and her own So Dapper rounded out the top three with a 79 in the Handy and a 162.50 overall.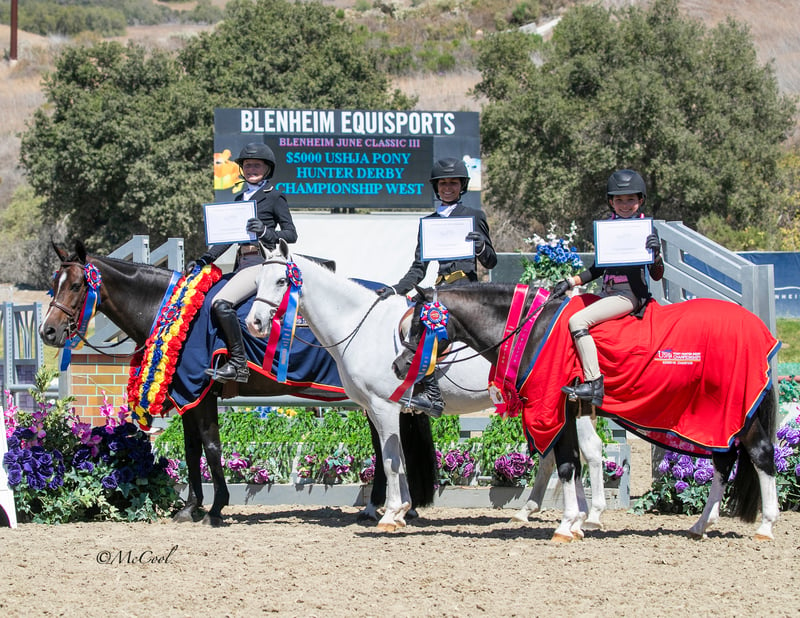 Receiving the High Score Award in the Medium Pony section was Madeline Luddy, of Bend, Oregon, on her own Northwind Just Josh'n. Finishing in fourth overall, the pair's 81.25 in the first round earned the honor.
The USHJA Pony Hunter Derby offers Juniors the opportunity to compete ponies in a series modeled after the International and National Hunter Derby programs. Competitors can earn National and Zone Horse of The Year bonus points, year-end series awards, and qualify to compete in either the East Coast or West Coast Championships.
The USHJA Pony Hunter Derby Championships feature two rounds—a Classic Hunter style course and a Handy Hunter course. Fence heights are adjusted by size (small - 2'3", medium - 2'6", and large 2'9"-3'0"), but the class is not split by size. Each derby is pinned through 12th place. The USHJA Pony Hunter Derby Championship - East will be held July 27-31 during Equifest I at Lamplight Equestrian Center in Wayne, Illinois.
The USHJA sends special thanks to the entire Blenheim Equisports team for hosting the Championship; to Official Sponsors Exhibitor's, CWD, Nutrena, Parlanti and Rood & Riddle Equine Hospital; and to Award Sponsors Essex Classics and Boy-O-Boy Bridleworks.
For more information about the USHJA Pony Hunter Derby, visit ushja.org/PonyHunterDerby.
Photos by McCool Photography

USHJA Pony Hunter Derby Championship – West Results
Horse | Rider | Owner
Round 1 Avg. | Round 2 Avg. | Final Score
1. Stoneledge Special Request | Claire Marie Diamond | Claire Marie Diamond
86.25 | 82.50 | 168.75
2. Buzzworthy | Kathryn Padilla | Highland Farm, LLC
83.50 | 83.25 | 166.75
3. So Dapper | Kalea Iuliano | Kalea Iuliano
83.50 | 79 | 162.50
4. Northwind Just Josh'n | Madeline Luddy | Madeline Luddy
81.25 | 80.50 | 161.75
5. Rollingwoods Knee Deep | Lauren Zarnegin | Peppermint Stables LLC
80 | 81.12 | 161.12
6. Secret Crush | Katalina Considine-Rickard | Having Fun Already, LLC
81.75 | 79 | 160.75
7. Patchwork Caramel Candy | Stella Rumanes | Liberty Lane Farms, Inc.
77 | 81.50 | 158.50
8. Farmore Good As Gold | Charli Prager | Linmar LLC
80.50 | 72.50 | 153
9. Mr. McGregor | Sienna Smith | Heid Kenny-Berman
76 | 72.5 | 148.50
10. Uno Momento | Katie Jun | Lexington Farms LLC
76.50 | 60 | 136.50
11. Elite Hollywood Smoke | Ripley Erlich | Katalina Considine-Rickard
78 | 50 | 128
12. Heavenly Patch Of Blue | Kathryn Padilla | Highland Farm, LLC
82 | 40 | 122