Zone 10 Photo Highlight: Skylar Wireman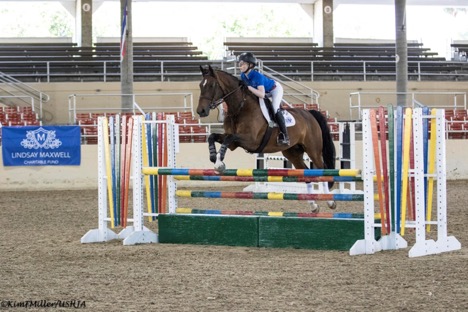 Skylar (Shayne Wireman and Lisa Halterman, trainers) riding in the Lindsay Maxwell Charitable Fund/USHJA Emerging Athletes Program Regional Sessionat the Los Angeles Equestrian Center. Photo by Kim Miller.

As the daughter of a trainer, Skylar is used to spending all of her time at the barn. The junior rider is a regular on the show circuit and is known as a fantastic catch rider. She competes in all three rings and has earned many hunter championships and top equitation ribbons. Skylar relishes the opportunity to learn as much as she can about the sport, which is what drew her to the Lindsay Maxwell Charitable Fund/USHJA Emerging Athletes Program (EAP).
"I participated in EAP last year and I loved it, so I applied again. I enjoy getting advice from many different trainers and riders. It helps me grow and learn how to be a better rider as well as a stable manager," Skylar shared. "I think programs like EAP are important because they teach young riders everything that goes on at the barn that the grooms usually take care of and they learn how hard all the work is. It also offers an opportunity to learn more about general stable management and different topics such as shoeing."
This year, Skylar attended the EAP Regional Session at the Los Angeles Equestrian Center with clinician Jim Wofford and stable manager Anne Thornbury.
"My biggest takeaway was the riding theory that Jim did every morning before we rode," Skylar said. "He explained what he would be doing with us that day, which helped me learn better and understand what we were working toward."
Skylar plans to put everything she's learned into practice for the rest of the show year.
"My goals are to compete in the USEF Talent Search Finals, move up to the 1.30M jumpers, and continue to compete in the USHJA International Hunter Derbies."
In addition, Skylar also will ride in several medal finals including the CPHA Junior, Maclay Regionals, USEF Hunt Seat Finals, WCE Medal Finals, PCHA 14 & Under, and CPHA Foundation Finals.
Note: After this interview, Skylar had a serious accident. Thankfully, she is expected to make a full recovery and is at home healing with her family and horses. We wish Skylar a speedy recovery and hope she is back in the saddle again soon!