Katey Barrett Photograph Collection
About the Collection
The Katey Barrett Collection features Show Jumping Hall of Famers, American Grand Prix Association year-end champions, Olympians, and other legendary horses and riders captured in Barrett's unique style.
Images in the collection date from the early 1970s through the early 2000s, all captured on film. The collection includes more than 1,000 film negatives, slides, and prints from major horse shows in California and at Spruce Meadows, as well as the 1982 World Cup Finals in Gothenberg, Sweden, and 1992 World Cup Finals in Del Mar, and from her pro bono publicity shots at the Wild Horse Sanctuary in Shingletown, California.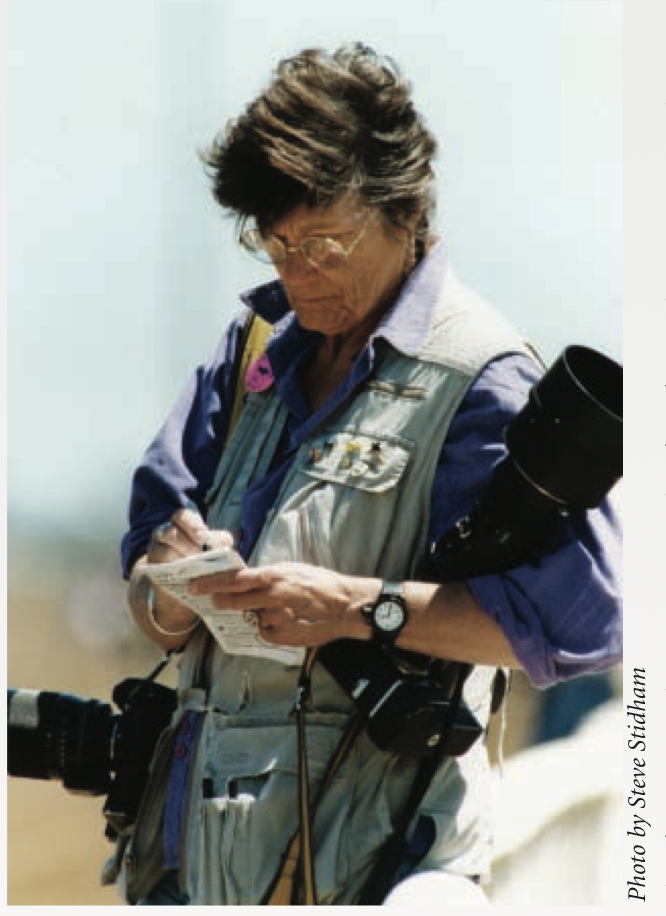 Barrett's work portrays the artistry, athleticism, and intensity of show jumping. Her black-and-white and color images are extraordinary in their display of light, movement, and perspective, capturing details and expressions that offer a special view of equestrian athletes in action.
Barrett's photographs offer a sense of movement through space even if the horse is standing still. Barrett's unique vision is not just how she sees through the lens, but how she sees horses.
"There's a depth and a soul to some horses. You'll look at them, and they'll look at you and they're talking to you with their eyes."
The key to Barrett's work is her fascination with lighting. As with riding itself, Barrett's photographic style is rich with feeling: "I was out there looking at the lighting and background and angle and all kinds of different things. I saw a moment—shot it. There's no way to explain seeing a moment and reacting. There's just something about everything coming together."
About Katey Barrett
Born in 1930, Katey Barrett grew up in Hibbing, Minnesota, where her grandfather had at one time owned a livery stable. Her own deep connection with horses started around age seven, when she had her first ride on a Saddlebred named Blackie. Standardbreds at the nearby fairgrounds gave her a chance to see horses up close and get to know their personalities. She became hooked on racing and found ways to ride.
Barrett had many interests as a teenager but music was her focus through college. While wondering what career to pursue after graduation, a touring company production of the musical The Pajama Game caught her attention and gave her a path: "I was going to be in show biz."
After some experience in Hollywood acting in movies and television in the 1960s, she became interested in production and directing. Although she did some experimental stage directing, her ultimate goal was to do film: "I got to thinking if I had an opportunity to do film, I needed to know something about a camera. So, I bought a 'cheapie' at Sears and started working with the actor friends, shooting their portraits." Some of these actors rode and owned eventers and show jumpers, so they soon asked her to photograph their horses.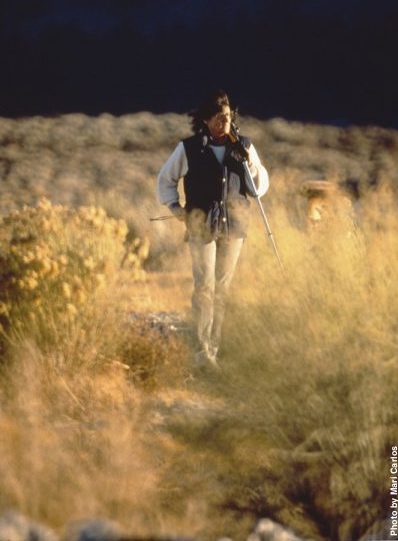 Barrett experimented with equipment and technique. Her signature lens was a 600 mm mirror lens, which produces what she calls "bloppies." The subject is in focus but everything in front of and behind it is out of focus.
"I looked at things as though I was setting up a scene like a director or cinematographer. So, everything that I was shooting was very different from what the horse show photographer was shooting."
Some of Katey's other signature photos are slow-shutter shots, which play with light and produce streaks. Barrett used her camera like she was painting, using brush on a canvas.
In 1977 Barrett was introduced to the Santa Anita racetrack. She became the track's most recognized and sought-after photographer. Her racing photos outnumber her hunter/jumper photos and have appeared in all the major racing publications. In December 2014, the Keeneland Library acquired Barrett's entire racing collection.
Barrett's photographs have appeared in private collections; as publicity materials for Spruce Meadows and the 1984 Los Angeles Olympics; and in the Chronicle of the Horse, Spur, EQUUS, Practical Horseman, Dressage Today, and HORSES. Barrett published The Light Touch in 1988, which brings together photos from the track, horse shows, the Wild Horse Sanctuary and private farms. It includes Show Jumping Hall of Famers and Olympians from across the globe.
Enjoy this preview of photographs from the Katey Barrett Collection
Dianne Grod and Bomalla Bobby (1972), Santa Barbara National Horse and Flower Show, Santa Barbara, CA
"I was experimenting with slow shutter and utilizing the light on that particular jump. I had only seen the streaking effect of slow-shutter shots of cars moving horizontally and was curious about the effect of a horse moving forward and up over a jump. I was quite pleased with the outcome and proceeded to pursue the slow-shutter concept."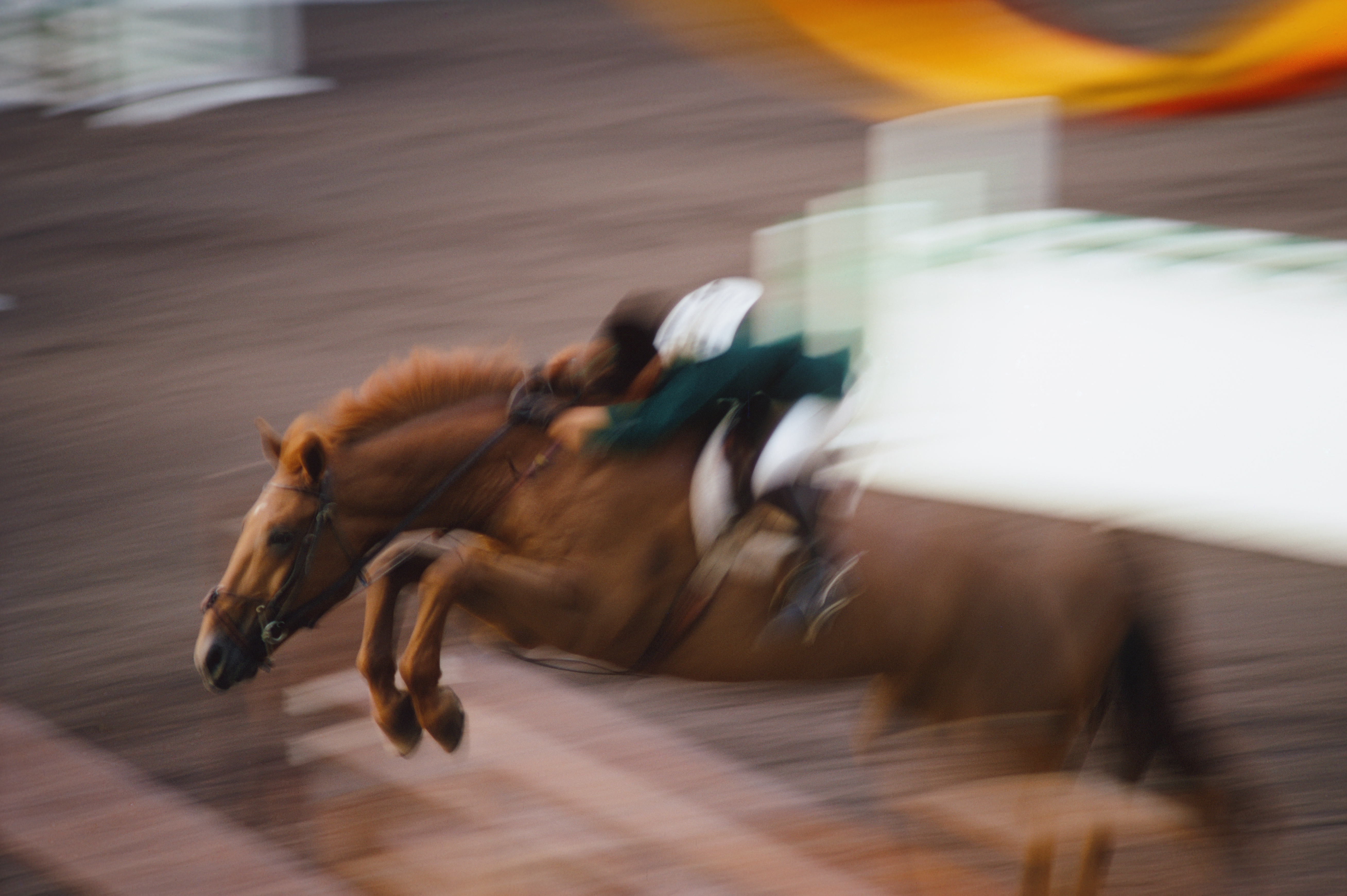 Anne Kursinski and Full House (1979), Spruce Meadows Masters Tournament, Calgary
"I always liked shooting at Spruce Meadows. I found the fence I liked with good lighting and great background for a mirror lens effect that created 'bloppies.' Anne was one of the American riders, so I wanted to get a good shot of her and Full House. It worked out well—Full House jumped a huge fence with flare!! And I got the shot I was looking for." Kursinski has been inducted into the Show Jumping Hall of Fame.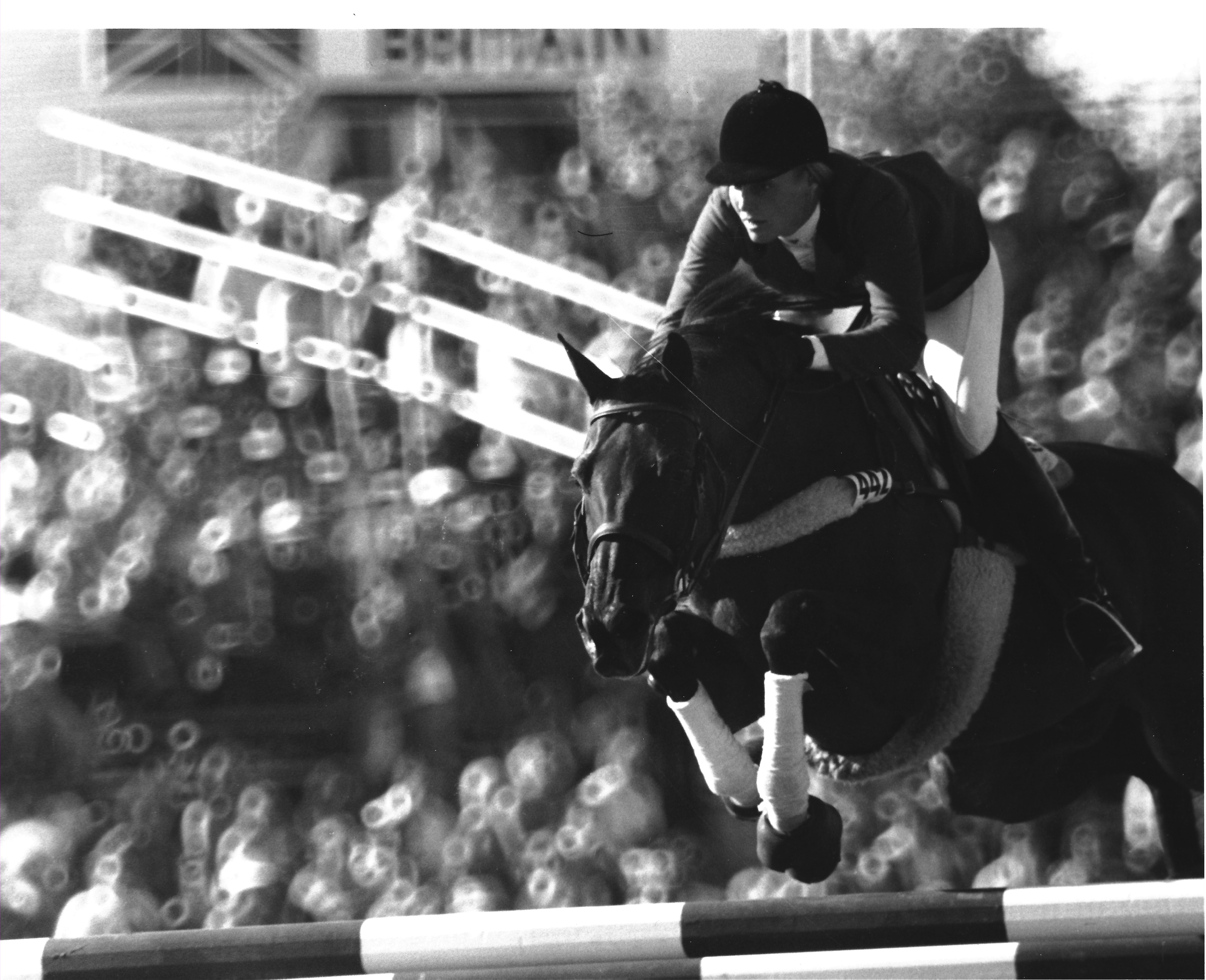 Hap Hansen on Going in Style (1981), Los Angeles Equestrian Center
"Going in Style lived up to his name as this image shows the horse reaching across the big jump. With the full crowd in the stands at the Los Angeles Equestrian Center and Hap a top rider from California, this was a perfect image to be picked for a pre-event publicity poster for the 1984 Los Angeles Olympics." Hansen has been inducted into the Show Jumping Hall of Fame.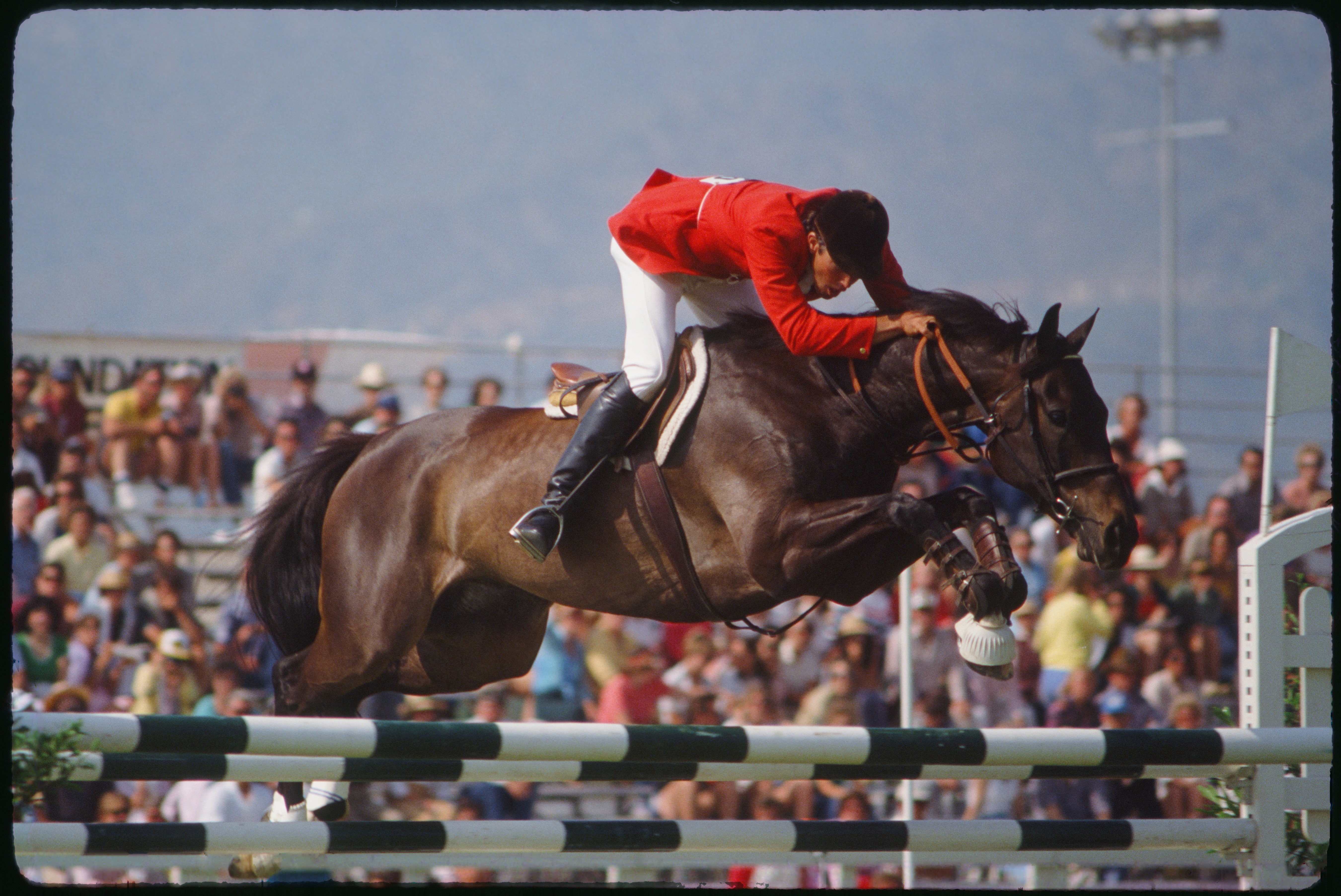 Linda Hough and Showdown (1980), Del Mar Horse Show, Del Mar, CA
"Showdown was a champion Conformation Hunter on both coasts. I knew Linda and knew how much she thought of him. I also knew Linda tended to look serious in the show ring. They had just won the Regular Conformation championship, and I was focusing on them leaving the ring when Linda cracked a smile—Bingo! Just what I wanted." Hough and Showdown have both been inducted into the National Show Hunter Hall of Fame.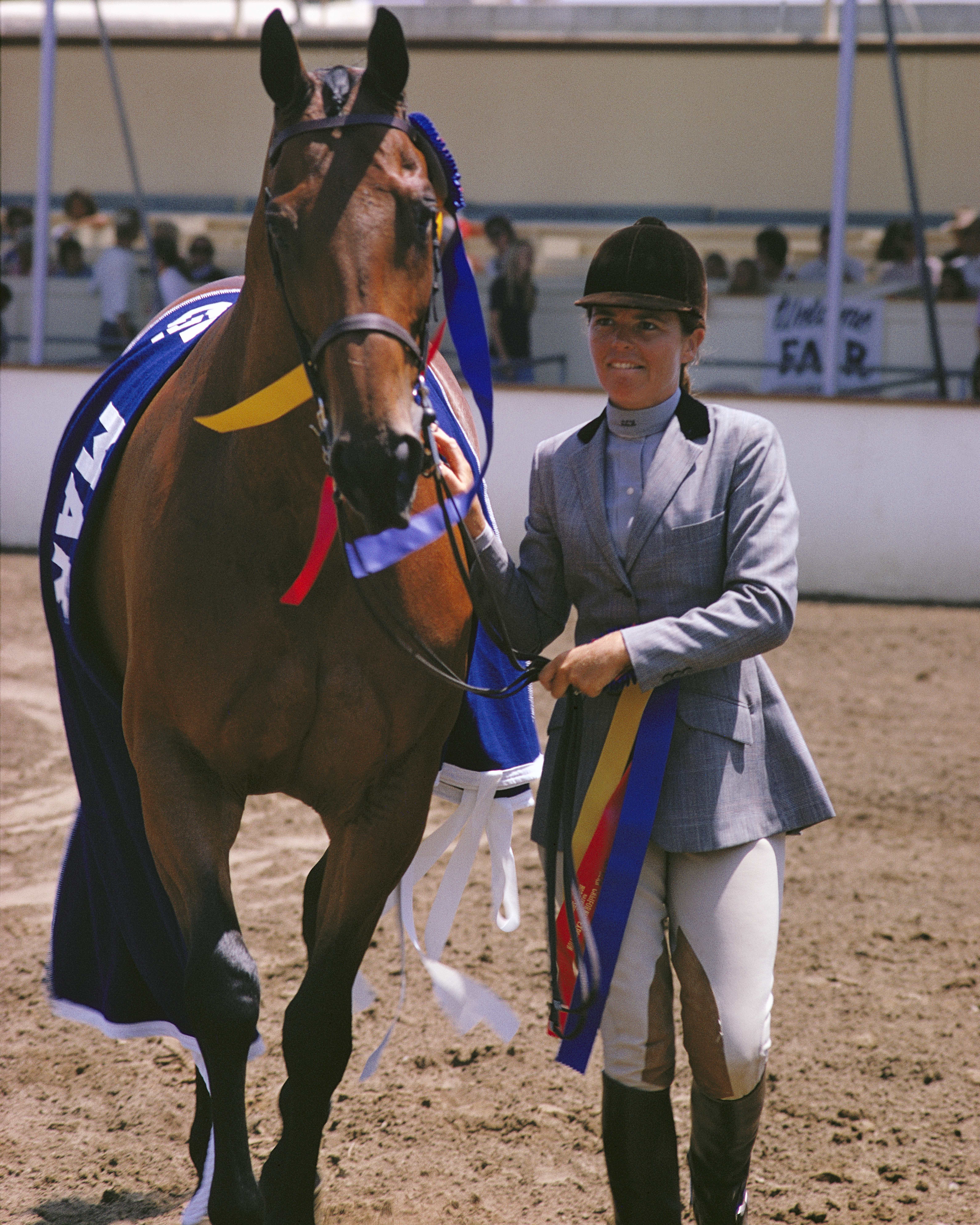 Margie Goldstein (Engle) on Saluut II (1992), World Cup Finals, Del Mar, CA
"The lighting was really tough at Del Mar—not a lot of sidelighting and backlighting, but I got this great shot of Margie focused on the track and Saluut looking right at me like 'shoot it.' Engle has been inducted into the Show Jumping Hall of Fame.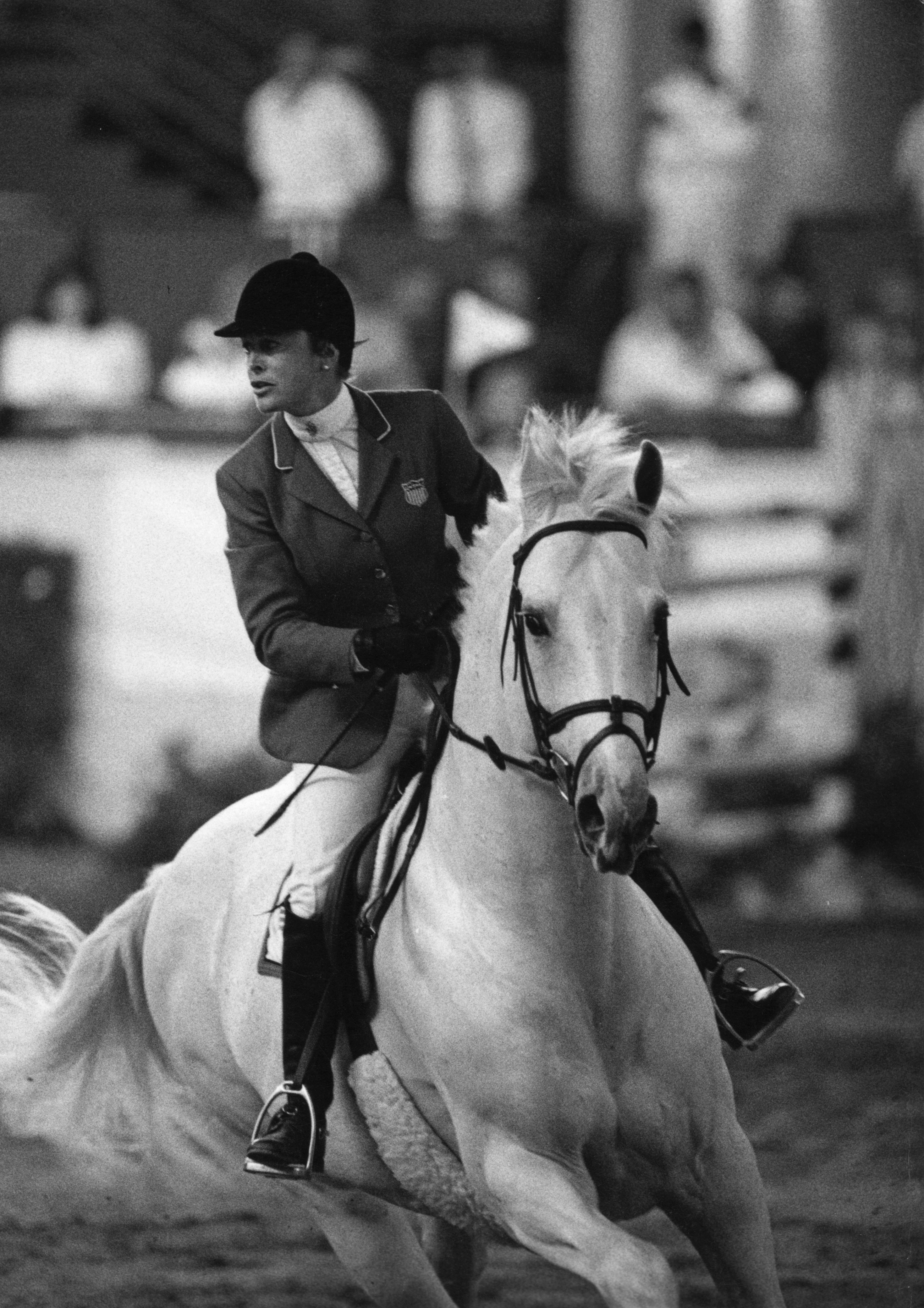 Melanie Smith (Taylor) and Calypso (1982), World Cup Finals, Gothenburg, Sweden
At the 1982 World Cup Finals, Melanie Smith (Taylor) and Calypso were the last to go and needed to go clean to win. Barrett waited at the gate where the light was better in the dark indoor venue and caught what is now an iconic victory shot. Taylor says this of Barrett's photos: "Pictures of special moments are what define your memories and Katey knew how to capture those special moments. I will always be grateful to her for sharing her immense instinctual talent. Her photos allow me to recall my wins so vividly." Taylor and Calypso have been inducted into the Show Jumping Hall of Fame.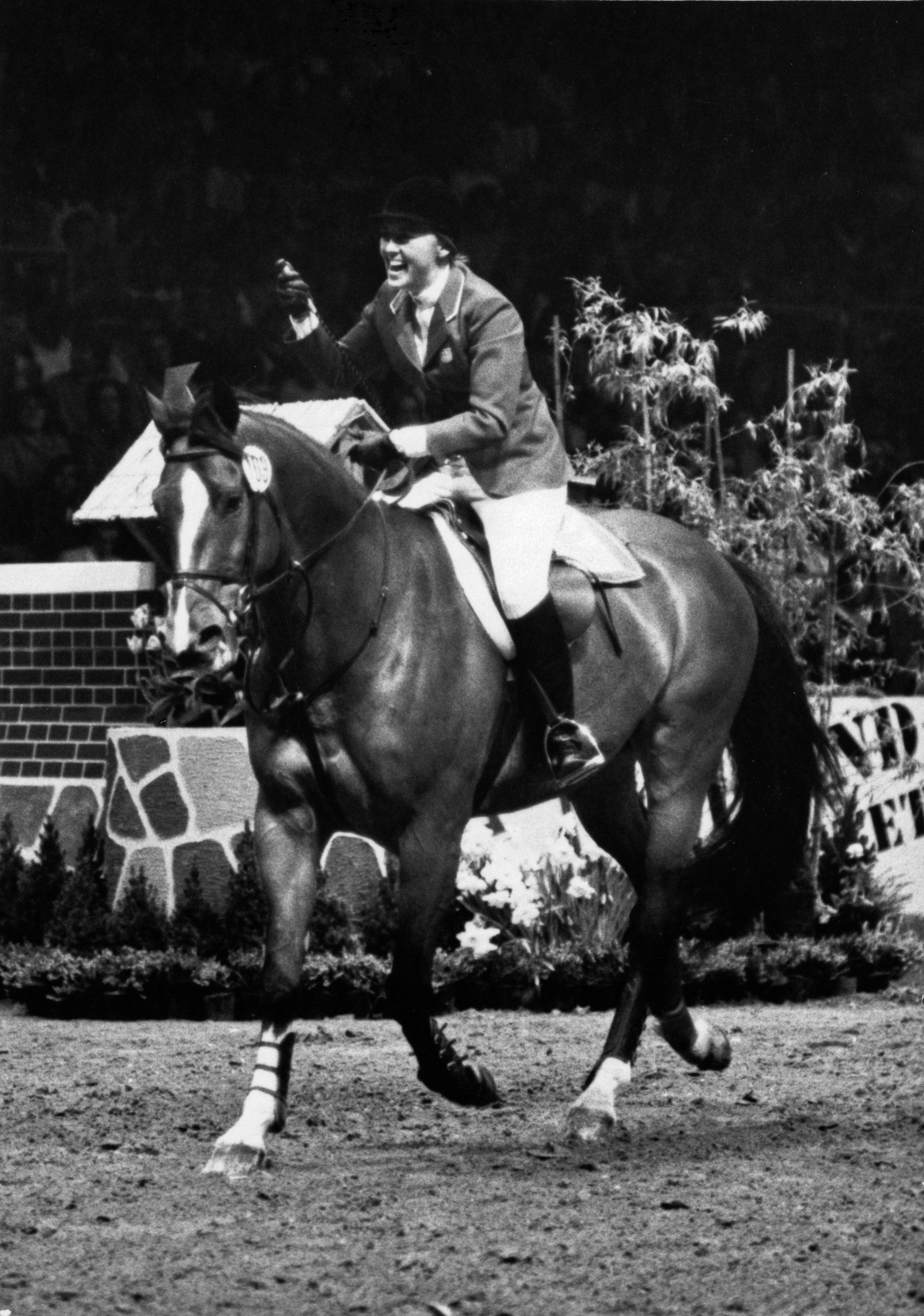 Pebbles and Whoops, Spanish Barb mare and foal (1999), Wild Horse Sanctuary
"I was making a living photographing horses, and I figured I really needed to give something back, especially with what's going on with the environment." Since 1984, Barrett has been supporting and supplying photographs of the herd at the Wild Horse Sanctuary in Shingletown, California. More recently she has similarly supported Old Friends Thoroughbred Retirement Farms in Lexington, Kentucky.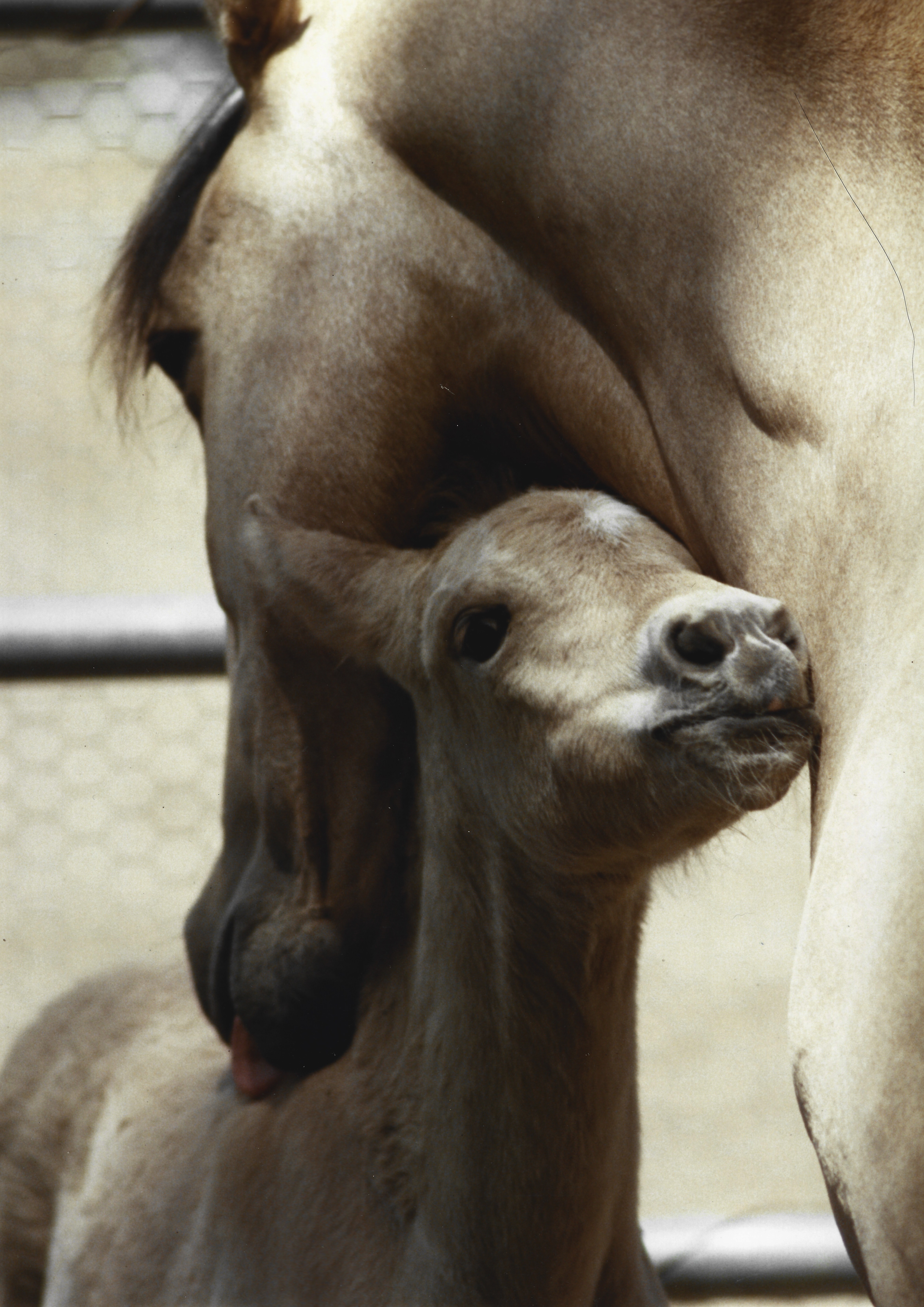 Visconti (c. 1976), shown by Mark Laskin, Del Mar, CA
With the mirror lens, Barrett's eye for detail and passion for the horses created beautiful portraits that also give a sense of motion.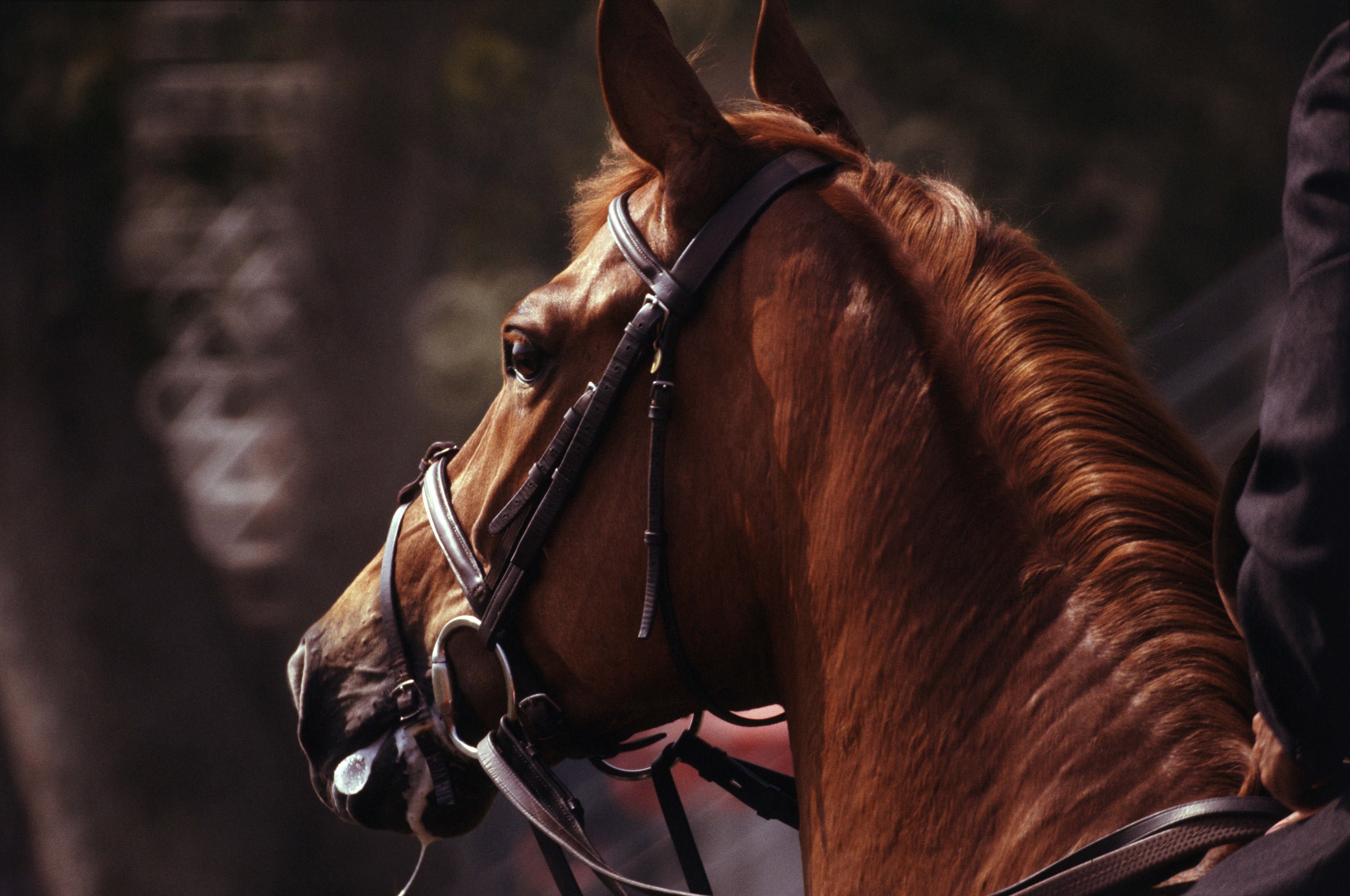 Rodney Jenkins and Idle Dice (1972), Los Angeles Grand Prix victory gallop
Barrett captured the excitement of the only Grand Prix held at the historic Rose Bowl. Jenkins and Idle Dice have both been inducted into the Show Jumping Hall of Fame.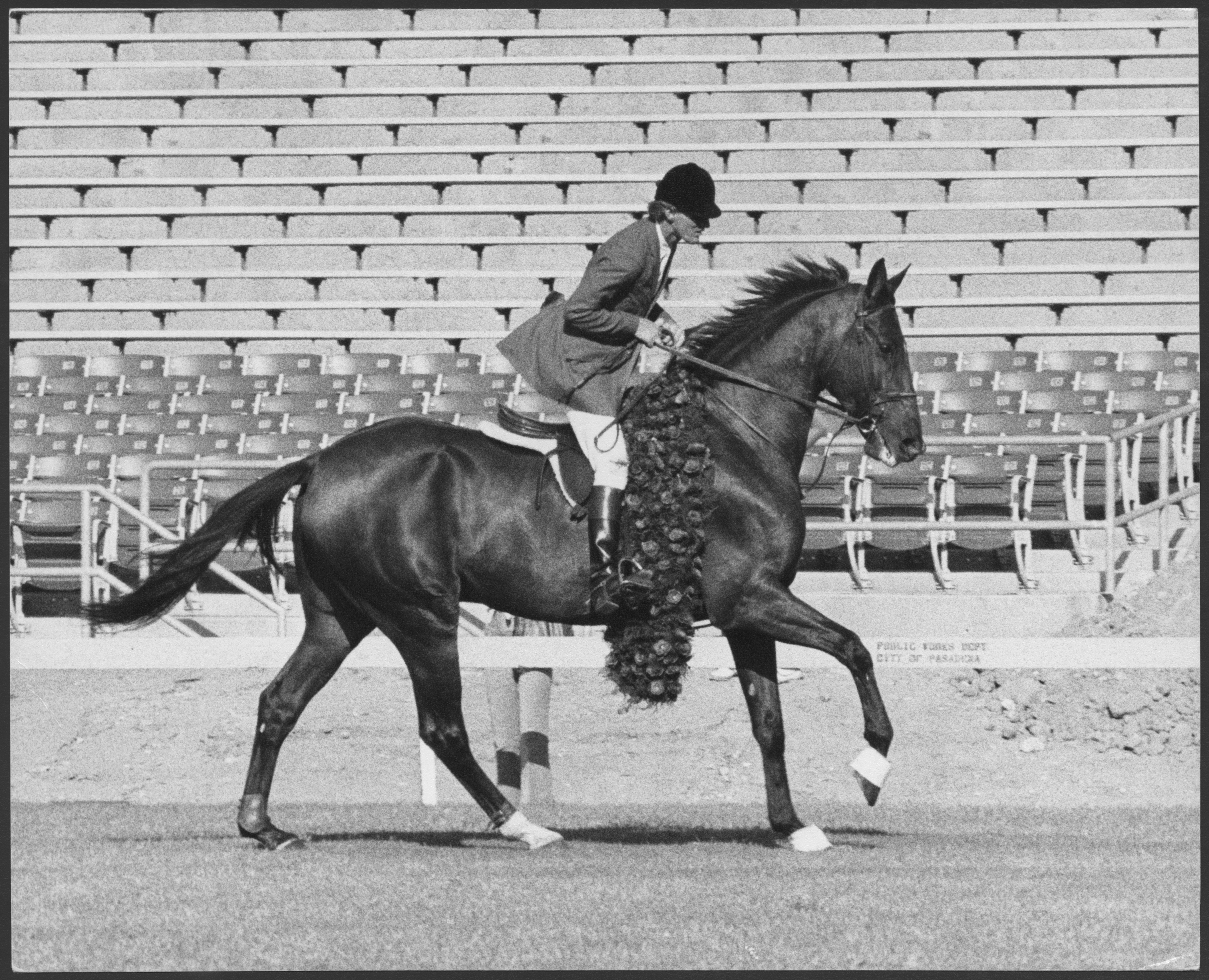 Thanks to the generous donors who made acquiring the Katey Barrett Collection possible!
Victoria Linden, Pat & Jim Warren, Linda Irvine Smith, Fran Steinwedell, Janey Bennett, Carlene Blunt, Julie C. Bradley, Bucher Family Trust, Calabasas Saddlery, Mari Carlos, Lisa Carman, Rosalie & Frank De Marco, Equibest, Equestrian Enterprises, Elizabeth Gabler, Gail Gregson, Steven & Lisa Hankin, Robert Henwood, Vicki Hiatt, Linda Hough, John D. Kaufam, Sarah & Jon Kelly, Neil & Claudia Krupnik, Lucienne Lanson, M.D., Julie Lindberg, Andree M. Maccoll , Debbie & Ron McAnally, Mike Edrick Stables Inc., Ada Gates Patton, Elizabeth & David Petroske, PJB Marketing LLC, Kathryn Quirk, John Sadler, Robin Serfass, Cynthia Swanson, Stephanie Trewhitt, Sharon Stewart Wells