Zone 10 Spotlight: Ashlee Bond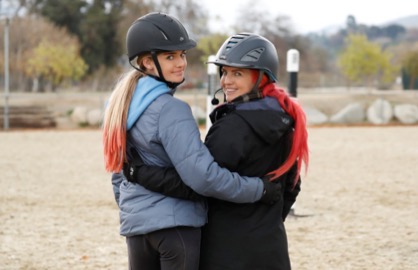 Ashlee Bond (right) shares her advice with clinic participants like Taylor Moore (left) at her clinic at the Hansen Dam Horse Park in early January. Photo by Kristin Lee Photography/LEG Up News.
Zone 10 native and professional rider Ashlee Bond has big plans for 2019 and they start with a packed show schedule.
"This year there are lots of changes to our schedule. In addition to doing the first three weeks of HITS Coachella, we'll be heading to the east coast for the Winter Equestrian Festival in Wellington, the HITS Ocala Winter Circuit, and the Nations Cup competition at Deeridge Farms. We're starting off a lot more aggressive than last year," Ashlee explained. "After heading back home and finishing the HITS Coachella circuit, we'll travel to Thunderbird and then to Europe for two months."
Ashlee hopes to build on the strong foundation she built in 2018.
"I felt like the horses progressed through the year and finished much stronger than they started. That's what I was most proud of last year," Ashlee shared. "I'm super excited about the horses I have this year. Obviously there is Chela and then some amazing up-and-coming young horses. We have some big competitions this year like Olympic qualifiers, Nations Cups, as well as the FEI European Championships in Rotterdam in August."
While Ashlee is busy training and showing six horses of her own, she took the time to start the new year off with a clinic at Hansen Dam Horse Park in Lake View Terrace, Calif.
"This is only the third clinic that I've done," Ashlee said. "Over the years, I had been approached to do clinics, but I never felt it was the right time in my career."
Ashlee enjoys the reward of sharing her knowledge with others.
"I remember Richard Spooner said that the younger generation should be riding and the older generation should be teaching. Now that I'm in my 30s and not quite so young any more, I felt I had enough to offer to be worthy of a clinic," Ashlee admitted with a laugh. "I wish I could do more clinics, but they unfortunately take up a lot of time. I plan to do this clinic annually at Hansen Dam and then maybe a few more here and there."
The clinic received a lot of positive feedback from participants and auditors alike and Ashlee was pleased with the results.
"I think it's fun to see how the riders evolve through the weekend and I love watching them develop their riding skills," Ashlee said. "I felt it was a super productive clinic and I'm grateful to Hansen Dam Horse Park for hosting me. I thought they did a wonderful job with the footing and were all-around very professional. I was really happy to be there and am looking forward to coming back next year!"
When asked what advice she would give to young riders, Ashlee emphasized the importance of horsemanship knowledge and flatwork.
"I am very supportive of programs like the Emerging Athletes Program and the Horsemanship Quiz Challenge that encourage all-around horsemanship," she said. "I think it's important to develop your knowledge. One thing I find lacking in our sport right now is people who know how to get a horse properly broke and rideable. I think riders are often taught just how to jump and you don't see as many who can get the horses supple and rideable. One thing the top riders all have in common, like Kent and McLain for example, is this skill. It takes time to develop a partnership with a horse and it's all about developing a feel and not just being a puppet up there."
Ashlee's father, Steve Bond, was a western rider and she feels the experience and knowledge she learned from her father has helped her.
"My advice for young riders would be to ride in different disciplines like dressage, reining, and cutting to learn flatwork and also to gain a different perspective," Ashlee said. "Being a working student is also a great way to gain experience and knowledge. It's so important to be learning constantly every day from anyone that you can."