West Coast Crowns Champions in USHJA 3'3" Adult Jumping Seat Medal Final, EMO Insurance/USHJA 3'3" Jumping Seat Medal Final and USHJA 3'3" Hunter Seat Medal Final
San Juan Capistrano, Calif.—Sept. 27, 2023—Blenheim Equisports' International Jumping Festival played host to three USHJA Equitation finals on September 22-24. The USHJA 3'3'' Adult Jumping Seat Medal Final, EMO Insurance/USHJA 3'3'' Jumping Seat Medal Final and USHJA 3'3" Hunter Seat Medal Final crowned their West Coast champions after multiple rounds of competition.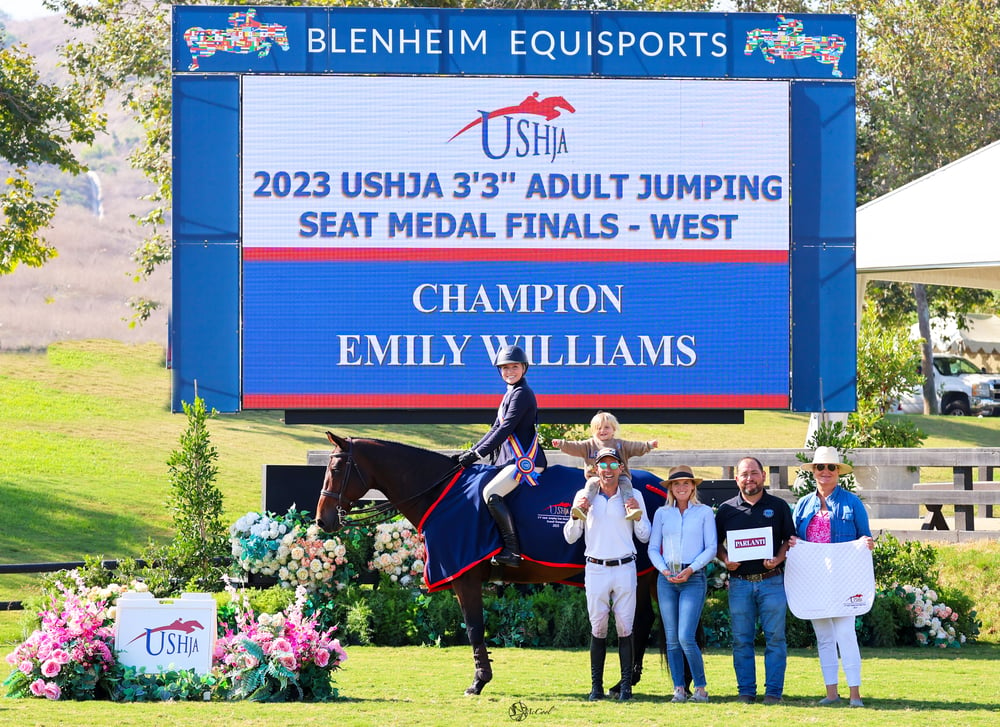 Emily Williams Wins USHJA 3'3'' Adult Jumping Seat Medal Final - West
Twelve Adult Amateur competitors contested the USHJA 3'3'' Adult Jumping Seat Medal Final - West, but after three rounds of competition and a work off, Emily Williams and longtime partner Carlo came out on top with an overall score of 384.5.
At the conclusion of the Final's second round, the Gymnastics Phase, Williams, of Canta Clarita, California, sat in first. Aboard her own Carlo, she garnered an 87 and second place in the Flat Phase, before moving to the top spot with an 89 in the Gymnastic Phase designed by Anthony D'Ambrosio. A fault-free Jumping Phase score of 82 from judges Bobbie Reber and Bob Crandall kept the pair on top overall with their combined score of 384.5, only half a point ahead of second-placed Caroline Ingalls.
Ingalls, of Rancho Santa Fe, California, and her own Big Country posted an 85 and an 86 in the first two phases. Another 85 in the Jumping Phase had the duo sitting behind Williams on a 384 total, close enough to warrant a work off. The additional round's shortened course secured the placings, with Williams collecting the winning tricolor.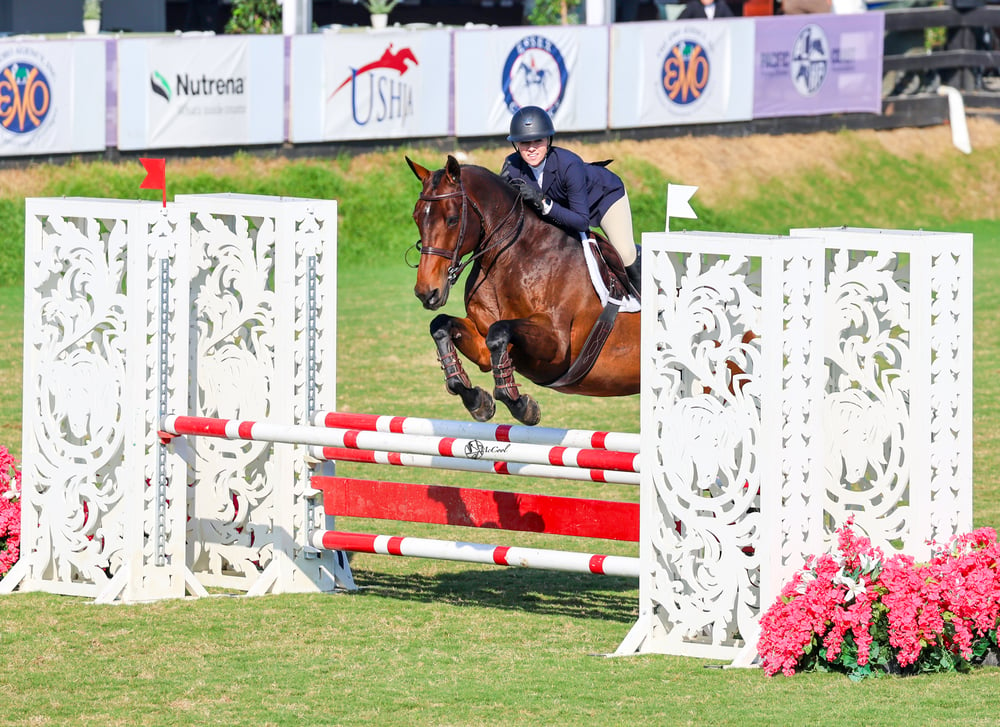 "Going into the work off, I was a little nervous. We were very, very close. I think we were 0.5 apart going in, so I came back second and watched Caroline," said Williams. "The time was very tight, so I saw that I had the opportunity to slip inside in a few places that she chose to go around, and I was able to shave off time doing that. I have a great partnership with my horse Carlo, and I just know him super, super well. So it was really an opportunity to shine and just trust him to follow me everywhere. There was a long gallop from jump five to 14. I just landed and I galloped, and I could see my distance super far away. I just had a lot of fun."
"This was my first time doing the Adult Jumping Seat Medal," she continued. "I did it as a junior twice with Carlo, and I really enjoyed the class. So I was really happy when they made the adult version. I love the opportunity to do gymnastics because it's not something you typically get to do unless you're doing the USET, so I just thought it was a really fun class."
Ingalls finished in reserve and her mount Big Country was named Best Equitation Horse. Kelsey King, of Kirkland, Washington, took third with her own Closing Time.
Anna Kotler Claims EMO Insurance/USHJA 3'3'' Jumping Seat Medal Final - West
Three rounds of EMO Insurance/USHJA 3'3'' Jumping Seat Medal Final - West competition, plus a work off, saw a shuffling of the leaderboard throughout two days. In the end, judges Reber and Bob Crandall awarded Anna Kotler, of Sammamish, Washington, and her own Gusti CK the top honors with an overall score of 389.25.
Kotler began her rise to the top in sixth place after earning an 83 in the Flat Phase, followed by an 85.5 in the Gymnastics Phase to move into third. An impressive 89 in the Jumping Phase moved her into second overall behind Kate Parker, of Laguna Beach, California, and her own Janus Union. Parker's three-round score of 390 edged out Kotler by two-thirds of a point, with Taryn McEntire, of Oceanside, California, not far behind with a 387.5.
As the top three, Kotler, Parker and McEntire moved onto a work off round. Based on the riders' execution of the shortened course designed by D'Ambrosio, the placings were rearranged one final time. Kotler emerged victorious, ahead of McEntire on Shayne Wireman's Constable in reserve and Parker in third.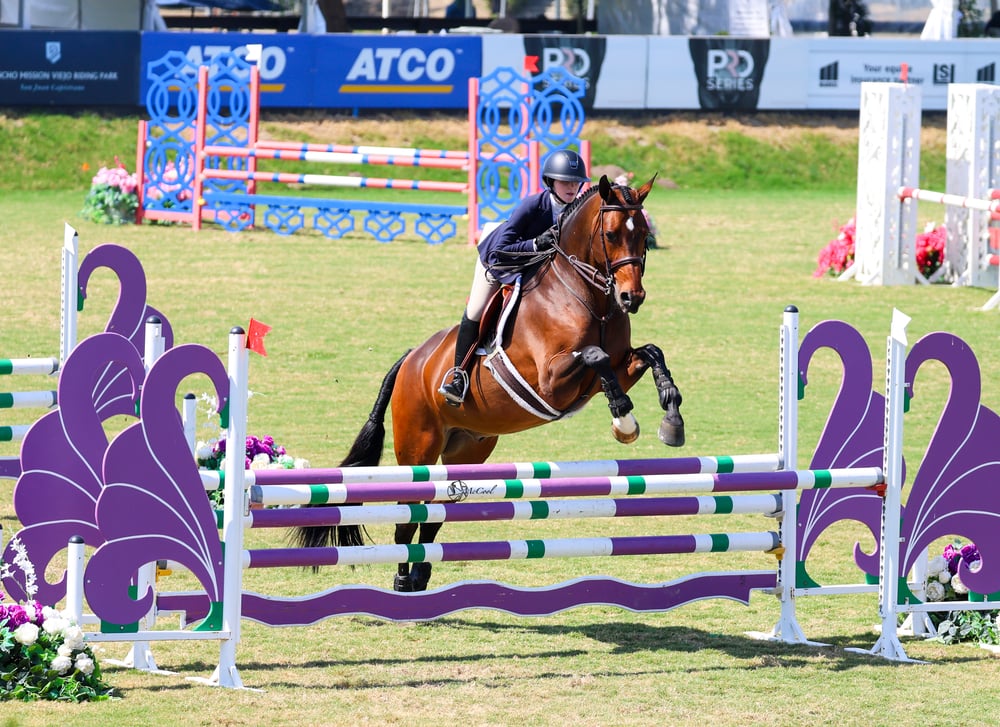 "It was kind of amazing and a little bit of a shock! I never imagined that, coming from Washington, I could come to California and really win a final," said Kotler of her win. "It's been my dream to win a national final, and it was something that was on my bucket list. I was like, 'Oh, it's kind of out of reach but I just want to have fun!' So it was pretty amazing when I heard my name called as the champion. I was like 'Wow, I can't believe that just happened!'"
"I really like [the Jumping Seat Medal] because I feel it tests a lot of different skills. The Flat Phase tests a little bit of how you are with working with yourself and your horse and communicating through the transitions. It shows a little piece of dressage, which I think is important. You can see that when moving up to the USET, so I think it's a really important stepping stone," she continued. "I think the Gymnastics Phase is super cool because it works on collecting and lengthening and being able to manage your partnership in a more technical, short track. Then I feel like the Jumping Phase is really cool because you get to show off. It's more the Jumper side of the sport. I think that's really important for a rider to be able to do all three of those things on the same horse."
Best Equitation Horse honors went to Diplomat, owned and ridden to fifth place by Grace Russo.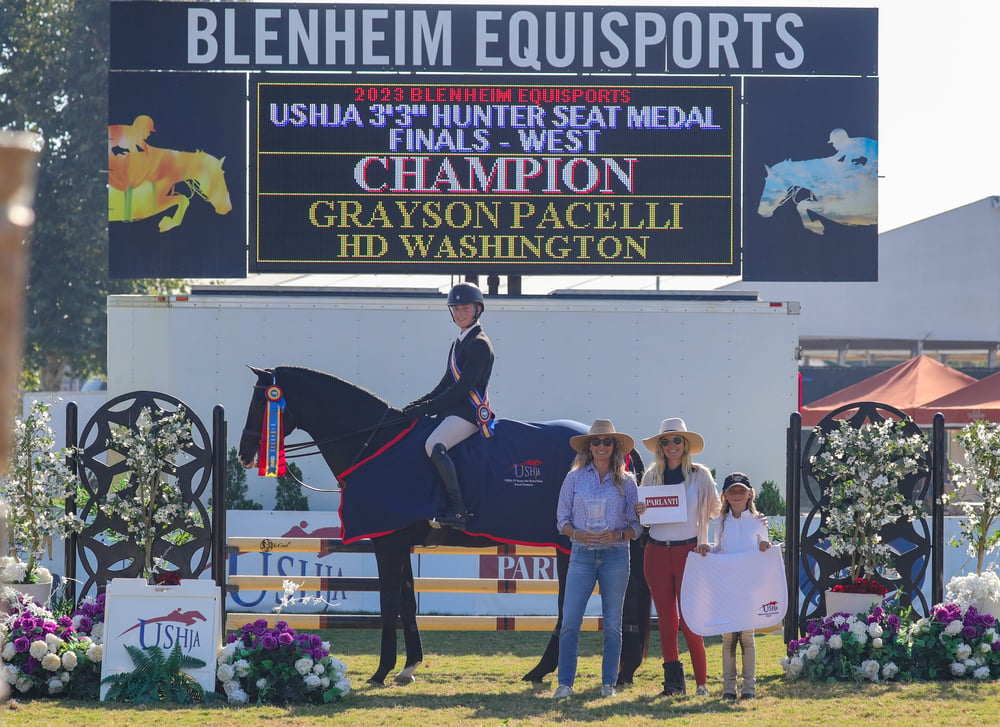 Grayson Pacelli Placed on Top in USHJA 3'3" Hunter Seat Medal Final - West
Thirty riders contested the USHJA 3'3" Hunter Seat Medal Final - West, competing over two rounds designed by Scott Starnes. Grayson Pacelli of Encinitas, California, and HD Horses LLC's HD Washington quickly rose to the top after garnering a First Round score of 89 and stayed there to take the win.
At the conclusion of the Second Round, after seeing the top 25 riders return, Pacelli held on strong to his lead with a score of 90. The pair's two-round total of 179 put them eight points ahead of Molly Copeland, of Clyde Hill, Washington, who was sitting on an overall score of 171 aboard her own Crispy's Crown Boy. Judges Dale Peterson and Steve Walland then chose to call back the top four riders for testing. Zinnia Ryder, of Medina, Washington, riding her own DaVinci and Alana Salaiz, of Irvine, California, with Ilan Ferder's Quax joined Pacelli and Copeland in the work off.
"I was pretty nervous going in eight points ahead," Pacelli said on his thoughts going into the test. "Going into every round, my goal is always to try to come in with a blank slate and not get caught up on my previous round and just ride in the moment.
The work off included technical rider questions with a trot fence, bending lines, counter canter and sitting trot. There was no shuffling of the leaderboard and the results ended with Pacelli leading through to the end, with Copeland taking reserve honors and Ryder collecting third.
"I loved the courses because I felt like they gave you lots of options as to whether you wanted to take inside turns, go around or the number [of strides] that you wanted to do," Pacelli said of the Final's courses. "The work-off course having the options with the inside turn, [you could choose] whether you wanted to land the counter lead or swap to the counter lead. The courses were done well."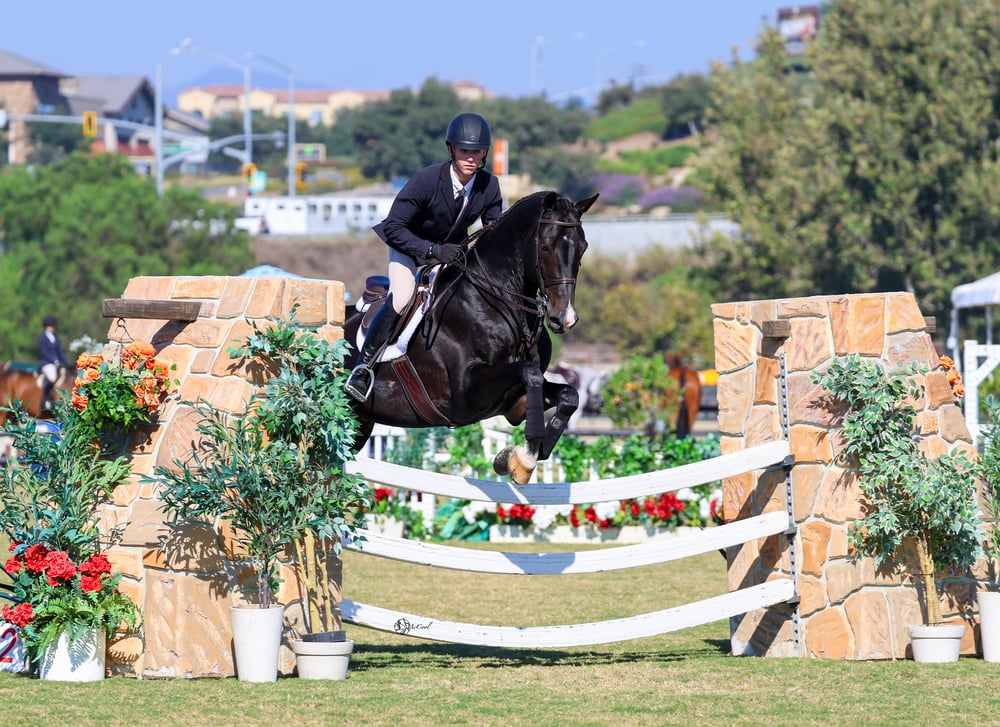 HD Washington is no stranger to the atmosphere of USHJA's 3'3" Equitation offerings, taking reserve in the 2022 USHJA 3'3'' Jumping Seat Medal Final – West with Isabella Holway. A couple of months after the 2022 Finals, Pacelli and HD Washington started their partnership together under the watchful eye of trainer Alicia Saxton, of Encinitas, California, with Oceancrest Farms.
"This win was so exciting," he continued. "I wasn't really expecting it as it was my first ever Hunter Seat Medal, so I didn't have much of an expectation going in. It was just so much fun—just such a great experience!"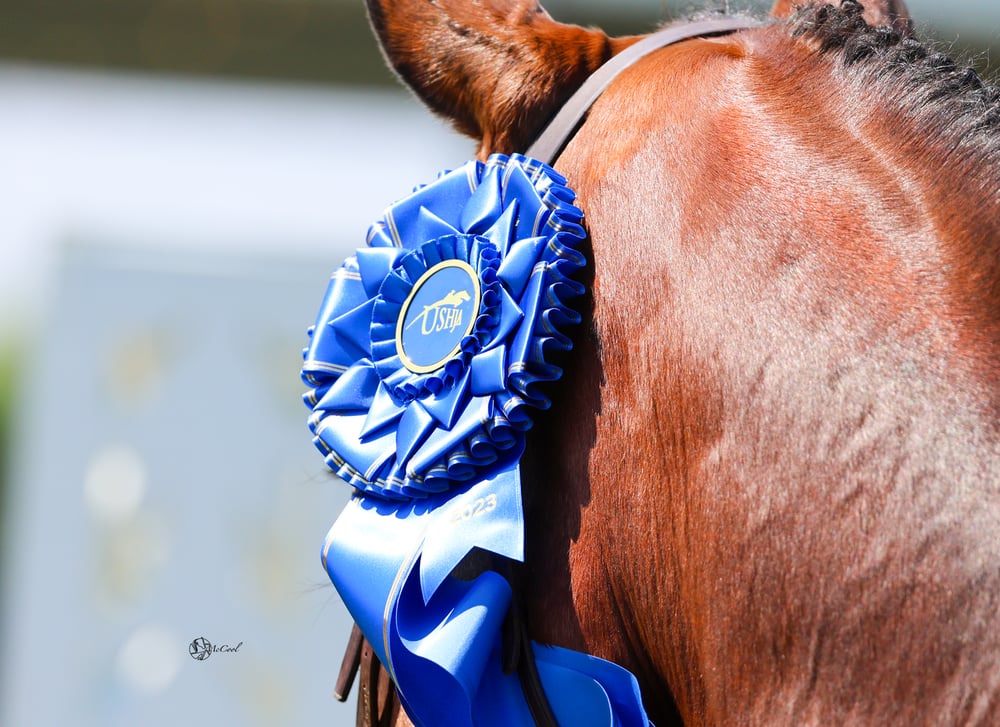 The USHJA 3'3" Adult Jumping Seat Medal Final is a three-round class that allows Adult Amateurs to showcase their Equitation skills in a Jumper style. This includes a Flat Round, a Gymnastics Round, and a Jumper-style course. The USHJA 3'3" Adult Jumping Seat Medal is open to any Adult Amateur riders 18 and over who have not competed above 1.35m and have not competed in a 3* USEF Show Jumping Talent Search class in the same competition year. Riders qualify for the Finals hosted on either coast by earning points during the qualifying period and may choose to compete at either location.
The EMO Insurance/USHJA 3'3" Jumping Seat Medal provides Junior exhibitors with the opportunity to develop their equitation skills over a jumper-style course, aiming to help riders gain experience in a format similar to that of the USEF Show Jumping Talent Search. The Medal is open to Junior riders who have not reached their 18th birthday as of December 1 of the current competition year and qualify for the Finals by earning points in Jumping Seat Medal classes during the qualifying period.
The USHJA 3'3" Hunter Seat Medal serves as a stepping stone for equitation riders, providing an opportunity to qualify and compete in a national equitation final at fence heights of 3'3". The Medal is open to Junior riders, who have not competed in any of the following National Equitation Finals with fences at 3'6" within the same competition year, including USHJA Gladstone Cup Equitation Classic, ASPCA Maclay Finals, USEF Hunter Seat Medal Finals, USEF Show Jumping Talent Search Finals (East or West), WIHS Equitation Classic Finals, Jump Canada Medal Finals or the North American Equitation Championship.
The USHJA sends special thanks to the entire Blenheim Equisports team for hosting the Finals. The USHJA also thanks Official Sponsors CWD, Nutrena and Parlanti; title sponsor EMO Insurance; and Award Sponsor Essex Classics.
For more information about the USHJA 3'3" Adult Jumping Seat Medal and EMO Insurance/USHJA 3'3" Jumping Seat Medal, visit ushja.org/jumpseatmedal. Learn more about the USHJA 3'3" Hunter Seat Medal at ushja.org/hunterseatmedal.
USHJA 3'3'' Adult Jumping Seat Medal Final - West Results
Rider | Horse | Trainer | Owner
Phase 1 | Phase 2 | Phase 3 | Overall
*Work Off was not scored
1. Emily Williams | Carlo | Karli Schroeder | Emily Williams
87 | 89 | 82 | 384.5*

2. Caroline Ingalls | Big Country | Hap Hansen | Caroline Ingalls
85 | 86 | 85 | 384*

3. Kelsey King | Closing Time | Denise Youell | Kelsey King
76 | 78 | 84 | 361

4. Margrethe Munkdale | Look At Me | Nicole Norris | Round Meadow Farm LLC
88 | 75.5 | 77.5 | 356.25
5. Rebecca Beall | Calino G | Alicia Saxton | Rebecca Beall
80 | 79 | 70 | 338.5
6. Laura Owens | Scirocco 91 | James Hagman | Laura Owens
78 | 77 | 72 | 337.5
7. Lauren Morlock | Mighty Quen | James Hagman | Lauren Morlock
68 | 75 | 78 | 336.5
8. Jessica O'Connell | Mazarino | Robert Leckie | Jessica O'Connell
74 | 76 | 71 | 330
9. Jessica Smith | Black Emerald | Robert Leckie | Jessica Smith
71 | 64 | 75 | 317
10. Rollin Sykes | Goldine | Nicole Husky | R & R Stables LLC
65 | 74 | 69 | 314
11. Catherine Westling | Casanova Z | Tracy Burroughs | Morris Simchowitz
86 | 84 | 14 | 240
12. Blake Lindsley | Twizzler | Cassandra Karazissis | Blake Lindsley
70 | 81 | 24 | 239.5
EMO Insurance/USHJA 3'3'' Jumping Seat Medal Final - West Results
Rider | Horse | Trainer | Owner
Phase 1 | Phase 2 | Phase 3 | Overall*
*Work Off was not scored
1. Anna Kotler | Gusti CK | Morgan Thomas | Anna Kotler
83 | 85.5 | 89 | 389.25*
2. Taryn McEntire | Constable | Shayne Wireman | Shayne Wireman
85 | 87 | 86 | 387.5*
3. Kate Parker | Janus Union | Shayne Wireman | Kate Parker
81 | 86 | 90 | 390*
4. Georgia Bass | Normandy | Tasha Visokay | Proper 12, LLC
80 | 84.5 | 88 | 382.75
5. Grace Russo | Diplomat | Michael Endicott | Grace Russo
78.5 | 83.5 | 82.5 | 368.75
6. Gabriella Anzelc | Golden Hour Z | Jenny Williams | Gabriella Anzelc
76 | 83 | 83 | 366.5
7. Lillian Muzzy | Castelino 5 | Shayne Wireman | MZ Farms, LLC
84 | 88 | 74.5 | 365.5
8. Ava Park | Lykke Li-Terma Z | Michelle Morris | Ava Park
70 | 84 | 84 | 364
9. Jillian Puthoff | The Funk Zone | Elle Mullendore | Denya Fanelli
73 | 77 | 84 | 356.5
10. Grayson Pacelli | HD Washington | Alicia Saxton | HD Horses LLC
82.5 | 65.5 | 87 | 354.75
11. Maggie Dumrauf | Noble Hacienda Z | Hailey Scharping | Ella Chakravarty
86 | 81 | 73.5 | 354.5
12. Violet Tatum | Iron Man Van De Kalevallei | Archibald Cox | Archibald Cox
68.5 | 82 | 80 | 352.5
USHJA 3'3'' Hunter Seat Medal Final - West Results
Rider | Horse | Trainer | Owner
Round 1 | Round 2 | Overall*
*Work Off was not scored
1. Grayson Pacelli | HD Washington | Alicia Saxton | HD Horses LLC
89 | 90 | 179*
2. Molly Copeland | Crispy's Crown Boy | Morgan Thomas | Molly Copeland
85 | 86 | 171*
3. Zinnia Ryder | DaVinci | Morgan Thomas | Zinnia Ryder
84 | 83.5 | 167.5*
4. Alana Salaiz | Quax | Shayne Wireman | Ilan Ferder
83 | 82 | 165*
5. Sophia Blake | Arezzo | James Hagman | Elvenstar Farm
84.5 | 79.5 | 164
6. Lucia Koyama | Salazar | Tasha Visokay | Lucia Koyama
78 | 79 | 157
7. Elisabeth Stack | Ntec Labros | Paige Perla | Donald Shake
80 | 76.5 | 156.5
8. Georgia Bass | Normandy | Tasha Visokay | Proper 12, LLC
72 | 83 | 155
9. Brooke O'Malley | Quijote | Susie Schroer Inc | Meadowgrove Farm
79 | 75.5 | 154.5
10. Laura Jun | Casalito 4 | Susie Schroer Inc | Kelly Maddox
70 | 84 | 154
11. Stella Tinsley | Consul Z | Nancy Frost | Stella Tinsley
72.75 | 81 | 165.75
12. Camille O'Brien | Calandro | Nancy Frost| George Maskrey-Segesman
75 | 76.5 | 151.5
Photos: McCool Photography