USHJA Welcomes Highfields Sporthorse Sale as Supporting Sponsor of USHJA Young Jumper Championships
Lexington, Ky.—Apr. 7, 2022—The U.S. Hunter Jumper Association is pleased to welcome Highfields Sporthorse Sale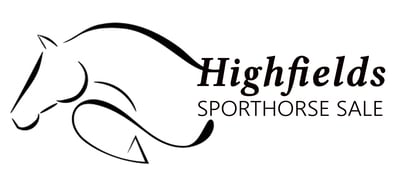 as the supporting sponsor of the USHJA Young Jumper Championships for 2022.
"We are delighted to welcome Highfields Sporthorse Sale to our family of sponsors," said Mary Knowlton, president of the USHJA. "Their support helps make these championships possible and we look forward to another great year of competition for Jumper riders nationwide."
The USHJA Young Jumper Championships feature separate Championships for 4-, 5-, 6-, 7- and 8-year old horses, allowing talented competitors to be showcased by owners, breeders and riders at the national level. Now in its second year, the 2022 event will take place September 7-11, 2022, at the Traverse City Fall Horse Show in Traverse City, Michigan. Qualifying for the Championships runs from January 1, 2022, through July 24, 2022, and enrollment is currently open.
"I am excited to be part of the USHJA Young Jumper Championships and the Highfields Sporthorse Sale with a great team," said Rick Cram, event manager at Highfield Sporthorse Sale. "My partner, Jeff Minton, and committee members Andrea King, Diane Langer, Gabriel Crespo and Martin Videla invite you to participate in the Highfields Sport Horse Sale. Whether you are looking to sell some stock or looking to purchase your next partner, we hope you will bring your horse to Highfields Event Center this May."
For more information about the USHJA Young Jumper Championships, visit ushja.org/YJC.
About Highfields Sporthorse Sale
The inaugural Highfields Sporthorse Sale will be held in Aiken, South Carolina, on May 9 at Highfields Event Center. We are welcoming all Show Jumpers, Hunters, Eventers, Foxhunters, Young Horses and Ponies. We will limit entries in each discipline if interest warrants. The sale will be live and online. Consigned horses will have stabling available on May 5 at Highfields. Owners can set up pre-trials for consigned horses and will have jumps available in an arena Thursday through Monday. Activities during the weekend will include a Friday meet and greet in the sales pavilion, and on Saturday, be sure to join us for our first Music Fest Concert of the season as we welcome The Taylor Scott Band from Denver, Colorado. Sunday we will be hosting a horse preview for buyers and consigners in the sales arena. We will begin the sale Monday, May 9 at 3 p.m. Please reach out to us at HFSporthorsesale@gmail.com or log onto PSJSHOWS.com to access entry forms and consignment contracts.