USHJA In Stride Magazine Wins Two American Horse Publication Awards
Lexington, Ky.— June 7, 2019—The U.S. Hunter Jumper Association membership magazine, In Stride, earned two first-place awards from the American Horse Publications Equine Media Awards at the 2019 AHP Media Roundup in Albuquerque, New Mexico, on June 1.
"We are thrilled that American Horse Publications recognized our membership magazine as outstanding," said Mary Babick, president of the USHJA. "In Stride is an exclusive member benefit, and we strive to provide the best educational and competition-related content showcasing our incredible members and the hunter/jumper community. I hope that members will continue to enjoy reading each issue they receive in the mail."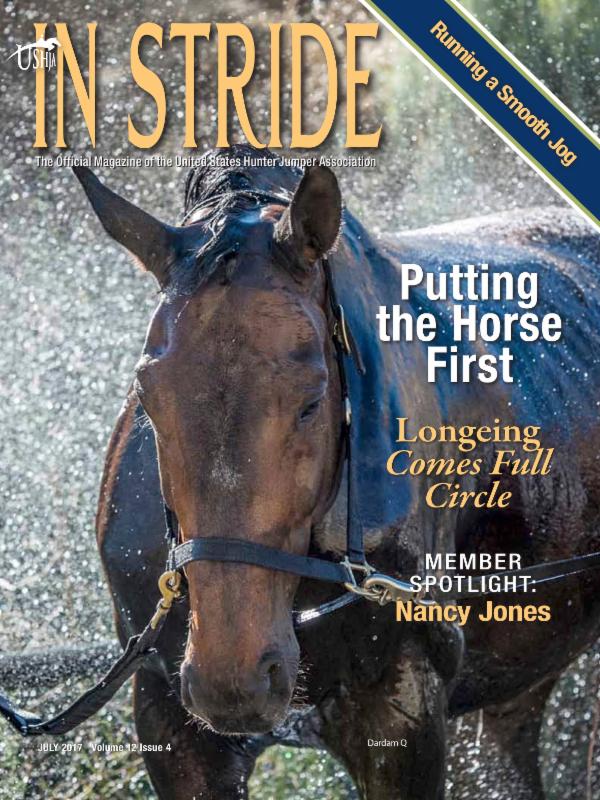 In the category of Editorial Event Coverage Single Article for a publication with a circulation of 20,000 and over, Tricia Booker's article "Rock Harbor Sails to Victory," covering the 2018 USHJA World Championship Hunter Rider Palm Beach Hunter Spectacular and featured in the March 2018 issue, earned first place.
USHJA In Stride also earned top honors in the category of Equine-Related Editorial Series for Michelle Bloch's "Healthy Balance Series," featured in the 2018 May, July, September and November issues. The series covered safety in the schooling ring, mindfulness training, complementary therapies to improve horse health and embracing fitness to become a more effective rider.
Bloch is also writing a Horse and Rider Care Series for 2019, which has covered the new science of deworming (March 2019), S.M.A.R.T.E.R goals and systems for success (May 2019), and will focus on the nutritional needs of our equine partners, leather care, and blanketing and clipping throughout the remainder of the year.
Published bimonthly and twice digitally each year, In Stride magazine is the official publication of the USHJA and is a benefit exclusive to USHJA members. The magazine is packed full of useful tips to promote equine health and well-being, educational articles, member spotlight and perspective articles as well as competition coverage of USHJA events. With an audience of more than 40,000 USHJA members, In Stride reaches a vast group of riders, trainers, owners and more.
To view digital versions of each issue from 2015-2019, visit www.ushja.org/InStride.
For more information about advertising opportunities and to obtain a media kit, contact Michelle Adaway at (859) 619-8263 or madaway@aimmedia.com.