USHJA J.T. Tallon Memorial Equitation Grant Applications Now Open, Applications Close August 1
Lexington, Ky.—April 4, 2023—The U.S. Hunter Jumper Association is pleased to announce that applications are now open for the USHJA J.T. Tallon Memorial Equitation Grant. Now in its sixth consecutive year, the grant provides $1,000 to one Junior rider who has qualified for a select national Equitation championship at a fence height of 3' or higher. Completed applications must be received by August 1, 2023, to be considered.
The grant is open to USHJA Active/Competing Junior members in good standing who have qualified for one of the following equitation championships with a fence height of 3' or higher on a horse: 3'6" National Finals, Dover Saddlery/USEF Hunter Seat Medal, ASPCA Maclay Horsemanship Class, Platinum Performance/USEF Show Jumping Talent Search - East or West, Lindsay Maxwell Charitable Fund/Washington International Horse Show Equitation Finals, Marshall & Sterling Junior Medal Finals, National PHA Medal 3'+ National Finals, Taylor Harris National Children's Medal Finals, Marshall & Sterling Children's Medal Finals, Hamel Foundation National Horse Show 3'3" Equitation Championship, USHJA 3' 3" Jumping Seat Medal Finals - East or West, or the USEF/NCEA Junior Hunter Seat Medal.
Last year's winner, Anna DeNicholas, of Longmont, Colorado, used the grant to compete in the EMO Insurance/USHJA 3'3'' Jumping Seat Medal Finals - West at the International Jumping Festival in San Juan Capistrano, California, September 23-24.
"A lot of things inspired me to apply [for the grant], but the most important one would probably be the fact that I felt I should help my mom pay for the amazing opportunities I get to have," DeNicholas said. "She works so hard, and these things aren't cheap, and this was one way to show my gratitude towards her."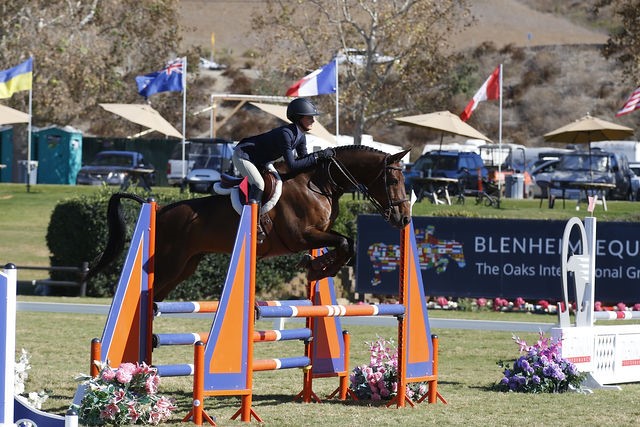 The J.T. Tallon Memorial Equitation Grant debuted in 2018 and was developed by friends and family of the late J.T. Tallon, a Lexington, Virginia, horseman and USHJA member who dedicated his career to equestrian sport for over 40 years. Tallon was committed to helping riders excel in the equitation arena. He was part of a group that founded the Southwest Virginia Hunter Jumper Association, led the Southern Seminary for Women to IHSA Championship victory eight times, and the Randolph Macon Woman's College won three championships under his leadership as equestrian director.
Sue Tallon and Barbara Bays initiated the concept and spearheaded fundraising efforts to make this grant possible. Its purpose is to honor Tallon's commitment to encouraging excellence in equitation by inspiring junior riders with a passion for equitation to pursue their goals. Through this grant, juniors with limited financial means who have qualified for one of the select national equitation finals are provided the support they need to attend.
"I would definitely recommend other riders to apply for this grant because it could also help them achieve big goals, even with a budget. If it weren't for this grant, I wouldn't have been able to go compete and have an amazing time with my team,'' DeNicholas said.
For more information and to apply, visit ushja.org/tallon.
Photos: Jump Media, McCool Photography