Smith Reigns Supreme at 2023 Marshall & Sterling Insurance/USHJA National Championships
Las Vegas, Nev.—Nov. 15, 2023—The fifth annual Marshall & Sterling Insurance/USHJA National Championships kicked off at The Las Vegas National CSI4*-W on November 14 with a tricolor finish in the $25,000 USHJA Open National Hunter Derby for Corene Smith and Reign. Over 1,100 entries will compete throughout the week at the South Point Hotel, Casino & Spa's unique Arena & Equestrian Center, vying for 49 championship titles and $257,500 in prize money.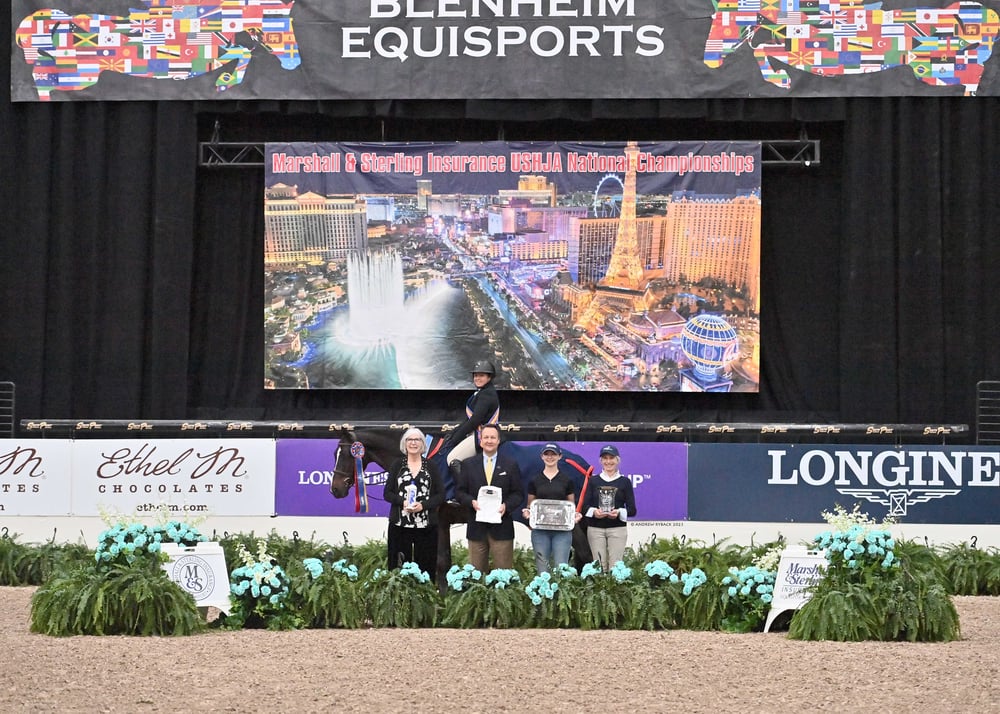 $25,000 USHJA Open National Hunter Derby
Thirty-six trips contested the first of two National Hunter Derbies at the Marshall & Sterling Insurance/USHJA National Championships. Reigning supreme in the Open Section with a two-round score of 184.50 was Smith, of Woodinville, Washington, with Asa Caditz's Reign. Taking an early lead, the pair collected a round-topping score of 94 in the Classic Round under judges Rob Bielefeld and Shane George.
"When I went in, I could tell he was just at ease. So I was like, 'Okay, we're just going to go into the gallop.' He was great and galloped right down to jump one. I felt like we were able to keep that gallop all the way throughout the whole course. He was sharp, but focused at the same time," Smith said. "He just was with me every step of the way."
With the top 12 returning for the Handy, Smith and the Belgian Warmblood gelding were the final pair to enter the ring. The Washington rider elected for a conservative approach that proved worthwhile, posting a 90.5 to secure the top spot.
"I decided to do the lower option—I felt like it was going to give me a little better flow, so I decided not go to the bigger oxer. He's really good in the Handy, really good through the turns, and so I've always been able to count on him," she said. "I know what kind of riders and horses I'm up against, so it just feels good to be able to go in and put it all together, and have a horse that can do it. I love that he got his moment."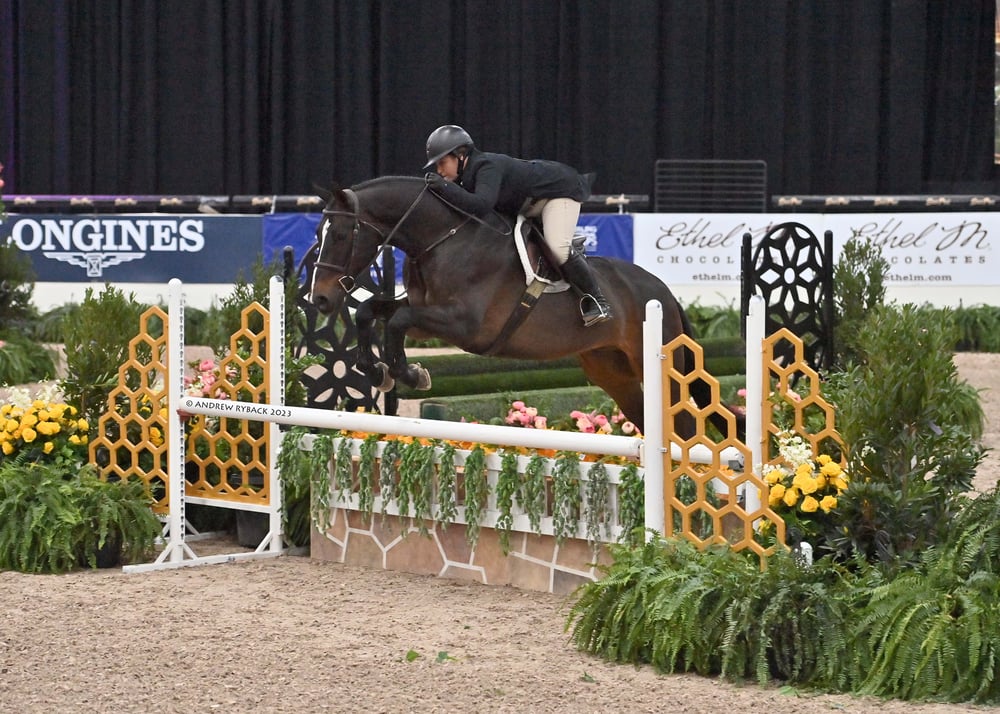 The remainder of the week's Hunter competition will include individual championships across 16 divisions with $77,500 in prize money. In addition to Smith's win, specialty classes for Hunters include a $25,000 USHJA National Hunter Derby for Juniors and Amateurs and two USHJA Green Hunter Incentive Stake classes.
The USEF/USHJA National Jumper Championships will offer $108,000 in prize money in nine sections from 1.00m to 1.30m for Junior, Amateur and Open Jumper competitors.
The Championships will also include age group Equitation for Juniors and Amateurs, and three medal classes—the 3'3" USHJA Hunter Seat Medal, 3'3" EMO Insurance/USHJA Jumping Seat Medal class and USHJA 3'3" Adult Jumping Seat Medal.
This year, 32 USHJA Affiliate Organizations have nominated riders and 11 riders received the prestigious Outreach Backstage Pass to compete in the USHJA Affiliate Championships. Over 300 affiliate competitors will compete across the championship's 16 Hunter, Jumper and Equitation sections.
In addition to the competitive opportunities, the Championships will include free educational opportunities for exhibitors and attendees. Throughout the week, those interested can attend a National Hunter Derby Judge with the Judge session; Darby Bonomi, PhD, will host two sport psychology seminars; top trainers Shayne Wireman, Skylar Wireman, and James Hagman will lead various course walks; and arts and crafts will be available.
The Las Vegas National CSI4*-W, managed by Blenheim EquiSports, runs simultaneously with the Championships, offering an FEI International division culminating with the $226,000 Longines FEI Jumping World Cup™ Las Vegas on Saturday evening, as well as highlight classes throughout the week. Tickets are now available here for Saturday evening's featured event, with pre-show fun beginning at 5:30 p.m. and including a photo booth, face painting, live entertainment, shopping, giveaways and more.
Live streaming coverage of all 2023 Marshall & Sterling Insurance/USHJA National Championship classes will be available on USEF Network. Live results are available on ShowgroundsLive.
The USHJA extends its thanks to Blenheim EquiSports; Title Sponsor Marshall & Sterling Insurance; USHJA Official Sponsors Nutrena, CWD and Parlanti; and USHJA Championship Sponsors Charles Owen, Exhibitor's, SmartPak, Human Touch, Prize Possessions, Essex Classics, Helite, RingSide Pro and Boy O Boy Bridleworks.
A special thanks also goes to division trophy sponsors Balmoral Farm, Bridgeport Farms, Cheryl and Michael Rubenstein, Emellar Stables LLC, Kevin P. Price, Knightsbridge Farm, Ledges Sporting Horses, Mr. and Mrs. Carleton Brooks, Patrick and Nicole Boyle, Quail Run Horse Centre Inc., Showplace Productions, Steve and Lisa Hankin, Tapestry Farm, The Meadows Family, The Oaks, The Smith Family, and The Struve Family.
For more information about the Marshall & Sterling Insurance/USHJA National Championships, visit ushja.org/NationalChampionships.
Photos: Andrew Ryback Photography