Participants Selected for 2023 USHJA Gold Star Clinic - West
Lexington, Ky.—Jan. 24, 2023—The U.S. Hunter Jumper Association is pleased to announce the selected participants for the 2023 USHJA Gold Star Clinic - West. Lauren Hough and Kirsten Coe will lead the mounted instruction at Desert International Horse Park in Thermal, California, January 25-29, alongside stable management clinician Colleen Reed.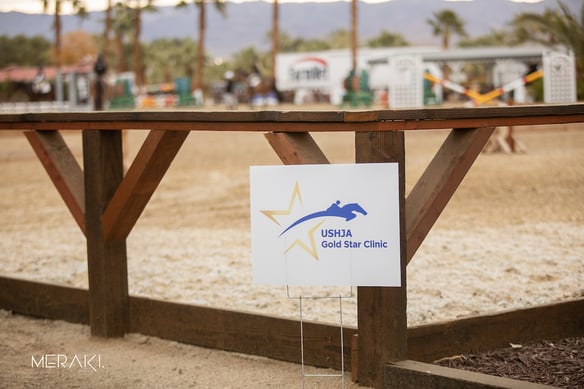 Congratulations to the following riders on being selected for this year's West Coast clinic:
Linda Azab, Los Angeles, Calif.
Elizabeth Beasley, Mukilteo, Wash.
Emilie Bell, Lodi, Calif.
Mary Bernardo, Scottsdale, Ariz.
Amelie Louise Bittar, Los Angeles, Calif.
Georges Bittar, Los Angeles, Calif.
Makena Bloebaum, Scottsdale, Ariz.
Hannah Bolland, Fountain Hills, Ariz.
Wendy Brownlee, Reno, Nev.
Catalina Carlson, Danville, Calif.
Tayler Cobb, Redmond, Ore.
Katie Cox, Conroe, Texas
Ella Delgado, Bend, Ore.
Giacomo Antonio Drago, Los Angeles, Calif.
Marian Elhers, Bend, Ore.
Sierra Geisler, Reno, Nev.
Makena Gerber, Carlsbad, Calif.
Mackenzie Greer, Newport Beach, Calif.
Lauren Hill, Sausalito, Calif.
Rachel Loftin, Paradise Valley, Ariz.
Charlotte Phillips, Snohomish, Wash.
Mia Dare Randall, Los Altos Hills, Calif.
Kaylee Rayner, Spring, Texas
Rowan Smark, Laguna Niguel, Calif.
Bea Saville Strobl, Studio City, Calif.
Hope Verschleiser, Aspen, Colo.
Scarlett Wallis, Watsonville, Calif.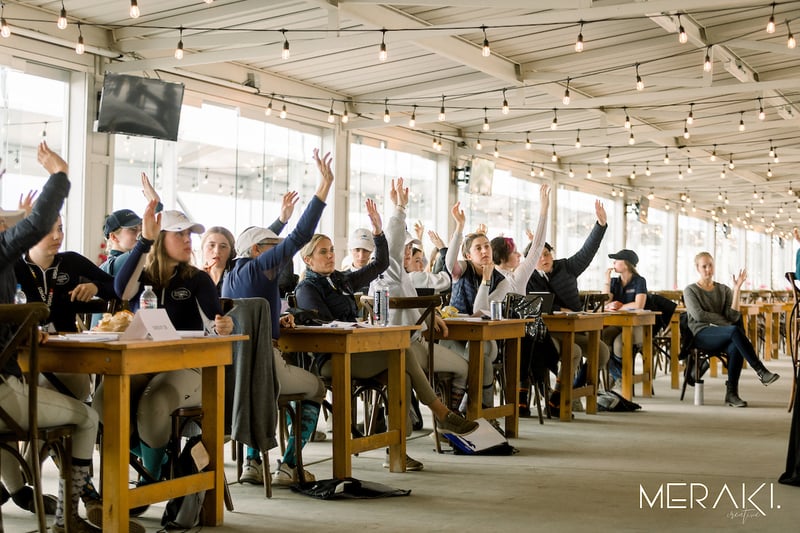 In addition to mounted instruction and stable management sessions in the barn, the clinic will also feature other educational presentations from top athletes and horsemen, including discussions on horse health, international Jumping competition and more.
The bicoastal Gold Star Clinics serve as the pinnacle of the USHJA Emerging Jumper Rider Program, which provides education and guidance to Jumper athletes looking to advance to the sport's highest levels. Individual medalists from the 2022 Markel/USHJA Zone Jumper Team Championships and Markel/USHJA Platinum Jumper Championships were invited to attend one of the Gold Star Clinics, as well as the top two riders from the USHJA Emerging Athletes Program National Training Session. Select Wild Card applicants were also accepted.
The East Coast clinic will be held next month at Jim Brandon Equestrian Center in West Palm Beach, Florida, on February 15-19, where Anne Kursinski will join Coe and Reed.
The USHJA thanks Official Sponsors CWD, Exhibitor's, Nutrena, Parlanti, and Rood & Riddle Equine Hospital and Veterinary Pharmacy and supporting sponsor Lindsay Maxwell Charitable Fund for their support.
To learn more about the Emerging Jumper Rider Program, visit ushja.org/emergingjumper, and find out more about the Gold Star Clinics at ushja.org/goldstarclinics.
Photos: Meraki Creative Group