Nick Haness Continues Reign in $100,000 USHJA WCHR West Coast Hunter Spectacular aboard McQueen
Thermal, Calif.—March 20, 2023—Nick Haness of San Clemente, California, rode McQueen, a 9-year-old KWPN gelding owned by Strasburg Morin Inc., to victory in the $100,000 USHJA WCHR West Coast Hunter Spectacular on Friday, March 17, at the Desert International Horse Park. This marks his second West Coast Hunter Spectacular win after topping the class in 2022.
Nick Haness and McQueen. Photo by High Desert Sport Photo
Designed by Meghan Rawlins, the day's first round was a beautiful and technical course that led to a close top three with Haness and McQueen tied for second place with AE Farm's Dauphin, piloted by Avery Glynn, on a score of 91.5. Ending the first round with a slight advantage was Nicole Bourgeois, aboard another McQueen, owned by Barbara Lovre, with a score of 92.25.
The top 12 then returned under the lights a few hours later for the final round. Coming into the second round with the top three wire-to-wire, Haness expertly rode McQueen to victory with a final score of 185.5. Some shuffling in the scoreboard bumped up Bourgeois with McQueen into second place after securing a two-round score of 184.75, with Gylnn and Dauphin moving into third place with a final score of 181.25.
Nicole Bourgeois and McQueen. Photo by High Desert Sport Photo
"I absolutely feel elated with the results from tonight," Haness exclaimed of his win. "It was a beautiful day here in the desert and this is a great finale to the end of the circuit with the $100,000 WCHR class. To win this class again is very special; it gave me goosebumps and was really honored."
Being a green horse who has been excelling at recent competitions, trainers Carleton and Traci Brooks of Balmoral decided that McQueen was ready to step up to the plate under the guidance of Haness.
"McQueen is a rather green horse at an event like this. He's never shown under the lights before at night and I knew he was going to be brilliant," said Haness. "He has come a long way. I have been his rider for about the past six months and it is just a great feeling for all of us as a team to come together tonight and have a victory like this."
The final round was not without its challenges, having additional technical options for riders to showcase their handiness. For the optional jump, riders could take several routes and different strides to best show off their mounts.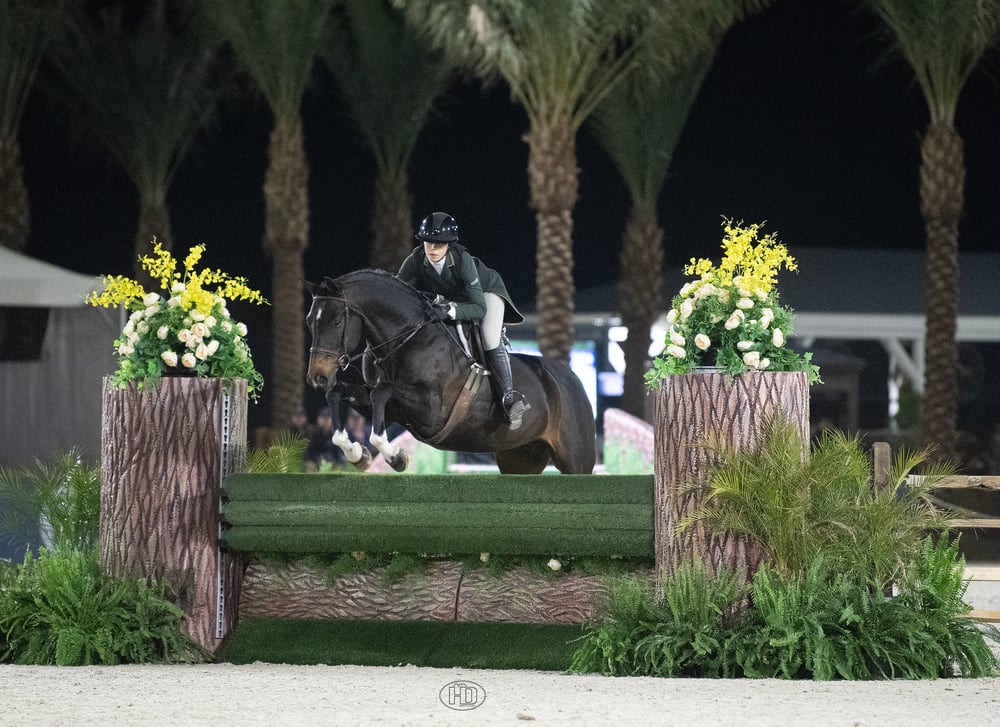 Avery Glynn and Dauphin. Photo by High Desert Sport Photo
"It was definitely a challenge. [The course] really made us think outside the box and figure out what the best formula for that horse you're riding in that round would be. I think it gave every rider an opportunity to really do something their own way, which in a class like this was fun," said Haness of the final round.
The final oxer of the night offered one last opportunity to stand out and required a noticeable hand gallop to the finish. Sitting in second going into the final round, Haness was ready to take on all of the challenges that could show off McQueen and move into the top spot, including the final hand gallop.
"We were definitely flying 'Lightning McQueen' to the last jump," Haness laughed. "The horse had been jumping beautifully and I could feel him listening to me. His focus was on par tonight. He came around to the last jump and really galloped it. I knew Nicole Bourgeois was in the lead so I had to be creative and make up some points and be extra special. It paid off.
Additional awards were given out including Haness being named the High Score Professional for the WCHR week. Bourgeois was awarded High Score Developing Professional for the WCHR week.
"The Thermal showground has been incredible; every year is better and better," Haness said. "This venue is just such a great venue to bring any variety of horses along from any level and horses are very happy here. Thank you to the sponsors of Desert for hosting us here."
Nick Haness and McQueen, pictured with Traci and Carleton Brooks, Irene Neuwirth, Ryan May, and Viva Hallinan. Photo by High Desert Sport Photo
One more WCHR Spectacular will be held in 2023. The $100,000 WCHR Central Hunter Spectacular will be held on Saturday, June 24 at Flintfields Horse Park in Williamsburg, Michigan.
The USHJA sends special thanks to the entire Desert International Horse Park team for hosting the Spectacular; to Official Sponsors Exhibitor's, CWD, Nutrena, Parlanti; and Award Sponsor Essex Classics.
For more information about the USHJA World Championship Hunter Rider Program, visit ushja.org/WCHR.
$100,000 USHJA WCHR West Coast Hunter Spectacular Results
Horse, Rider, Owner
Round 1 Avg. | Round 2 Avg. | Final Score
1. McQueen, Nick Haness, Strasburg Morin Inc.
91.5 | 94 | 185.5
2. McQueen, Nicole Bourgeois, Barbara Lovre
92.25 | 92.5 | 184.75
3. Dauphin, Avery Glynn, AE Farm
91.5 | 89.75 | 181.25
4. Lifestyle, Halie Robinson, Stable Assets LLC
88 | 88.75 | 176.75
5. Tangled Up In Blue, Lisa Wall, 3P Equine Partners LLC
88.125 | 86.25 | 174.375
6. Estimated Prophet, Nick Haness, Roaring Fork Farms LLC
89.875 | 84.5 | 174.375
7. On Call, Nick Haness, Lindsay Maxwell
85.25 | 88 | 173.25
8. Wayfinder, Nicole Bourgeois, Hilary Sosne
91 | 82 | 173
9. Lykke Li-Terma Z, Michelle Morris, Ava Park
86.25 | 84.5 | 170.75
10. Vagadam PSH, Chelsea Brittner
84.125 | 85.5 | 169.625
11. Kingston, Halie Robinson, Stonefield Sport Horses LLC
87 | 82.5 | 169.5
12. Higgs, Hope Verschleiser, Hope Verschleiser
84.5 | 84.75 | 169.25