Liza Boyd Repeats $10,000 WCHR Pro Finals Victory at Capital Challenge
Upper Marlboro, Md.—Oct. 5, 2018 —Professional hunter competition wrapped up Friday, October 5, at the Capital Challenge Horse Show with the heralded $10,000 World Championship Hunter Rider (WCHR) Professional Finals. In her sixth time in the class and marking her third win, Liza Boyd, of Camden, South Carolina, came out in first in the three-phase class that puts top hunter professionals in a head-to-head competition to earn the title World Champion Hunter Rider.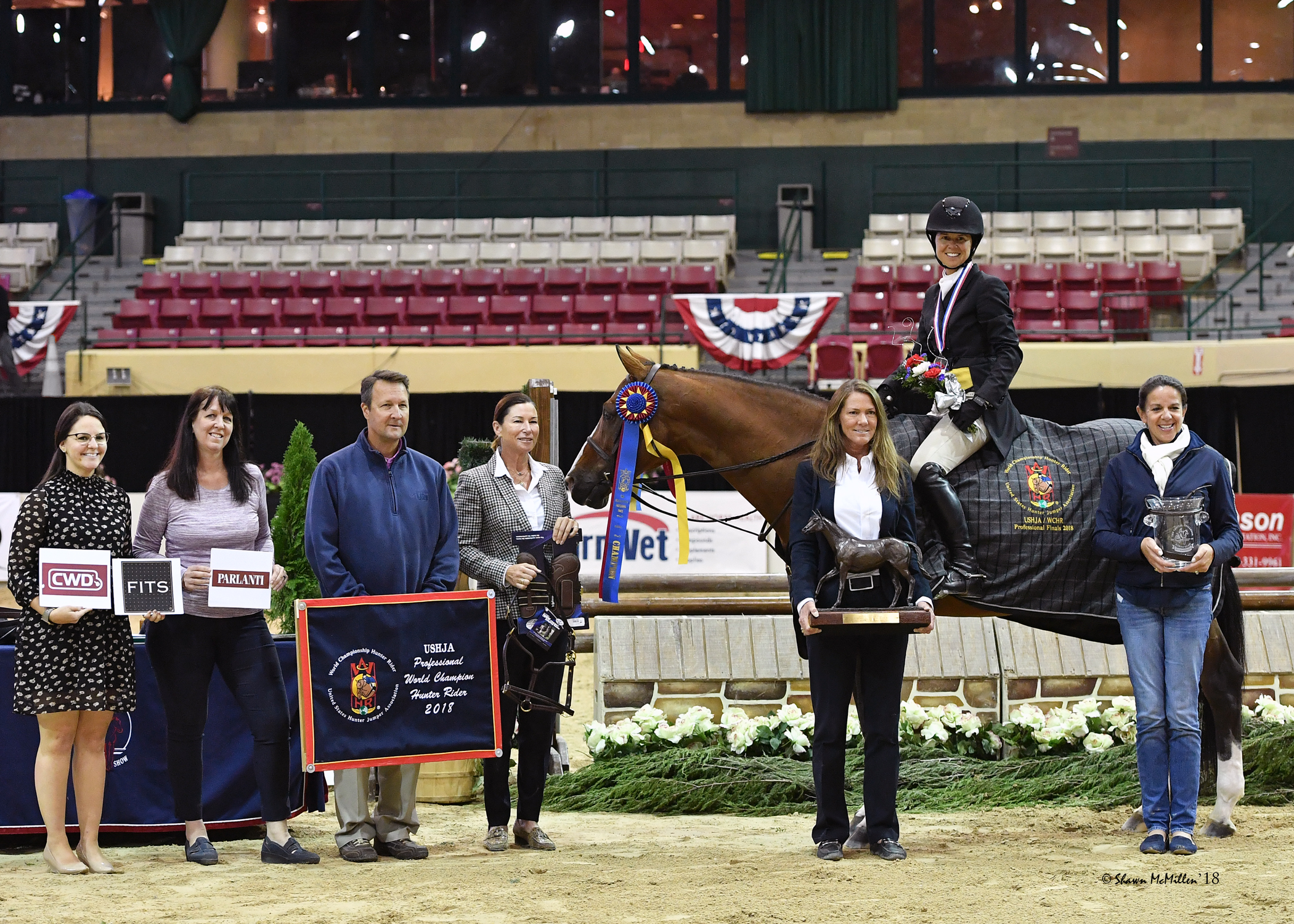 Liza Boyd earns World Champion Hunter Rider title for the third time and second time in a row. Credit: Shawn McMillen Photography
Amanda Steege, Scott Stewart, Victoria Colvin, Jenny Karazissis, Sandra Ferrell and Liza Boyd contested the prestigious class on Friday night. In the new Pro Finals format, which includes Playoffs and Finals, the riders would advance through two Playoff rounds with the score from the first round of the WCHR Professional Challenge, held on Wednesday, counting as the Round One score of the Playoffs.
Friday evening kicked off with the Round Two of the Playoffs in which the six riders competed over a handy course on a horse of their choosing. Boyd, Stewart, Steege and Colvin earned the top scores after Rounds One and Two to continue on to the Final Four, where they all rode each of the four evenly matched horses that were donated by Claiborne Bishop/The Barracks and University of Virginia in Charlottesville, Virginia.
"Horse 1 and 2, I was pretty calm and relaxed. Horse 3, I started getting a little more nervous when I trotted in and they said I was in the lead," said Boyd. "On the fourth horse, Scott went so well on the bay horse before me. As I was at the gate, I said to my dad, 'I really have to go for it.' And he said, 'Be careful that you don't go for it too much that you mess up.' That was a pretty good thing to say. I just tried to work off some pace but not get too risky. It's a great feeling; it's exciting. I'm glad my husband Blake and my daughter Elle are here to experience it with me."
Boyd was able to defend her title after earning her spot in the class when John French opted out of participating.
"I have to thank John French for the win," she continued. "I wouldn't be here if it weren't for John. So thank you John, I appreciate it!"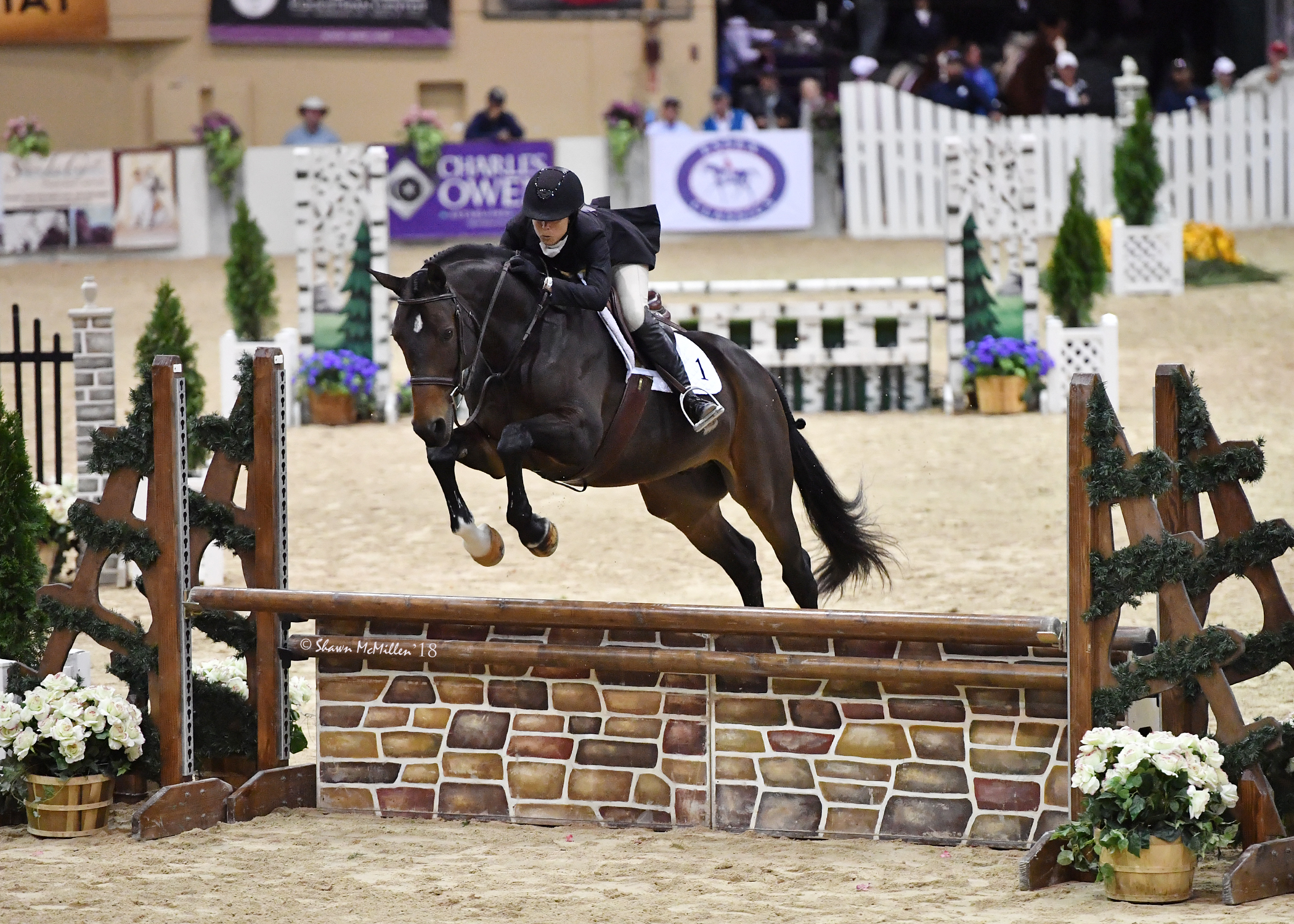 Liza Boyd earned a score of 92.3 aboard Falcon, the high-scoring horse, donated by donated by Claiborne Bishop/The Barracks and University of Virginia. Credit: Shawn McMillen Photography
She went first in the final four rounds, riding Falcon, who ended up being the highest scoring horse with scores of 92.33, 90, 91.33 and 93.5 with Boyd, Steege, Colvin, and Stewart respectively, and the recipient of the Far West Farm Perpetual Trophy.
Boyd maintained her lead from the first round, gaining ground with each new horse and earning a total four-round score of 366.82 (92.33, 89.33, 91.66, 93.50).
Approximately 5 points behind Boyd was 19-time competitor Scott Stewart who is no stranger to the title World Champion Hunter Rider, having earned it six times previously. Having participated so many times, Stewart appreciated the change in format for 2018.
"I liked the new format; it was actually really fun," said Stewart. "Going in the first round on our own horse in the handy gave us a good shot to do our best. I thought all of the horses were great. They were all different, but hunters. It made for a good class."
In third place and in her third time competing in the class, Amanda Steege only knew the class in its old format, but she was pleased with her rounds and the new format. She earned her place in the class on Lafitte De Muze, owned by Cheryl Olsten, on whom she won the Pro Challenge earlier in the week.
"I had a great time," she said. "I was much more relaxed this time doing the class than I was the first couple years I got to do it. It was fun; the horses went great. I'm very thankful to The Barracks for letting us use them."
Victoria Colvin finished fourth in her second time competing in the Pro Finals, after securing her spot in the final four aboard Airport 48, owned by John and Stephanie Ingram LLC.
"I always really wanted to do this class when I was a junior, so to be able to just compete in it is wonderful," she said. "After my second round, I knew I was going to be [fourth] anyways, so then I just had fun. It actually worked out."
Before the final four competition commenced, Moonshot, owned by Stephanie Bulger and ridden by Sandra Ferrell, was named the Shapleys Best Turned Out horse, and grooms Juan Vargas and Luis Escalara were recognized for their efforts and presented with a bucket of Shapley's products.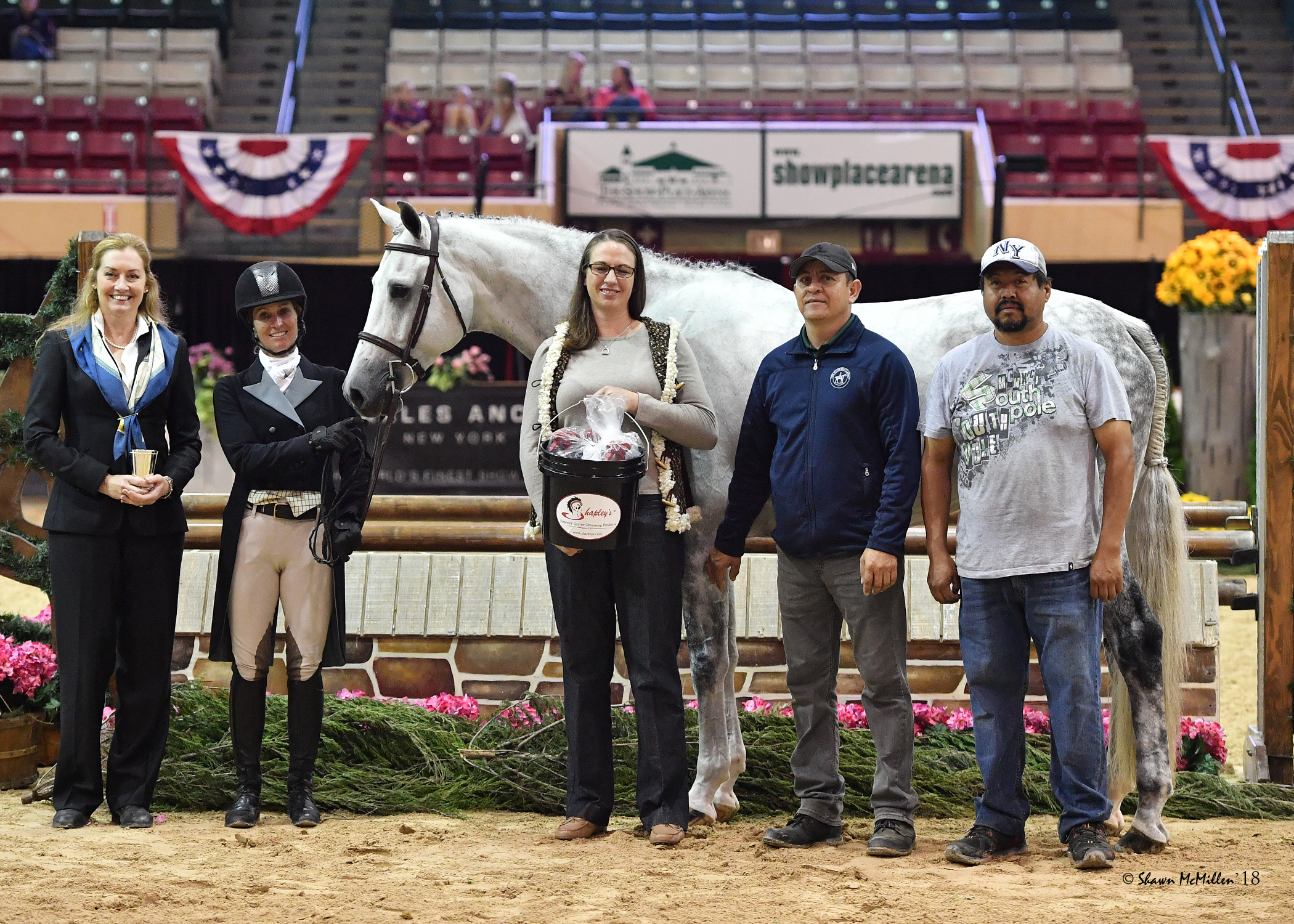 Grooms Juan Vargas and Luis Escarlara were presented with a bucket of Shapley's products for their grooming of Sandy Ferrell's mount Moonshot. Credit: Shawn McMillen Photography
The riders navigated courses set by Ken Krome, and the class was adjudicated by three panels of judges: Rick Fancher and Scott Hofstetter on Panel 1, Mark Jungherr and Jim Clapperton on Panel 2, Tony Sgarlata and Chris Wynne on Panel 3.
The Capital Challenge Horse Show, held at the Prince George's Equestrian Center in Upper Marlboro, Md., runs through Sunday, October 7. For full results visit Capital Challenge online.
A special thank you to the 2018 USHJA WCHR Program sponsors: Charles Owen, Inc., Official Helmet of the USHJA; CWD Sellier, Official Saddle of the USHJA; Parlanti, Official Riding Boot of the USHJA; Professional's Choice, Official Horse Boot of USHJA, and Rood & Riddle, Official Equine Hospital and Veterinary Pharmacy of the USHJA; Shapley's, Best Turned Out Award Sponsor; and FITS, Awards Sponsor.
The WCHR Program was founded in 1992 to recognize and celebrate the hunter rider. Since the inaugural WCHR Professional Finals in 1992, the WCHR program has expanded to include coveted National and Regional year-end awards for Professionals, Developing Professionals, Amateur-Owners, Amateur Adults, Juniors, Children's and Pony riders.
Visit USHJA online to learn more about the WCHR Program or to join or renew your WCHR membership for the 2019 competition year.
Media Contact:
Megan Lacy
(859) 225-6723