Jessica Stone Scores USHJA 3'3" Jumping Seat Medal Finals - East Win at Capital Challenge
FOR IMMEDIATE RELEASE
Upper Marlboro, Md.—Sept. 29, 2018—Jessica Stone of West Bloomfield, Michigan, topped 121 entries over three phases of competition to win the second annual USHJA 3'3" Jumping Seat Medal Finals - East on September 29 at the Capital Challenge Horse Show in Upper Marlboro, Maryland.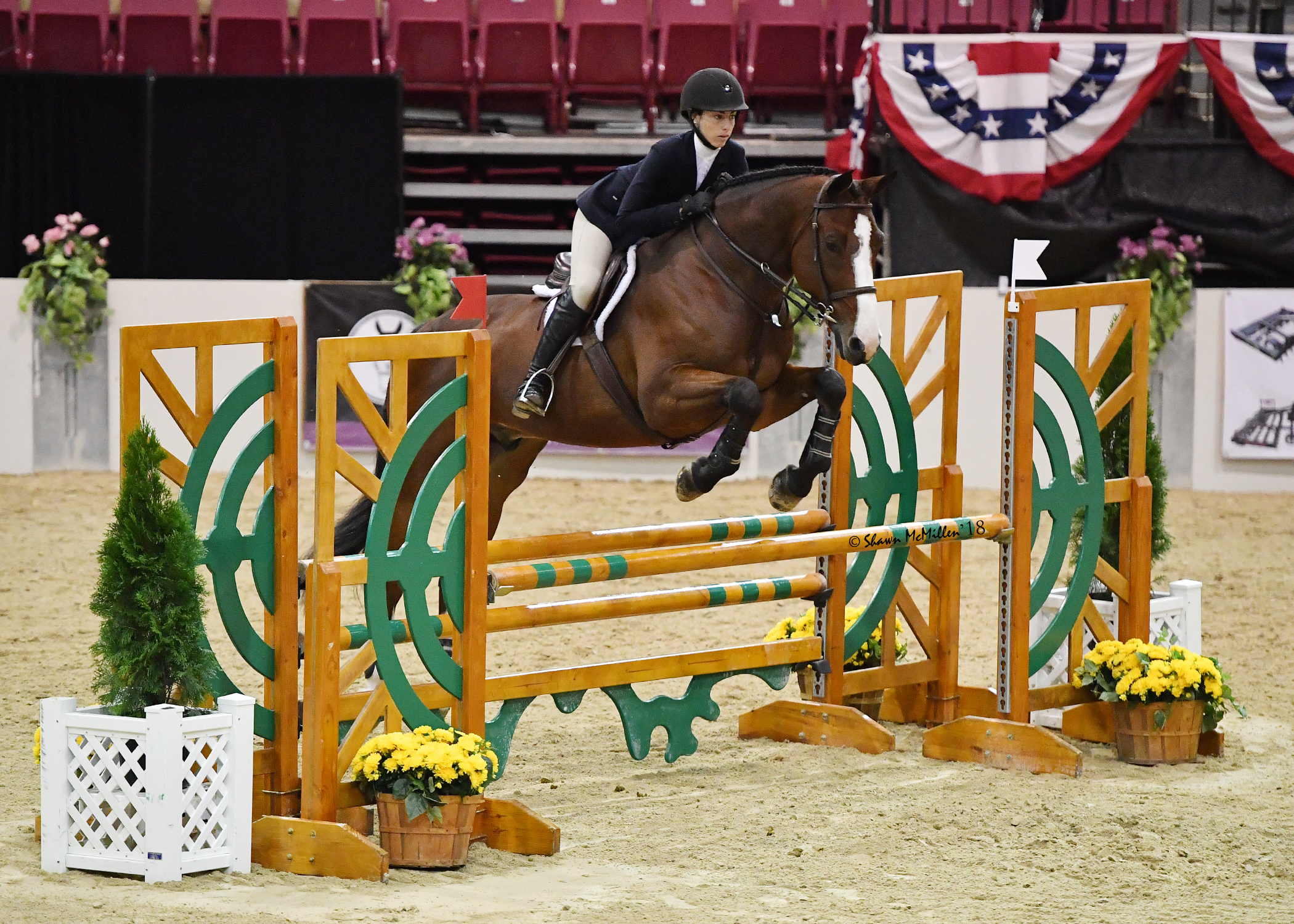 Jessica Stone rode Odyssey to the top spot over three phases of competition in the 2018 USHJA 3'3" Jumping Seat Medal Finals - East. Credit: Shawn McMillen Photography
Coming into Saturday, Stone sat in third on a score of 216.80 from the flat and gymnastics phases, while Breanna Bunevacz of Calabasas, California, held the lead with a score of 220.12. However, Stone soon shot to the top of the leaderboard after earning a score of 89 from judges Mark Jungherr and Sissy Wickes. That score, multiplied by a coefficient of two and combined with her score from Friday, gave Stone a 394.80 total that would prove to be untouchable by the final two riders to return. Bunevacz, 15, finished the round with a score of 84.50 in the jumping phase for a 389.12 total.
With more than 5 points separating them, no additional testing was necessary, and Stone was awarded the victory while Bunevacz took second. For the win, Stone received numerous prizes including a Charles Owen helmet, a set of Professional's Choice Pro Performance Schooling Boots, and a pair of Parlanti paddock boots. For her second-placed finish, Bunevacz was also presented with a pair of Professional's Choice Pro Performance Schooling Boots.
"It feels really good!" said Stone, 18. "We were coming in in third place, so I knew I had to lay down a good round. I trust my horse, so I knew we had a good chance. The course was really nice. The first line was a really tight turn back to jump three so that was a little tricky, but it was a really good course."
Stone is a freshman at the University of Georgia and trains with Abby Blankenship out of Treesdale Farm in Indianapolis, Indiana; before Stone headed into The Show Place Arena for the jumping phase, Blankenship gave her some final advice.
"I said you're a great rider; you just need to ride what's happening at that moment and try to stick to the plan," said Blankenship. "But if you have to adapt a little bit, try and be as smooth as you can be. I tried to not put too much pressure on because the kids put enough pressure on themselves.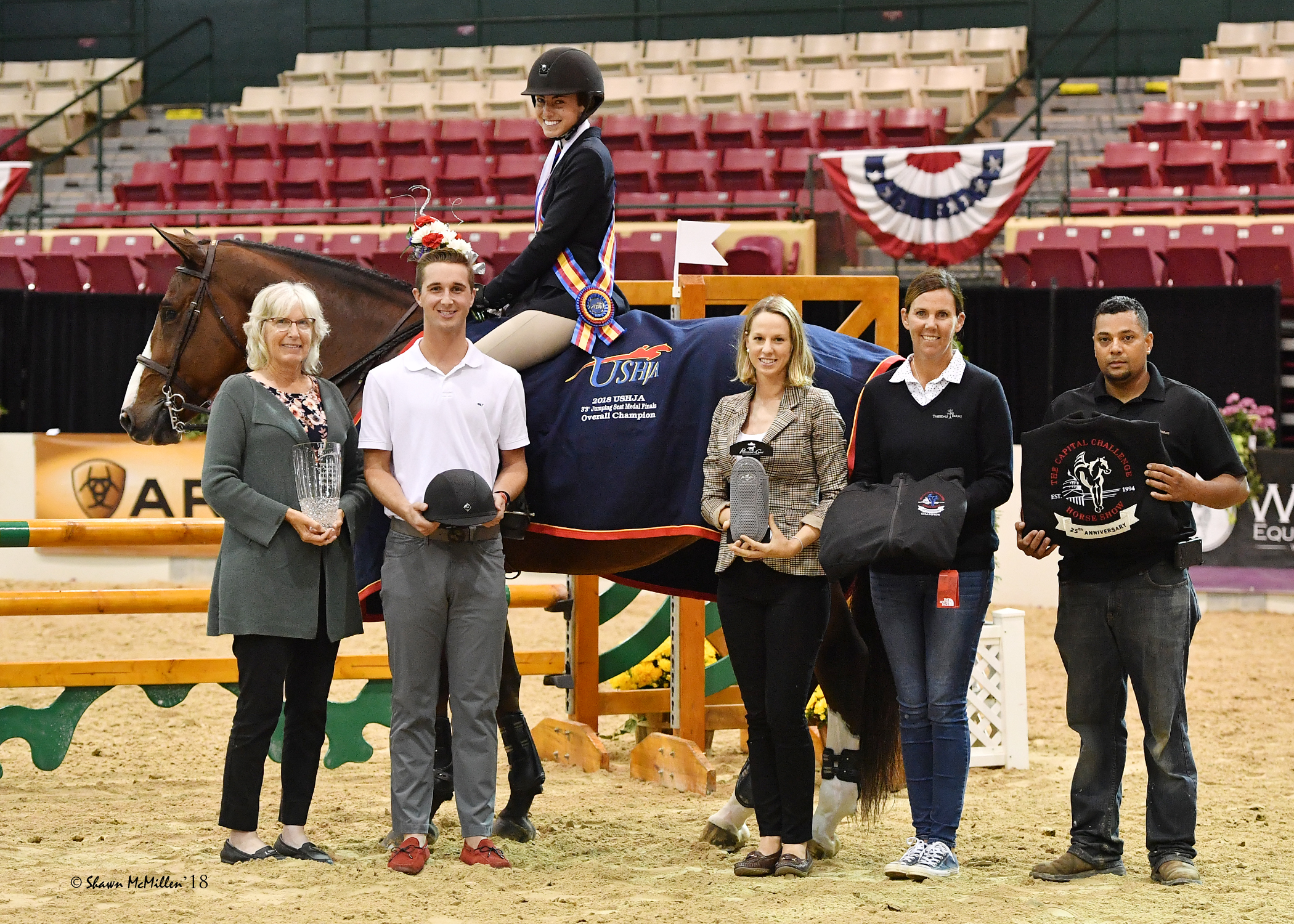 Jessica Stone earned the win in the USHJA 3'3" Jumping Seat Medal Finals - East aboard Odyssey, who was also named Best Equitation Horse. Credit: Shawn McMillen Photography
"I was so happy for her," continued Blankenship. "She has worked really hard, and she is a great rider. And that's a great horse. It's just nice that it came together for her."
The horse, Odyssey, is a seven-year-old gelding owned by Sorensen Stables that Stone began leasing last fall.
"'Nemo' has the best brain; I love him," said Stone. "He's soft; he's fun."
"They developed together," added Blankenship of Stone and 'Nemo.' "It's a good match, and we've learned a lot about him over the 10 months that we've had him. He always steps up to the plate. He's never one that you have to worry about anything going wrong."
In addition to helping Stone earn the win, Odyssey was named the Best Equitation Horse.
The USHJA extends special thanks to the entire Capital Challenge Horse Show team for hosting the Finals. USHJA also thanks Official Sponsors Charles Owen, Inc., CWD Sellier, Parlanti, Professional's Choice, and Rood & Riddle Equine Hospital.
Comprehensive Results for USHJA 3'3" Jumping Seat Medal Finals - East:
| | | | | | | |
| --- | --- | --- | --- | --- | --- | --- |
| | Horse | Rider | Phase I | Phase II | Phase III | Overall |
| 1 | ODYSSEY | JESSICA STONE | 85.55 | 131.25 | 178 | 394.80 |
| 2 | ACORTAIR | BREANNA BUNEVACZ | 90 | 130.13 | 169 | 389.13 |
| 3 | VONDEL DH Z | CAROLINE BALD | 86.9 | 126.15 | 173.5 | 386.55 |
| 4 | CASSOU | EMMA PACYNA | 86.1 | 127.13 | 170.5 | 383.73 |
| 5 | ALVAREZ L | ELIZABETH NEVINS | 77.1 | 129.00 | 174 | 380.10 |
| 6 | HASTA LA VISTA | KYLA SULLIVAN | 87 | 118.65 | 173 | 378.65 |
| 7 | CARLO | EMILY WILLIAMS | 85.3 | 124.73 | 167.2 | 377.23 |
| 8 | ACIDO 7 | JAMES FALONI | 81.75 | 129.75 | 163.7 | 375.20 |
| 9 | COCON 4 | AVERY GLYNN | 84.9 | 129.38 | 160.5 | 374.78 |
| 10 | STELLAR | KATHRYN HALL | 81.5 | 124.88 | 167.7 | 374.08 |
Release by Jump Media
Media Contact:
Megan Lacy
(859) 225-6723