Hunter Riders Crowned as Medalists at USHJA Hunter Team Challenge - West
Thermal, Calif.—Nov. 16, 2021—The USHJA Hunter Team Challenge - West took place from November 9-14 at the Desert International Horse Park in Thermal, California. Six teams of riders competed for medals at the final Challenge of the year, and the big winners of the day were Team Blue, consisting of gold medalists Abigail Steller (San Francisco, California), Emma Brand (Carpinteria, California), Grace Fuller (Montecito, California) and Jennifer Burke (San Diego, California). Team Blue sat in third going into the final round on Sunday, but their overall score of 91 points throughout the week put them on top of the podium.
"I thought it was a lot of fun, and I am so happy that I participated in it," said gold medalist and overall Classic winner Jennifer Burke. "Cheering on my team members and getting to do our sport as a team was really exciting."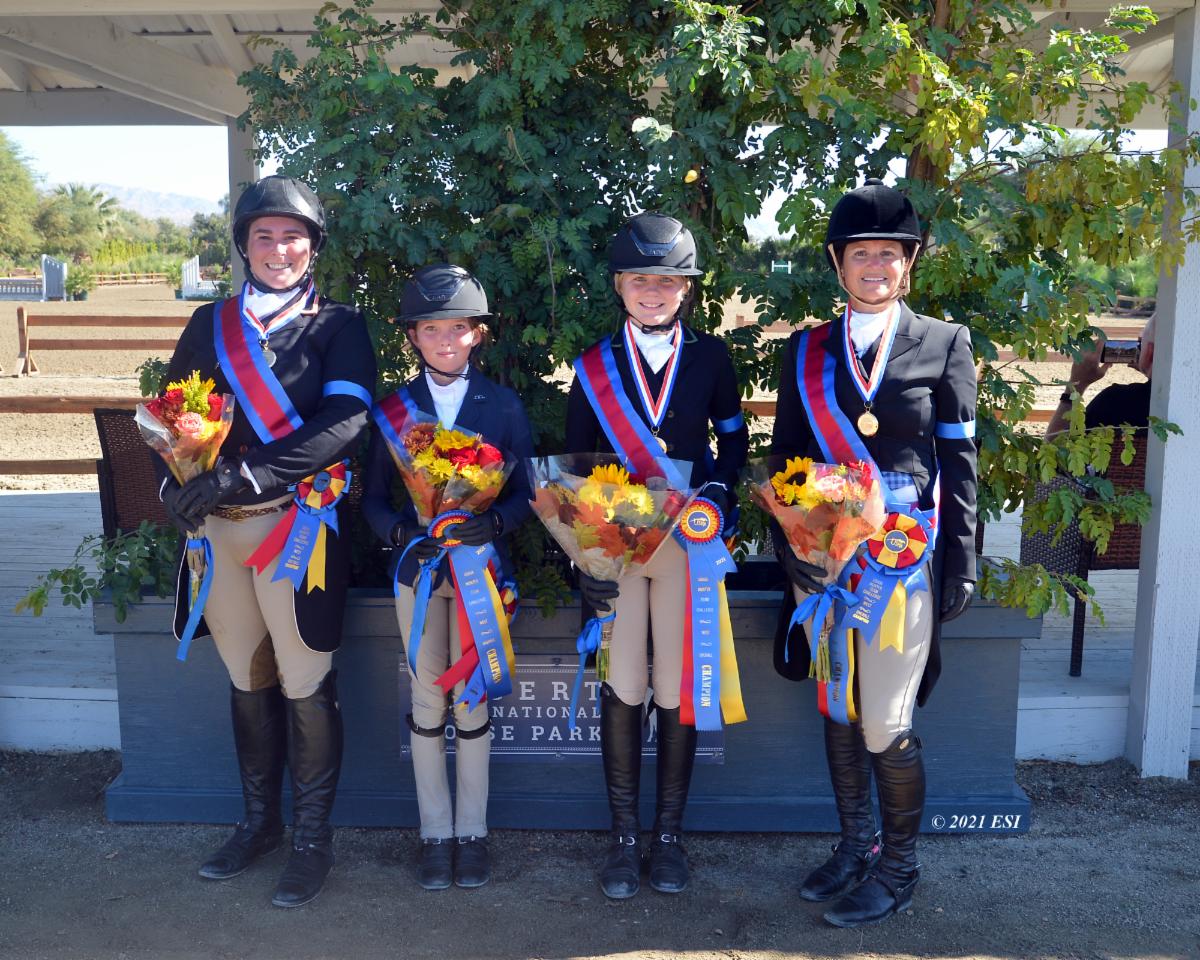 Burke first heard of the USHJA Hunter Team Challenge from her trainers, Alicia Saxton and Alysia Lynch-Sherard. "When we were getting the schedule together and deciding what we were all going to compete in, they mentioned that class and I thought that it would be fun," Burke commented. "I didn't know much about it—if it would be barns competing together or it was a random draw—I just thought it would be fun to try something different other than my regular division, so that's what factored into my decision to do it."
Burke's team member, Steller echoed her sentiment of being happy she participated. "It was just so fun," Steller said. "Even if we had finished last I would've been completely happy. It was an amazing experience and I love being able to cheer on my teammates. I had just returned from having a baby—she's 5 months old—so it was a great opportunity to get back into showing in the 3'. When I found out it also involved the 2'6" and the ponies, I thought it was great and really worth doing. It added a lot more camaraderie between divisions and introduced me to a lot of really interesting people."
The team in the silver medal position was Team Yellow, consisting of Elizabeth Bohlin (Woodinville, Washington), Sabine Erhan (Portland, Oregon) and Sophia Smith (Medford, Oregon). Just behind them for the bronze was Grayson Pacelli (Encinitas, California), Martha Price (Nampa, Idaho), Piper Kulkin (Montecito, California) and Christine Phillips (Oxnard, California) on Team Teal.
Teams were each made up of riders competing in different hunter sections including the 2'-2'6" Children's Pony Hunters, 2'6" Low Child/Adult Hunters and 3' Children's/Adult Amateur Hunter divisions. For the first day of competition, riders competed in their regular division classes, where their scores were also calculated separately earning points toward the Hunter Team Challenge. On the second day of competition, riders competed in the Final Round, a Classic-style over-fences round in Hunter 4 at the Desert International Horse Park.
The Hunter Team Challenge brought a format that isn't seen in any other hunter event, and the format was well received on the West Coast. "The format was really fun," Steller said. "I think it adds something different and I think it's needed, especially for the lower divisions. The 3' and under Hunters need this."
Shane George, Meg Skafgaard, Jack Towell and Marilia Amormino were the judges on Saturday, while Gary Young judged the final round on Sunday. Nancy Wallis designed courses for the day's competition on Sunday.
"I would definitely encourage people to compete in this event," continued Burke. "People saw me walking around with my colored armband, and when we won today and we had all our ribbons, medals, sashes and flowers—it drew a lot of attention. My friends were asking what class it was and wishing they had signed up. I would encourage people to try it—it's a lot of fun!"
"The Desert International Horse Park is honored to have played host to this event in its inaugural year," said Steve Hankin, President and CEO of Desert International Horse Park. "We've seen in the past how enjoyable team experiences can be in both the hunters and jumpers, and we think it brings our community closer together in the long run. We look forward to welcoming this event and more in the future."
Members of the gold medal team received coolers, ribbons and medals. Silver and bronze medalists also received ribbons and medals. All medalists were invited to participate in a special awards ceremony at the end of the Final Round. Team members also received arm bands with their team colors to wear during the competition and some showed their team spirit by color coordinating their horses' braids.
The USHJA sends special thanks to Desert International Horse Park for hosting the Challenge and to official sponsors CWD, Nutrena, Parlanti and Rood & Riddle Equine Hospital. They also thank the Hunter Team Challenge Liaison during the event, Simone Starnes, who helped coordinate teams and answer questions.
To learn more about the USHJA Hunter Team Challenge, visit ushja.org/hunterteamchallenge.
Photos by ESI Photography