Green Hunters and Open Jumpers Lead at Inaugural AON/USHJA National Championships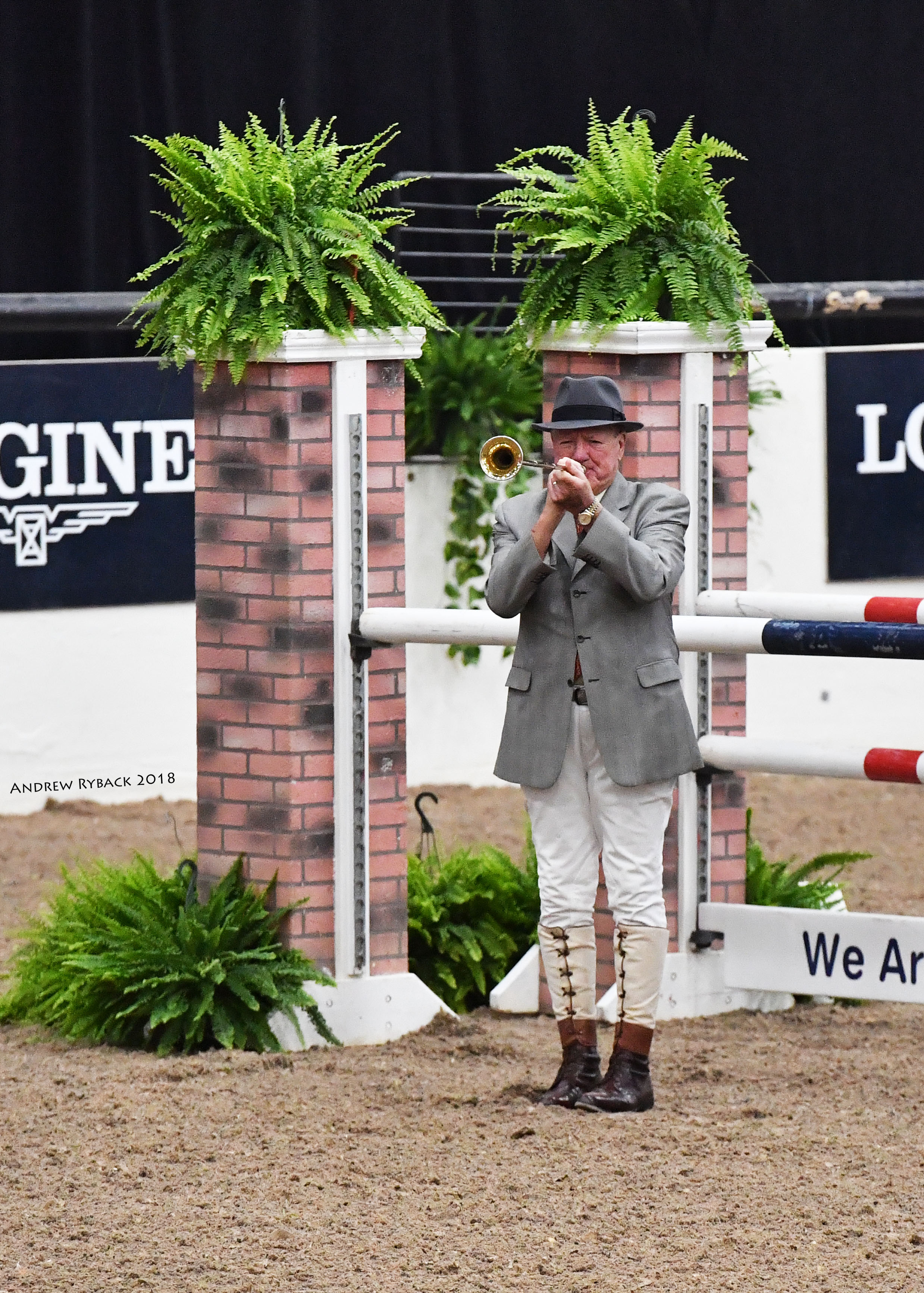 Las Vegas—November 13, 2018—Today, kicked off the inaugural AON/USHJA National Championships at The Las Vegas National, CSI4*-W, amidst the beautifully decorated South Point Arena & Equestrian Center. With nearly every USHJA Zone represented across Hunter, Jumper and Equitation sections offered, the Championships began today with Green Hunters in the Preifert Pavilion and the 1.20m USEF/USHJA Open Jumper Welcome in the South Point Arena.
In the South Point Arena, Welcome classes for the USEF/USHJA Open Jumper Championships started the ring. Angel Karolyi rode Silver Raven Farms' April Moon to the top placing in the 1.20m Welcome class. Jamie Sailor and Penny Lane Farm's Boomerang led the 1.30m Welcome class, and Karianne Boyce-Lockhart rode her own Hopscotch to the win in the 1.40m Welcome class.
Meanwhile in the Preifert Arena, Green Hunters and top professionals from California frequented the winner's circle, in both the over fences and handy rounds. Karli Postel and Meredith Mateo's Vanessa earned the top call in both of the Green Hunter 3' classes offered today.
Jamie Taylor collected blue ribbons for both her 3'3" and 3'6" mounts, owned by Iwaskai & Reilly. Taylor and Small Statement earned the win in both the 3'3" classes, and she rode Small Occasion to the top call in the 3'6" Over Fences. Nick Haness and Atellia No. 5, owned by West Coast Equine Partners, LLC, won the 3'6" Handy Hunter round.
Jenny Karazissis rode Lisa Hankin's Puissance R to the top placing in the 3'9" Green Hunter Over Fences, while Brent Balisky and Class Act, owned by Wendy Valdes, earned the blue ribbon in the 3'9" Handy Hunter Round.
Tomorrow the action continues as Green Hunter Champions, an overall Green Hunter Grand Champion, and Green Hunter High-Score Rider Award are presented. Rider bag pick up will be available beginning at 12 p.m. tomorrow at the USHJA Office, located upstairs on the South Point Arena concourse, first office past the VIP Saloon.
USEF Network is hosting wall-to-wall coverage of the AON/USHJA National Championships. Check out all the details here:
As the leading global provider of risk management, insurance and reinsurance brokerage, and human resources solutions and outsourcing services, AON is the title sponsor for the USHJA National Championships for 2018, 2019 and 2020. USHJA extends thanks to AON, as well as Championship awards sponsors Essex Classics, Prize Possessions, FITS, Shapley's, SmartPak, C4, and Savannah School of Art and Design, and USHJA Official sponsors: Charles Owen, Official Helmet; CWD, Official Saddle; Parlanti, Official Riding Boot; Professional's Choice, Official Horse Boot; and Rood and Riddle, Official Equine Hospital and Veterinary Pharmacy.
For more information, schedule, orders of go, visit showpark.com.
About Aon
Aon plc (NYSE:AON) is the leading global provider of risk management, insurance and reinsurance brokerage, and human resources solutions and outsourcing services. Through its more than 50,000 colleagues worldwide, Aon unites to empower results for clients in over 120 countries via innovative and effective risk and people solutions and through industry-leading global resources and technical expertise. Aon has been named repeatedly as the world's best broker, best insurance intermediary, reinsurance intermediary, captives manager and best employee benefits consulting firm by multiple industry sources. Visit www.aon.com for more information on Aon and www.aon.com/manchesterunited to learn about Aon's global partnership and shirt sponsorship with Manchester United. Aon is a broker for Great American. Great American is a contributor to the AON/USHJA National Championships.
Photo by Andrew Ryback Photography