French Finishes First in $223,350 Platinum Performance/USHJA International Hunter Derby Championship
Lexington, Ky.—Aug. 20, 2023—It has been fourteen years since John French entered the Kentucky Horse Park's Rolex Stadium on a horse donning the Platinum Performance/USHJA International Hunter Derby Championship tricolor, but on Saturday, August 19, he did just that with Meredith Lipke's Paradigm. The pair posted a leaderboard-topping score of 599.25 after two rounds, taking the win and the $37,719.35 check by a mere quarter of a point.
"It's been a long time. I didn't know if I was going to win another one. I'm probably the oldest person in the class, so maybe this will be the last time for me, so it makes it even more special," said French, reflecting on his 2009 win with Rumba. "It still feels amazing to win this class. To me, for the Hunters, it's the biggest special class that there is."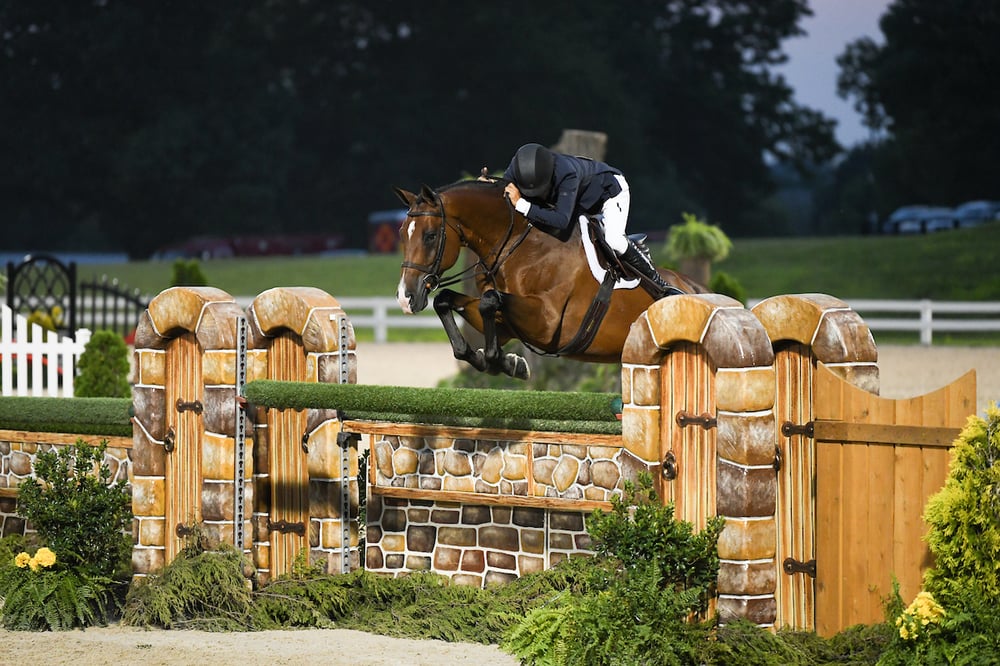 Section A of the Championship saw 30 horses contest Alan Lohman's course in front of judges Jennifer Bauersachs, Jeanne Marie Dunford-Miller, Troy Hendricks, Jessie Lang, Holly Orlando and Mike Rosser. The course, which featured a trot jump amidst a unique pen obstacle, sorted the top competitors over the course of the class.
Penultimate duo Geoffrey Hesslink and Drumroll set the tone by earning a 599. Entering with an impressive 300.75 from Friday's Classic Round, French needed more than a 289.25 to take over the lead. True to his name, Paradigm was awarded a 95.50, 97.75 and 93.25, plus four high options, to secure the title.
"I knew I couldn't make any big mistakes in the round. I mean, anything can happen. So, I just wanted to do the best that I could. And whatever happens, happens," French, of Wellington, Florida, said. "We had a bit of a lead going into tonight, so I was a little bit worried about the trot jump and the turning back to the vertical because my horse likes to land on the left lead, so I knew I'd have to do a change inside there and turn back to that jump. But, the high options, I think he jumped really well."
"He's super brave. He's super scopey. He has a rhythm between the jumps. So, especially when you're riding in a big field like this, you could just see your stride from so far back because the canter is so comfortable," he continued of the 11-year-old warmblood gelding.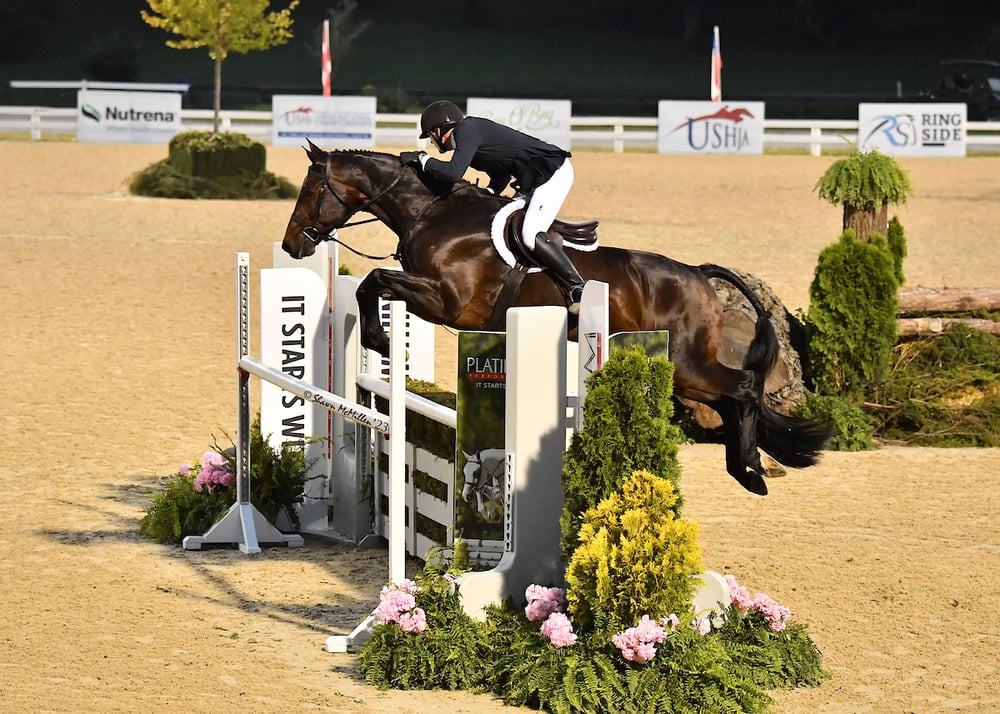 Hesslink's score of 599 was enough to collect the reserve champion title—and a $24,675.71 check—for the second time in his career. With that, the Wellington, Florida, Tier II rider and Drumroll, owned by Meridian Farm LLC, were also named Section B champions and took home an additional $8,594.51.
"I did this once before and it was awesome, so I'm really happy to do it again," Hesslink said. "I thought the course was maybe a little tougher than it looked originally. My horse was quite impressed, I thought, with the atmosphere, and he really was trying be quite sharp. So I wanted to be bold and kind of give him a nice canter to work out of and he kept coming up with the jump. It felt really nice. He tried really, really hard."
Made up of the top 25 riders designed as Tier II riders, meaning they ranked 41st and lower on the Three-Year Rider Money Won list, Section B riders were eligible for 20 percent of the prize money. Those Tier II riders that qualified for Section A were eligible for both purses. For Hesslink, that means he pocketed a total of $33,270.22.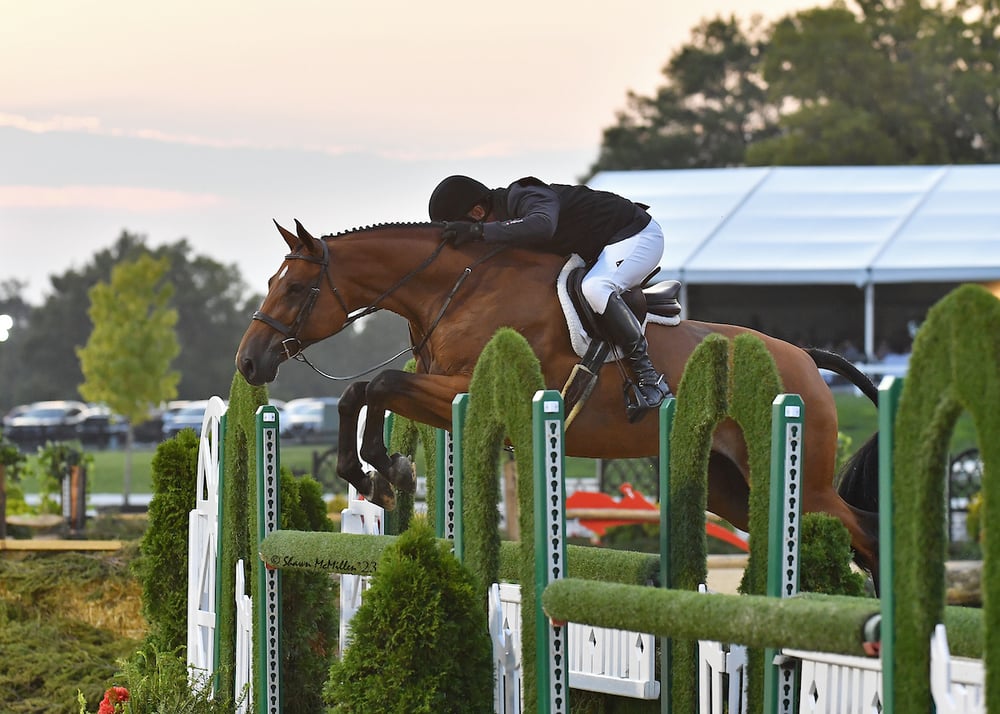 Jimmy Torano, of Wellington, Florida, wrapped up the top three and claimed $18,940.08 with Laskano. Coming in from the ninth spot after the Classic Round, Torano and the gelding, owned by Isalou Inc., posted the same Handy Round score as French to finish with a 586.50 overall.
"It's a horse you can totally count on. He's not spooky. Great rhythm. He's with me the whole way. He never had to do a lead change the entire round. He landed every single lead. I mean, I don't think he could have really gone any better," said Torano. "I got to say, I don't think the horse could have gone any better."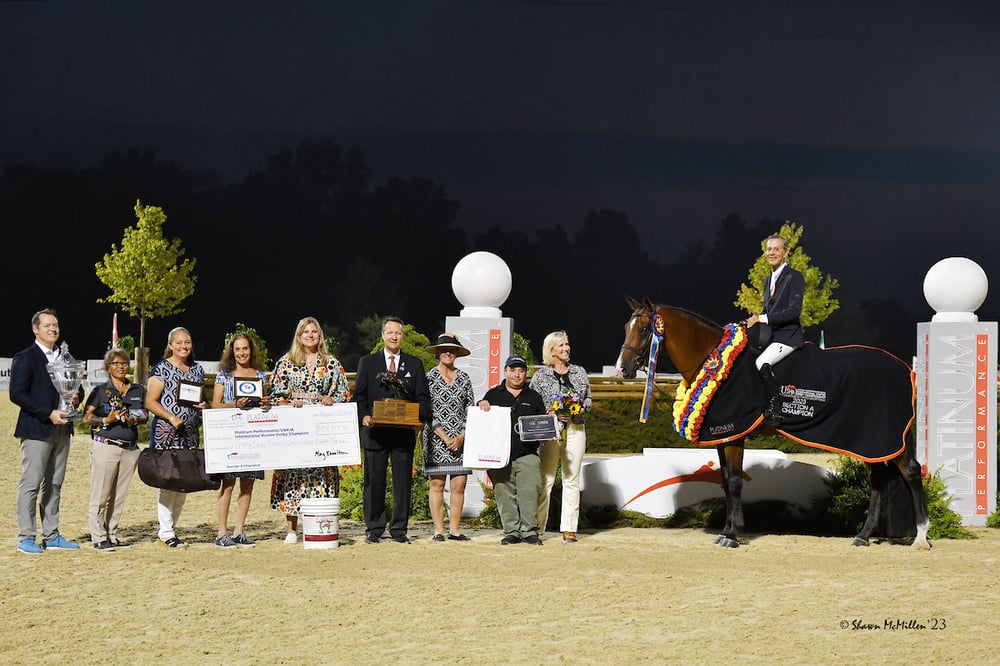 As Section A champion, French received an Essex Classics Show Shirt, product from Platinum Performance, a cooler from The Clothes Horse, a belt from Boy-O-Boy Bridleworks, a gift from Rood & Riddle Pharmacy and a keeper trophy. The overall Section A champion rider also received a CWD Saddle, a gift from Human Touch, a medal and keeper trophy, and was awarded the Beaver River Farm Perpetual Trophy. The Wrenwood Farm Trophy was awarded to Meredith Lipke as the Section A champion's owner, and the winning trainer received product from Nutrena. French's groom received an embroidered jacket.
As overall reserve champion, Hesslink received product from Platinum Performance, a belt from Boy-O-Boy Bridleworks, a cooler from The Clothes Horse and a gift from Rood & Riddle Pharmacy.
As Section B champion, Hesslink received a belt from Boy-O-Boy Bridleworks, Parlanti International Tall Boots, an Essex Classic Show Shirt, product from Platinum Performance, a cooler from The Clothes Horse and a gift from Rood & Riddle Pharmacy.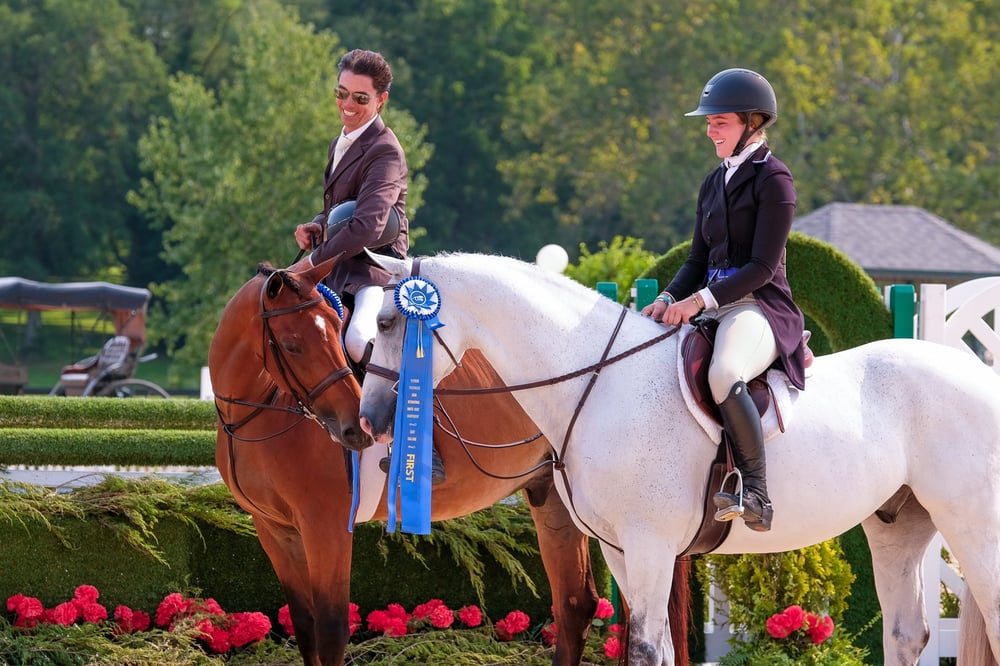 Earlier in the day, horse-and-rider combinations that didn't make it into Section A or B of the Championship's Handy Round could compete in the $10,000 Derby Challenge. Ariana Marnell, of Las Vegas, Nevada, rode Marnell Sport Horses' Ocean Road to a tie with Colin Syquia, of Forest Hills, New York, and Cynthia Sulzberger's Front Page. Each pair collected a check totaling $2,600.
Additional awards were also presented throughout the evening. The Rider Style Award went to Chris Payne, who received a duffle bag, a keeper trophy and wore a white carnation in the Championship Round as a representation of receiving the honor. The Alberto Ramirez International Derby Groom's Award and keeper trophy was presented to Juan Aguilar and Marcos Martinez, grooms of HH Eagle Scout, ridden by Quentin Judge. The top-placing Amateur-Owner rider was Callie Seaman with a 478.5 aboard Diamante. Gigi Phillips was presented as the top-placing Junior-Owner of Thunderbird with a 493. The top-placing Junior rider was Maddie Tosh, who finished on a 493.50 with Ulysses. Seaman, Phillips and Tosh each received an Essex Classics Show Shirt for their honors.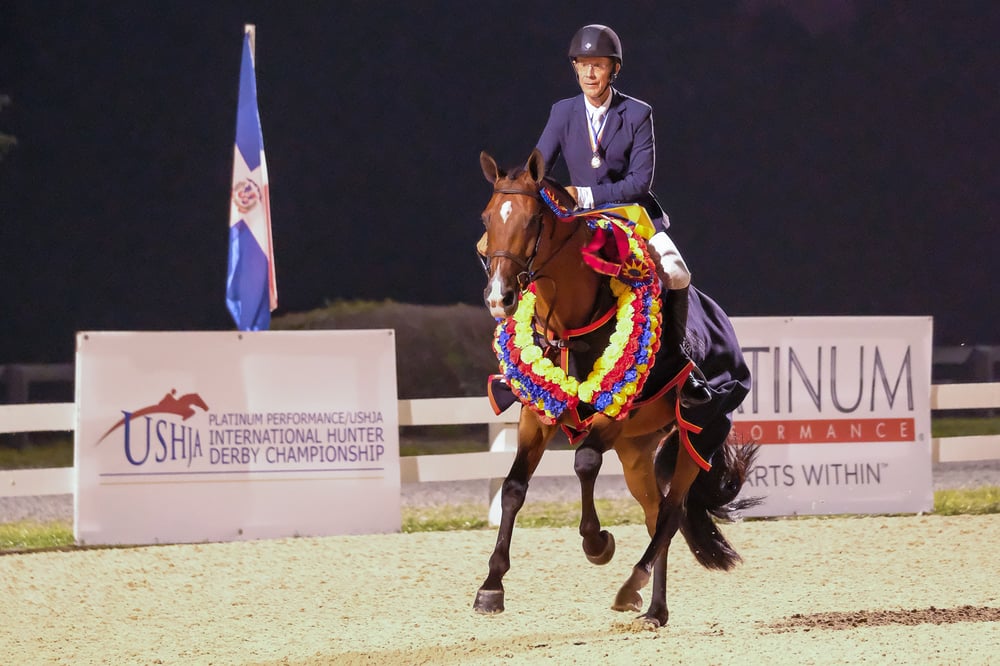 The USHJA thanks the sponsors who helped to make these championships possible including Title Sponsor Platinum Performance; Official Sponsors CWD, Exhibitor's, Nutrena, Parlanti International, The Clothes Horse, and Rood & Riddle Equine Hospital and Pharmacy. Thanks also go to Official Broadcast Provider ClipMyHorse.TV and Livestream Presenting Sponsor Windsor Stables with Michael Britt-Leon and Kelly Sims; Supporting Sponsors RingSide Pro and Human Touch; and Award Sponsors Essex Classics and Boy-O-Boy Bridleworks.
The USHJA also thanks Show Manager Hugh Kincannon and the entire Kentucky Horse Shows team for their assistance with the Platinum Performance/USHJA International Hunter Derby Championships.
Wall-to-wall live streaming coverage presented by Windsor Stables was available at no additional cost to members at ushja.org and ClipMyHorse.TV. Additional coverage will be available in the upcoming issue of In Stride.
For more information about the Platinum Performance/USHJA International Hunter Derby Championships, visit ushja.org/DerbyChampionship. For online results, visit ushja.org/hunterchampionshipweek.
Photos: Terisé Cole/USHJA, Shawn McMillen Photography, Tricia Booker/USHJA
Platinum Performance/USHJA International Hunter Derby Championship Results
Horse | Owner | Rider | Score
1. Paradigm | Meredith Lipke | John French | 599.25
2. Drumroll | Meridian Farm LLC | Geoffrey Hesslink | 599
3. Laskano | Isalou Inc. | Jimmy Torano | 586.50
4. Estimated Prophet | Roaring Fork Farms LLC | Nick Haness | 582
5. Daydream | Haylie Rolfe | Haylie Rolfe | 577.40
6. Red Ryder | Tracy Freels | Hannah Isop | 577.25
7. Autograph | Ceil Wheeler | Hunt Tosh | 572.90
8. Cavaletto Loma Z | Gail Ellis | Nick Haness | 571.50
9. Chappy | Carole Chase | Greg Crolick | 262.75
10. Milagro | Kent Farrington LLC | John French | 555.25