French and Paradigm Level Up in Platinum Performance/USHJA International Hunter Derby Championship With Classic Round Win
Lexington, Ky.—Aug. 18, 2023—John French and Paradigm rode into the Rolex Arena at the Kentucky Horse Park in Lexington, Kentucky, and jumped an impressive Classic Round in the 2023 Platinum Performance/USHJA International Hunter Derby Championship, earning themselves a 300.75 score on Friday, August 18.
Judges Mike Rosser, Holly Orlando, Jeanne Marie Dunford-Miller, Jennifer Bauersachs, Troy Hendricks and Jessie Lang saw 83 horses compete over Alan Lohman's first-round course. While the overall champion is not crowned until after Saturday night's Handy Round, French and Meredith Lipke's 11-year-old Warmblood gelding are headed into the round with a positive outlook and in a great position.
"I'm pretty happy with Paradigm. I only showed him in one class this week and he's just a type of horse even when you're a little bit nervous, he's good to ride," said French, of Wellington, Florida. "He has a very relaxing canter and it's such a good rhythm."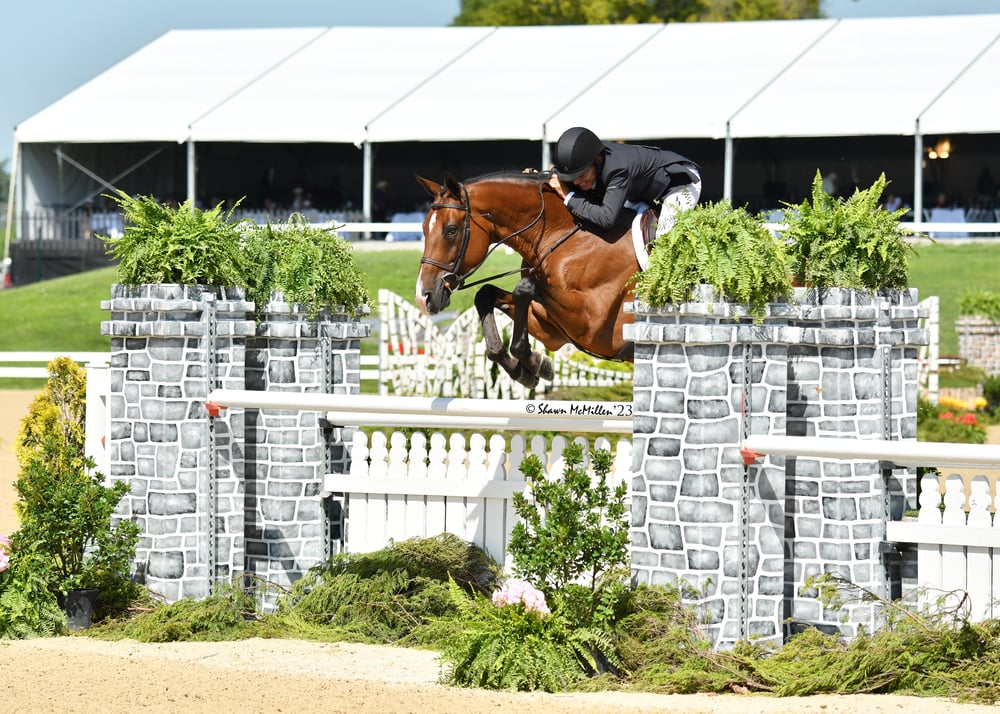 Last year, French had an accident and broke his leg, which resulted in a hip replacement and contributed to Paradigm not having as much experience in jumping with the larger fences and in a greater atmosphere. Once French received the ok to start riding again, the gelding was his first pick due to his trusting nature and comfortable gaits.
"When I started riding again, he was the only horse I wanted to ride. I trusted him and he was super comfortable, and I had a new hip," continued French. "We did a few shows last year and his owner wanted him in the Derby this year, so that was our focus. After the Derby Championships, [Lipke] is probably going to take the reins over."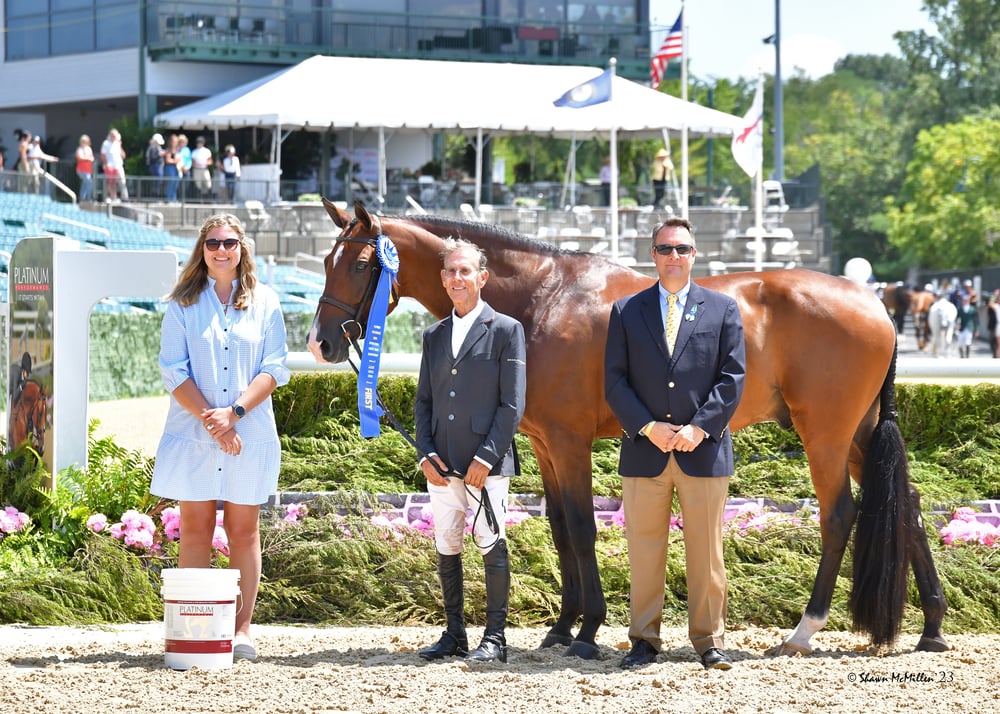 Close behind French were Geoffrey Hesslink and Meridan Farm LLC's Drumroll on a score of 298.25. This past summer, the pair won the 2023 $100,000 USHJA World Championship Hunter Rider Central Hunter Spectacular.
"My goal was just to have a good round on the course," said Hesslink, of Wellington, Florida. "He's relatively new to me, but I have been lucky enough to do a few bigger classes, and I think he was made for a competition like this. I just really wanted to be confident and have a good round."
"I feel like there's nothing Drumroll couldn't jump or do," continued Hesslink of the 9-year-old Holsteiner gelding. "I felt very confident in the class in Michigan and here as well. He never spooks and he's quite scopey, and I hope we have the same luck tomorrow."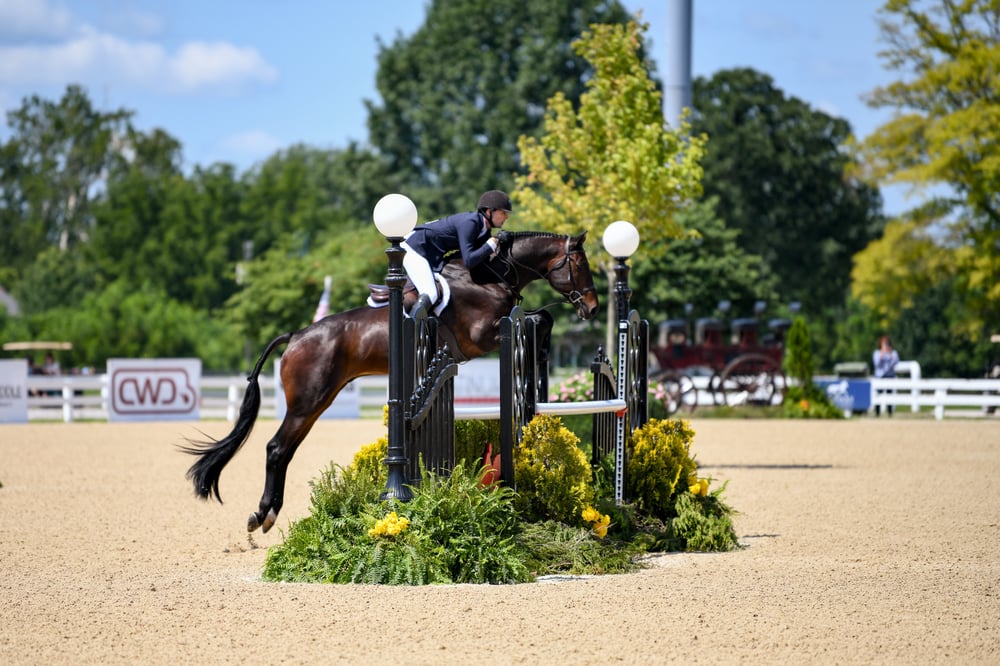 Sitting only a half-point behind Hesslink are long-time pair Amanda Steege with Cheryl Olsten's Lafitte De Muze. The pair are no strangers to grand arenas as they placed seventh overall last year in the Platinum Performance/USHJA International Hunter Derby and were the 2021 winners of the $50,000 World Championship Hunter Rider Peter Wetherill Palm Beach Hunter Spectacular.
"I was thrilled with Lafitte today. I think this might be my fourth Derby Championship on him, but for me, he's still developing as a horse, and in a class like this and in these big classes, sometimes he and I both get a little overly excited," Steege, of Califon, New Jersey, said of today's round. "Our goal was calm confidence today, which I felt like he did perfectly out there, and I am happy with my spot. I feel really good about coming in third and having a few years of experience already in tomorrow night's class."
"I thought there were so many beautiful rounds and very few big mistakes or horses that looked overwhelmed, so hats off to Alan [Lohman] for that! I thought, in general, the horses all jumped really well and looked happy out there," she continued.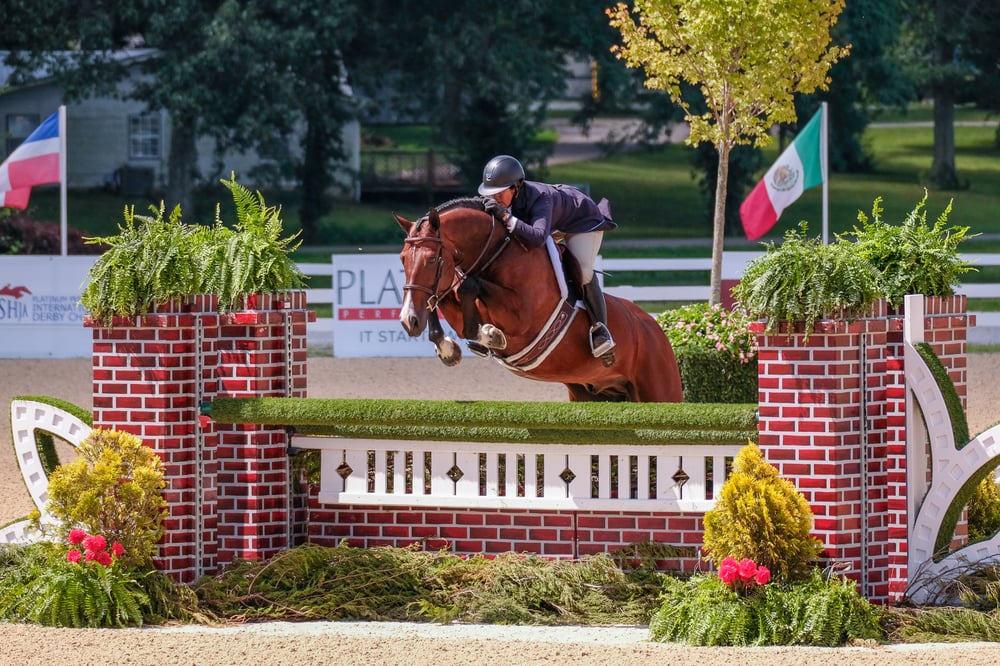 Aiming to catch up to French and Paradigm tomorrow night, it can still be anyone's chance to take home the title.
"This class traditionally has a lot of mix-up tomorrow. I think really anyone in the top 10 or 12 could make a big move, depending on how it all goes," Steege said looking towards the Handy Round.
"I'm not going to go crazy," French said of his strategy, aiming to recreate his win with Rumba at the inaugural International Hunter Derby Championship in 2009. "It all depends really on how people go before you. Depending on the course, there will be a lot of options you might want to take. It really depends on if other people are doing it, and if someone does it and it gets a really high score, it kind of forces you to do it. I'll see how the course is going and how everyone else is doing it."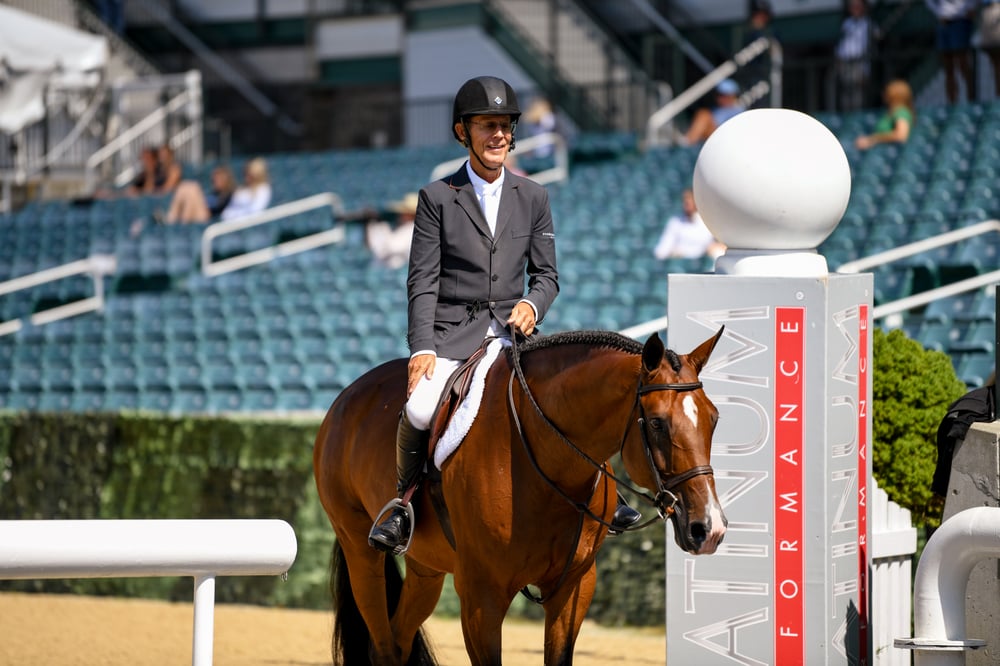 The fourteenth Platinum Performance/USHJA International Hunter Derby Championship will finish Saturday evening, August 19, under the Rolex Stadium lights with the exciting Handy Hunter round. The top 30 horses from the Classic Round will return to contest the shortened course as Section A and are eligible for 80 percent of the prize money.
The top 25 Tier II rider-and-horse combinations—those ranked 41st and lower on the Three-Year Rider Money Won list—are designated as Section B and will also return to compete for the Section B title. Tier II riders that qualify for Section A will count as part of the 25 riders in Section B, meaning their horses will only jump once but can earn money in both sections. Currently leading Section B and sitting in second overall is Hesslink with Drumroll.
"It feels really good [being the highest Tier II rider at the moment]," said Hesslink. "I've actually won the Tier II Derby Finals before and I finished second in Section A and won Section B. I didn't think it was possible to win that much money, so it was really cool to walk away with a big check like that, so I'm really looking forward to that."
Additionally, the $10,000 Derby Challenge, will be held on the afternoon of August 19, allowing riders that did not qualify for either the Section A or Section B Handy Round to compete one more time for a substantial amount of prize money.
The USHJA thanks the sponsors who helped to make these championships possible, including Title Sponsor Platinum Performance and Official Sponsors CWD, Nutrena and Parlanti International. Thanks also go to Official Broadcast Provider ClipMyHorse.TV and Livestream Sponsor Windsor Stables; Championship Official Sponsors Rood & Riddle Equine Hospital and Pharmacy and The Clothes Horse; Supporting Sponsors RingSide Pro, Grayson-Jockey Club Research Foundation and Human Touch; Award Sponsors Essex Classics, and Boy-O-Boy Bridleworks.
The USHJA also thanks Show Manager Hugh Kincannon and the entire Kentucky Horse Shows team for their assistance with the Platinum Performance/USHJA International Hunter Derby Championships.
Wall-to-wall live streaming coverage presented by Windsor Stables is available at no additional cost to members at watchushja.org and ClipMyHorse.TV. Additional coverage will be available in the upcoming issue of In Stride.
For more information about the Platinum Performance/USHJA International Hunter Derby Championships, visit ushja.org/IHD. For online results, visit ushja.org/hunterchampionshipweek.
Photos: Shawn McMillen Photography, Terisé Cole/USHJA, Tricia Booker/USHJA
Platinum Performance/USHJA International Hunter Derby Championship Classic Hunter Round Results
Horse | Owner | Rider | Score
1. Paradigm | Meredith Lipke | John French | 300.75
2. Drumroll | Meridian Farm LLC | Geoffrey Hesslink | 298.25
3. Lafitte De Muze | Cheryl Olsten | Amanda Steege | 297.75
4. Magic Moment | Redfield Farm | Brian Feigus | 296.75
5. Cardentos | Sybil Rose | Nick Haness | 294.75
6. Red Ryder | Tracy Freels | Hannah Isop | 291
7. Tangled Up In Blue | 3P Equine Partners LLC | Halie Robinson | 290
8. Estimated Prophet | Roaring Fork Farms LLC | Nick Haness | 290
9. Laskano | Isalou Inc. | Jimmy Torano | 288
10. Unbelievable | Stephanie Mazer | Jacob Pope | 288
11. Daydream | Haylie Rolfe | Haylie Rolfe | 287.40
12. Chappy | Carole Chase | Greg Crolick | 284.50