Emily Grace Swinson Wins 2023 MZ Farms/USHJA Emerging Athletes Program National Training Session
Findlay, Ohio—Nov. 14, 2023—Emily Grace Swinson stood out on top out of a group of 16 exceptional upcoming athletes following four days of riding and stable management at the 2023 MZ Farms/USHJA Emerging Athletes Program National Training Session, held at the University of Findlay's James L. Child, Jr. English Equestrian Center in Findlay, Ohio, on November 9-12.
"Winning the EAP National Training Session feels so surreal, and I'm so grateful for the opportunity to be able to ride this week," said Swinson, 19, of Pinehurst, North Carolina.
"My favorite part of EAP this week is getting to know my horse, Barolo, and being able to take home information that I learned from Colleen and Peter."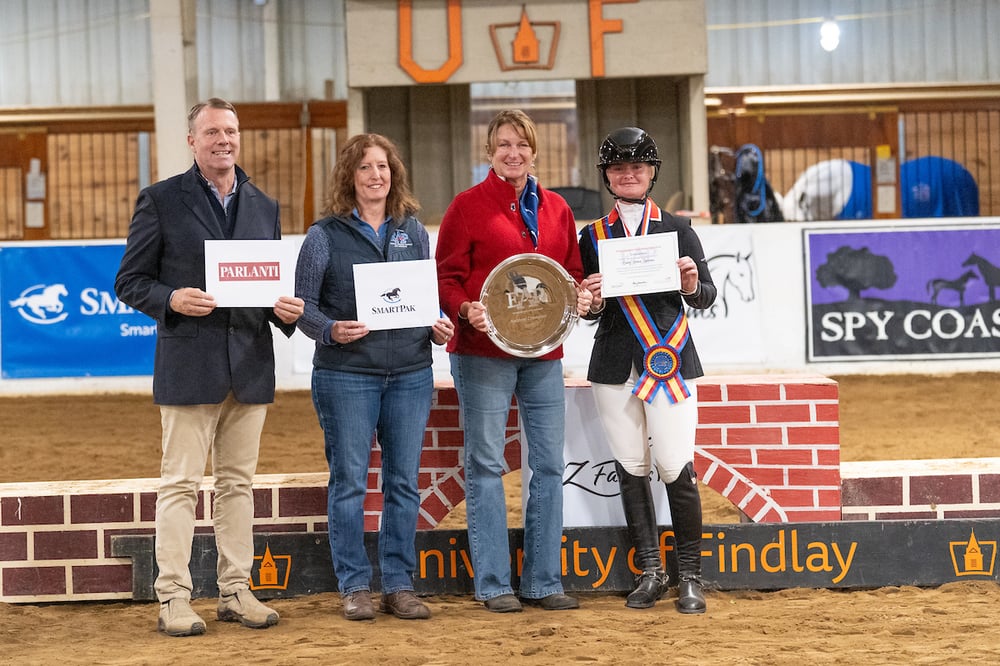 "To prepare for Nationals, I did a lot of no-stirrup work and rode multiple horses in the barn each week," Swinson said. "Advice I would give someone looking to ride at a Regional Training Session with hopes to make it to the National Training Session is to really grasp everything you can learn. Listen to your stable manager and lead clinician and be prepared with your horse before attending a Regional Training Session."
Her training efforts and dedication in the barn paid off, as she rose to the occasion and shone in the eyes of Lead Riding Clinician and Olympian Peter Wylde, Stable Manager Colleen Reed and the Emerging Athletes Program Committee to win this year's National Training Session.
"My immediate future goal within this sport is to attend the USHJA Gold Star Clinic in Wellington, Florida, in 2024," said Swinson of her next steps. "I plan to take the information that I learned from Peter and Colleen to my horses at home in preparation for the Gold Star Clinic and to continue [advancing in the Jumper ring, working up to the Grand Prix level soon]."
"I just wanted to say a quick thank you to MZ Farms and USHJA for hosting such a wonderful clinic and the University of Findlay and donors for providing wonderful horses this week to ride," Swinson complimented.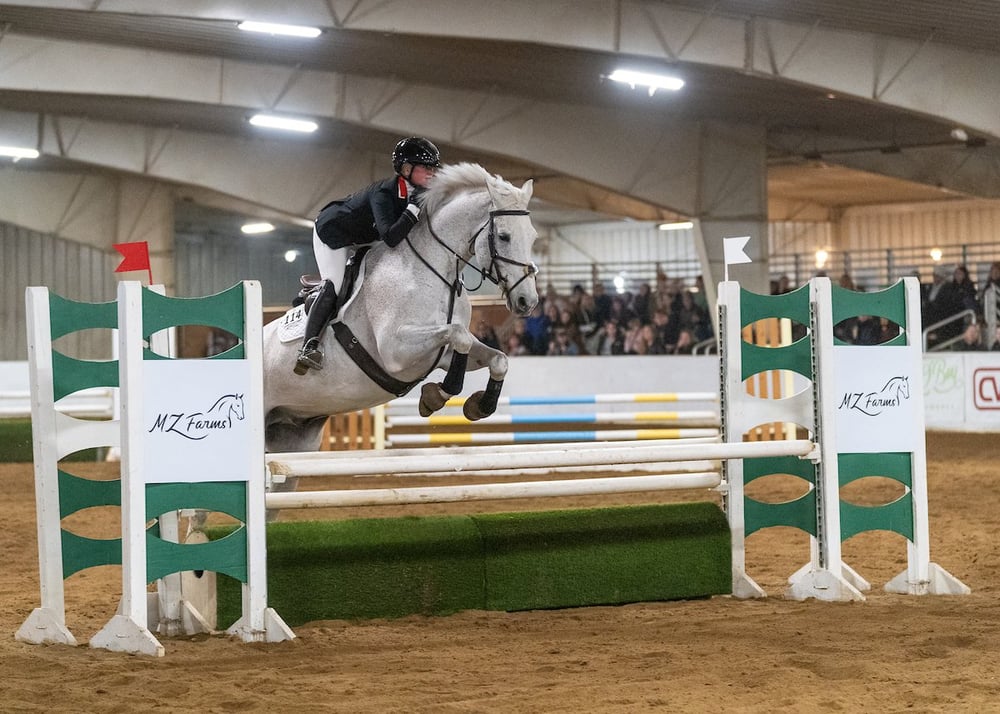 "Emily Grace was the whole package," said Wylde on Swinson. "She was very professional in everything that she did, and her horse also won the Best Turned Out Horse Award. She was very organized and prompt, and her knowledge and her commitment to horse care was really fantastic. She really excelled as a rider."
"Overall, we had a wonderful group of riders this year," Wylde continued. "The group as a whole was really enthusiastic, fun kids that worked hard, tried hard and rode very well."
Stable Manager Reed was impressed by the meticulous detail that Swinson put into her horse and stable area from the start to the end of the week.
"She was very professional throughout the entire week. Emily Grace took meticulous care of her horse, her area and her equipment—not a single detail was left unturned all week," Reed said. "From the moment she arrived until the last moment that she put her horse away after competition today, she thought about all the other things that her horse may need or benefit to continue through the week and jump multiple rounds."
Swinson received a pair of Parlanti paddock boots and a gift card from SmartPak. She will receive a $3,000 training grant from USHJA to be used for advancing her training with an approved trainer. She was also invited to ride in a 2024 Lindsay Maxwell Charitable Fund/USHJA Gold Star Clinic.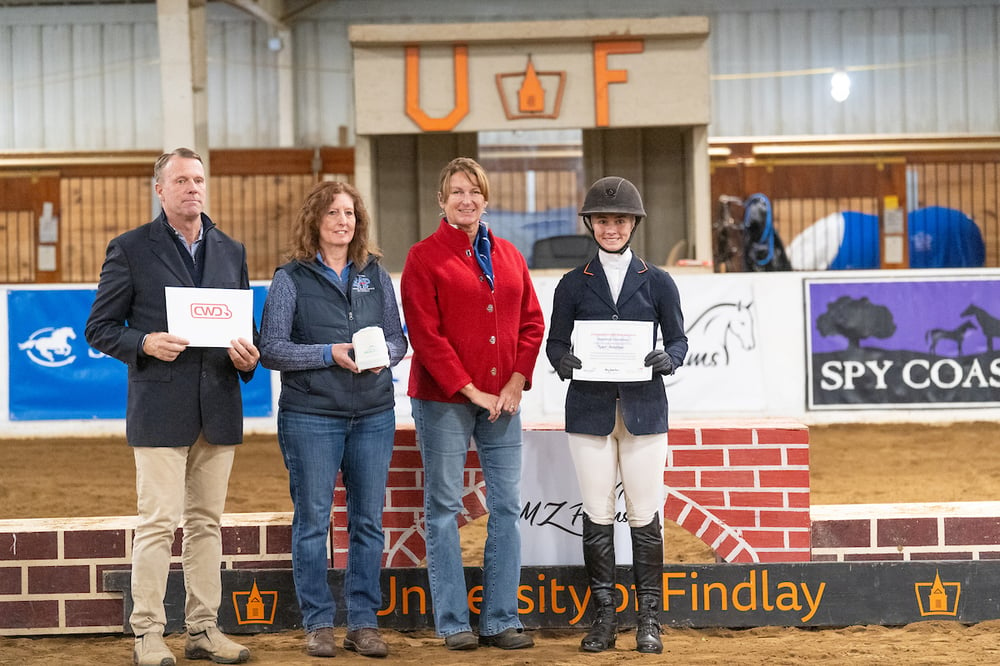 Reserve Champion Tyler Anderson, 21, of Novi, Michigan, has been dreaming of making it to the National Training Session since she saw her trainer's daughter ride at it 10 years ago. Anderson has attended Regional Training Sessions in previous years but has not made it to Nationals before. She credits her success to the different trainers who allowed her to catch ride under them.
"I prepared by trying to ride as many different horses with as many different trainers as possible," Anderson explained. "I am so incredibly thankful for the unbelievable generosity of my trainers Mary Roskens, Kim Carey, Melissa Donnelly, Michelle Friedman, Jennifer Blades, Danielle Roskens and Sari Clapperton for letting me come ride their horses and really pour their knowledge into me."
"I would say, first and foremost, getting to know horses has been my favorite part of this week and the sport in general," she continued. "My other part is learning from the wonderful clinicians and riding with the quality of riders that they had here. Everybody just works so hard is so kind and is always willing to lend a helping hand, it's really an incredible experience."
"I just graduated this spring," Anderson said. "Right now I'm completing my master's in sports coaching performance. I plan on using that to coach and I would really like to have my own training facility one day that can just help give to others what the sport gave to me as a long-term goal."
As Reserve Champion, Anderson received an invitation to a 2024 Lindsay Maxwell Charitable Fund/Gold Star Clinic, a handwoven belt from Boy O Boy Bridleworks and a CWD gift card.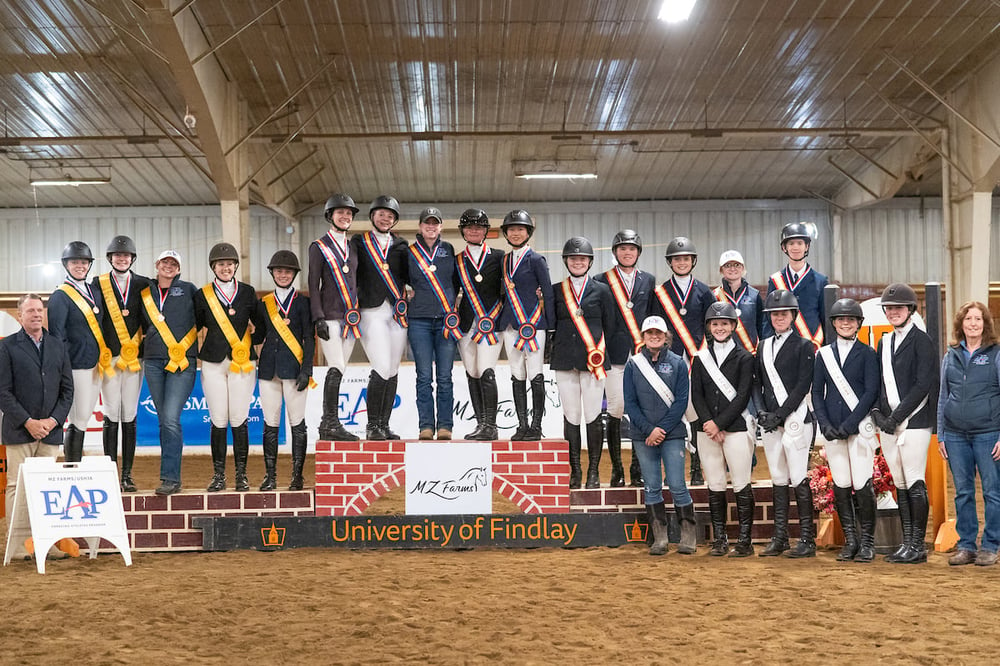 In the modified Nations Cup competition, Team Albany consisting of Izzy Cook (Benton, Ark.), Rowan Love (Sweet Briar, Va.), Lily Muzzy (Coto de Caza, Calif.), Swinson and Stable Manager Kelly Conway (Marietta, Ga.) took home the Gold medal.
Team Touch of Class made up of Lucy Metzler (Boulder, Colo.), Cooper Zaruby (Longmont, Colo.), Karston Gundry (Newburg, Ind.), Lauren Satola (Fulton, Md.) and Stable Manager Finley Scheffel (Georgetown, Ky.) took home Silver.
Team Abdullah earned Bronze with Annie Kimball (Milton, Ga.), Alyssa Stevens (Wampum, Penn.), Sarah Miller (Culpeper, Va.), Tyler Anderson, and Stable Manager Hailey Bergstrom (Camas, Wash.).
Team Calypso consisting of Sianna Gable (Ontario, Ore.), Taryn McEntire (Oceanside, Calif.), Casey Van Nostrand (Guilderland, N. Y.), Jocie Nelson (Ocala, Fla.), and Stable Manager Megan Gilmour (Cato, N.Y.) took home fourth place.
Educational sessions at the National Training Session included special presentations from Dr. Kiley Dill, an equine chiropractor, and Tonya Johnston, a mental skills coach and author who specializes in equestrian athletes.
Stable Management Clinician Colleen Reed also worked with participants throughout the week on their stable management skills, walking them through different potential scenarios that they may come across in the barn and best practices for the health and safety of the horses, focusing on sport horse practices.
"We focused on care of the horse's legs in particular, between icing and poultice and that some horses could not do that," Reed said. "We did use therapy machines like the Thera Plate, a lot of hand walking to keep the horses limber and various methods such as blankets to keep their backs warm. We also spent a lot of time discussing how to handle crisis situations, anywhere from colic shock to tying up, and how to react."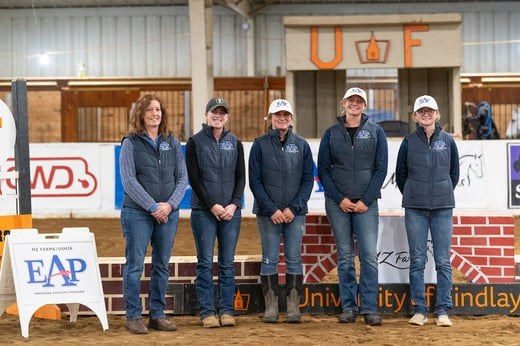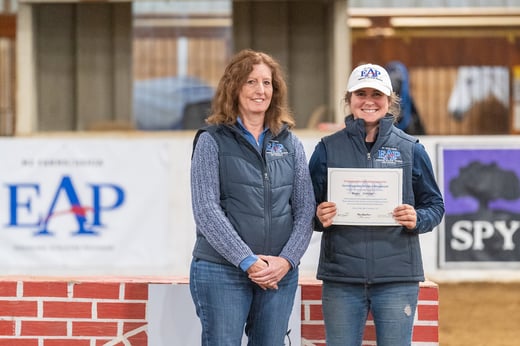 Hailey Bergstrom, Kelly Conway, Megan Gilmour and Finley Scheffel assisted riders as the week's Stable Managers. All four were also invited to attend a Lindsay Maxwell Charitable Fund/USHJA Gold Star Clinic to assist participants as stable managers at the clinic.
Gilmour was awarded the Sunny Stevens Memorial Outstanding Stable Manager Award in honor of Sunny's longstanding dedication to horsemanship. She was selected by stable management clinician Reed and the EAP Committee in recognition of her meticulous attention to detail, dedication to maintaining the health and welfare of our horses and the concern for the safety of all displayed during the National Training Session. For her efforts, she will receive a unique two-week hands-on experience in the barn of 2011 EAP National Champion Jacob Pope, as well as a $1,000 grant to be used toward expenses associated with this experience and a handwoven belt from Boy O Boy Bridleworks.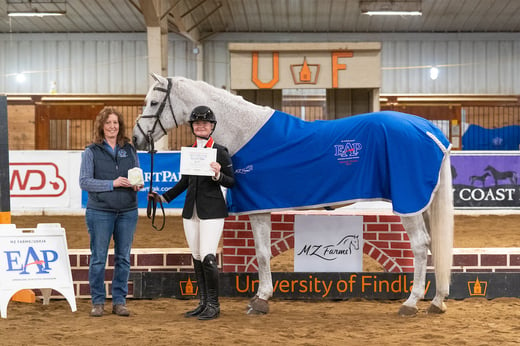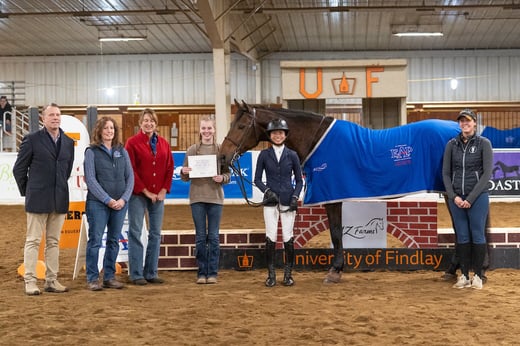 This year's Best Turned Out Horse Award went to Barolo, ridden by Swinson and donated by the University of Findlay. Swinson received a handwoven belt from Boy O Boy Bridleworks for her efforts.
The Emerging Athletes Program Outstanding Horse Award is presented to the equine athlete who displayed the highest level of consistency, soundness, safety and dependability throughout the 2023 EAP National Training Session. This year's winner was Angel Easy Du Lavoir, donated by Sara Potterfield.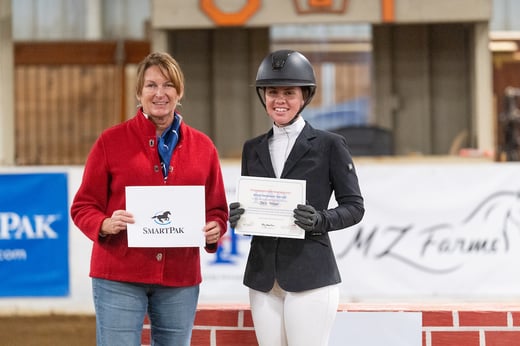 Jocie Nelson was awarded the Emerging Athletes Program Sportsmanship Award and received a gift certificate from CWD. This is presented to the rider who has exhibited integrity, supported his or her fellow competitors, showed commitment to the sport and the welfare of the horse, was a role model for his or her peers, and displayed generosity, fair play and respect for others.
Sarah Miller was awarded the Charles "Chuck" Keller Grant for Equestrian Excellence. It was created to honor Chuck Keller's commitment to teaching and training riders and horses in the Hunter, Jumper and Equitation disciplines and his dedication to instilling horsemanship and sportsmanship in his riders during his 45-year career as an owner, trainer, rider and licensed official. She received $500 to be used to further her training in pursuit of equestrian excellence.
"I would like to say a huge thank you to the University of Findlay for providing their facility
and a really wonderful group of horses," Wylde said. "They go out of their way to accommodate us and to do everything that they can for us and provide us with horses that had wonderful rounds today on Sunday. In the final, some kids made a couple of mistakes, but basically, the horses were really wonderful and I really want to thank the University of Findlay and donors for doing that for us."
The USHJA thanks title sponsor MZ Farms for supporting the Emerging Athletes Program and National Training Session as well as supporting sponsor SmartPak and Official Sponsors CWD, Nutrena and Parlanti; award sponsors Essex Classics and Boy O Boy Bridleworks.
We would also like to thank all of those who generously donated horses for use during EAP Nationals: Helaina Barakos, Chloe Johnson, Lauren Nielson, Sara Potterfield, Christine Sow, Abigail Utterback and the University of Findlay.
The Emerging Athletes Program is also made possible thanks to the USA Equestrian Trust. For more information about the Emerging Athletes Program visit ushja.org/EAP.
Photos: Rachel Milewski/USHJA