Britt McCormick Elected as USHJA President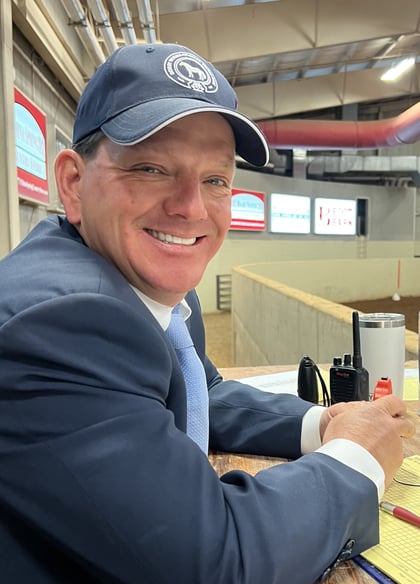 Lexington, Ky.—Sept. 11, 2023—The U.S. Hunter Jumper Association Board of Directors elected Britt McCormick for the position of President of USHJA during the Board of Directors meeting on September 11. After a 15-month transition period, McCormick will take office at the conclusion of the 2024 USHJA Annual Meeting.
"I'm really excited for the opportunity," McCormick said. "I bring 20 years of volunteer governance experience within USHJA, a good relationship with the United States Equestrian Federation and a good relationship with our USHJA affiliates to this role. I also have a background in both the Jumper and Hunter disciplines, show management, and many different aspects of our industry."
McCormick, of McKinney, Texas, brings years of sport governance experience and a degree in organizational leadership to the role. With USHJA, he has served on the Board of Directors, Executive Committee, Hunter and Jumper Working Groups, International Hunter Derby and Incentive Task Force, and a variety of committees. He also serves as chairman of USEF's National Breeds and Disciplines Council and on the National Hunter Committee.
In the sport, McCormick is an "R" Hunter/Jumping Seat Equitation, Hunter, and Hunter Breeding judge; "R" Hunter Course Designer, "r" Jumper Course Designer; and a licensed AQHA Specialized Judge. He has served as the Jumper Technical Delegate for USHJA Championships, as an advisor to the USHJA Gold Star Clinics, and as Chef d'Equipe for Zone 7.
"My short-term goals include taking a hard look at the business side of USHJA. We are a multi-million dollar non-profit organization and I'm really looking forward to taking a look at the internal business side quite a bit," McCormick said of his plans as President. "Then I would like to get with all the various task force chairs and see where we are on the sports side, getting feedback and input to see where they think we should be going next."
"If at the end of my term, we are more collaborative as an association; we have identifiable sport growth at every level, including the elite level; and we are providing the services that our members expect, I'll be happy," he continued.
McCormick was selected for the nomination through a multi-step process. Members submitted nominations for the office of President, which were then reviewed by the USHJA Nominating Committee. The committee interviewed candidates before submitting their recommended nominees to the USHJA Board of Directors.
The President-Elect selected in the September 2023 election will commence their term as President in December 2024, following a 15-month transition period. Over the 15 months, the President-Elect will work with the current USHJA President; receive education in both the functions and processes of the USHJA and its relationship with USEF and other affiliates; and serve as a non-voting member unless already serving as a member of the USHJA Board of Directors and/or Committees. The President-Elect will assume their full Presidential role at the close of the 2024 USHJA Annual Meeting.
To learn more about the USHJA election process and timeline, visit ushja.org/elections.
Photo: Provided by Britt McCormick