Breanna Bunevacz Leads USHJA 3'3" Jumping Seat Medal Final – East
Upper Marlboro, Md.—September 28, 2018—Friday's competition in The Show Place Arena featured the flat and gymnastics phases of the three phase, second annual U.S. Hunter Jumper Association 3'3" Jumping Seat Medal Final – East.
Leading the way going into the final jumping phase, to be held beginning Saturday afternoon, is Breanna Bunevacz of Calabasas, California. The 15-year-old topped an immense field of 121 riders to win the morning's flat phase aboard Acortair, her own 13-year-old gelding.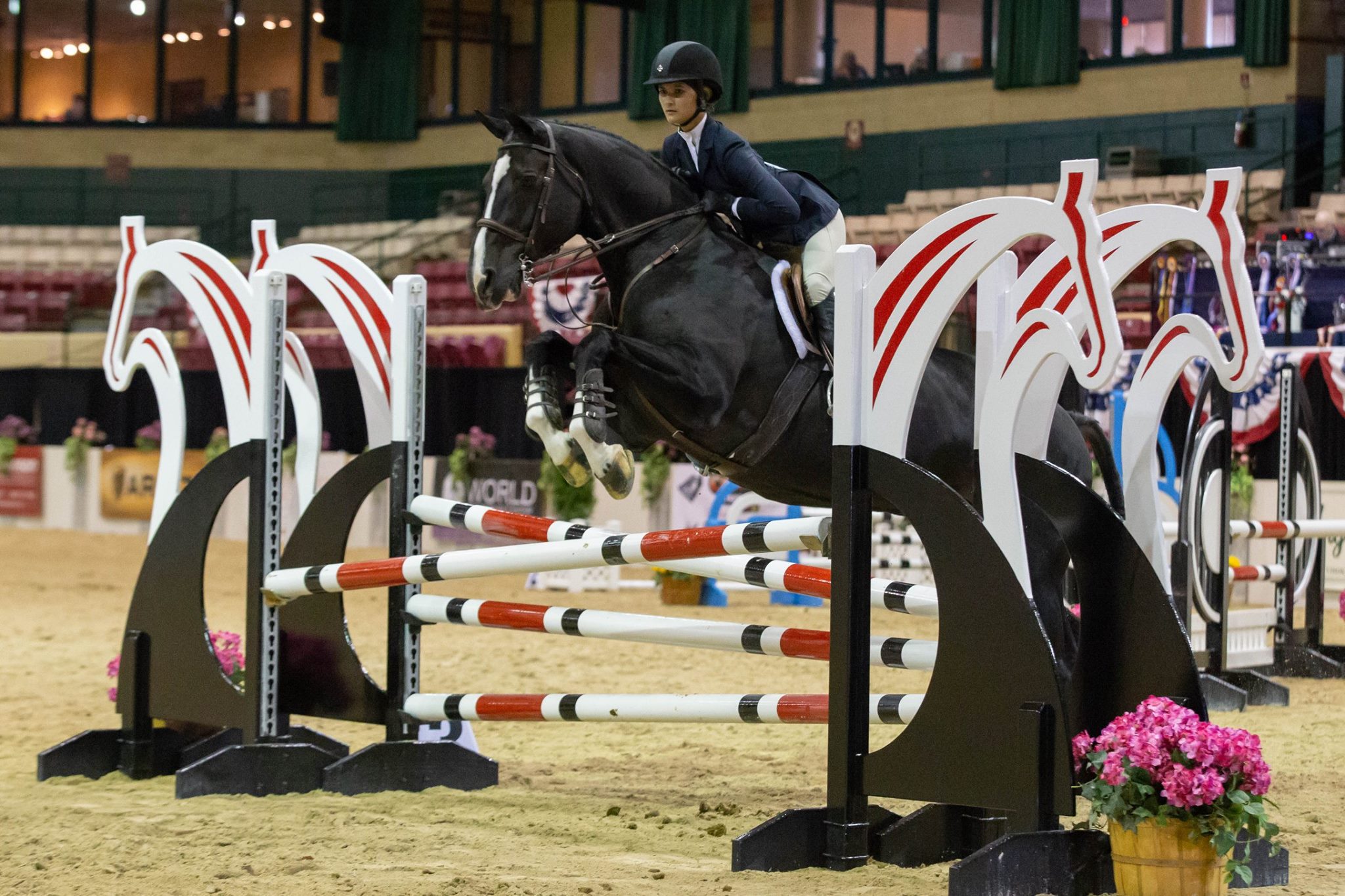 Breanna Bunevacz rode Acortair to the lead after Friday's Flat and Gymnastics phases. Credit: Jump Media
With so many entries in the increasingly popular class, riders were divided into 11 sections for judging on the flat, with one overall winner, Bunevacz, named at the conclusion of all 11 sections.
"I would have never guessed that I would have done it," said Bunevacz, who trains with Tasha Visokay and Killian McGrath at Ingenium Farm in California. "I never could have done it without my horse!"
While Bunevacz is based in California where she is a freshman in high school, she made the decision to travel east this year for the USHJA 3'3" Jumping Seat Medal Final.
"I did it last year on the West Coast, and I decided to do the East Coast this year to try something different," explained Bunevacz. "I always want to try and do something that I haven't done before, and I feel like doing it here kind of put me out of my comfort zone which is really good."
Bunevacz also finished in fourth in the gymnastics phase with a score of 86.75. With a score of 90 on the flat, and all gymnastics phase scores multiplied by a coefficient of 1.5, Bunevacz sits atop the overnight class leaderboard with an overall score of 220.125. Sitting in second is Irene Elise Powlick of Salt Lake City, Utah, with a current overall score of 219.
The win in the gymnastics phase with a score of 89 went to Abbygale Funk of St. George, Kansas.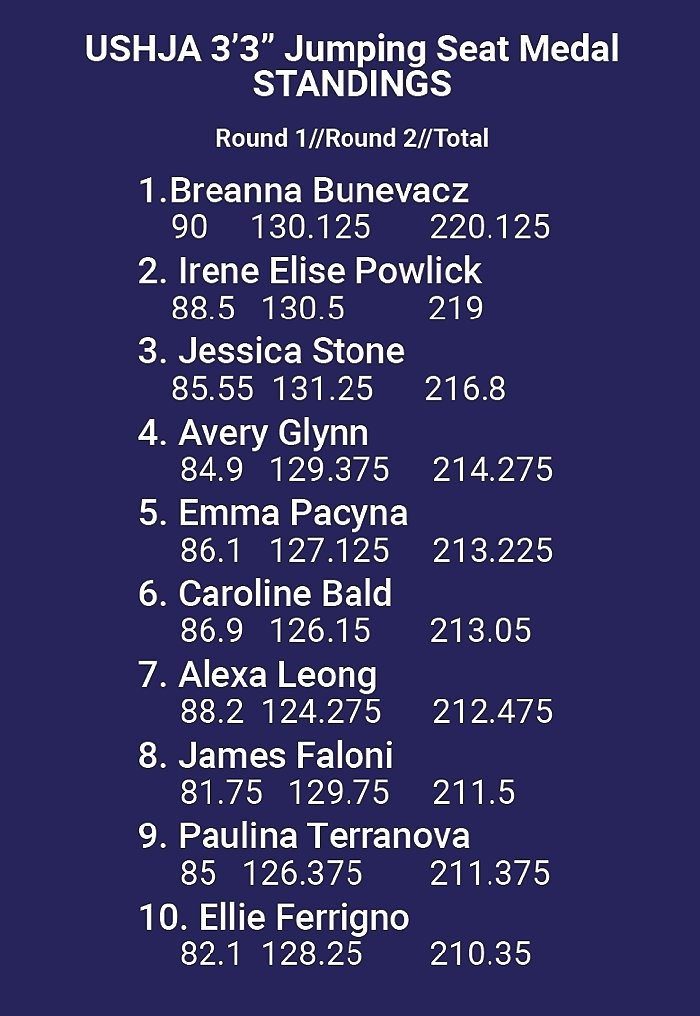 "This is an extreme surprise!" said Funk who trains with her mother, Mary Ann Thomas out of Ashwood Farm, as well as Andre Dignelli and Patricia Griffith at Heritage Farm. "Normally I don't do very well in the equitation, so it was an extreme surprise to do that well out of that many people."
Funk, 17, outperformed 120 other entries over the Ken Krome designed gymnastics course that featured challenging rollbacks, trotted ground poles, and bounce and one-stride fences.
"It was very tough; my horse made it super, super easy for me, but it was definitely a really hard course," said Funk, who rode Santa Rosa Camelot, an 11-year-old Warmblood gelding owned by Ashwood Farm. "The hardest for me was when we did the six-stride to the one-stride and then halted and turned back around and jumped it again but had to do it in one to a five-stride instead. You had to go away from the gate, leave the stride out, and the five was very long."
Funk will join the 121 entries in returning for Saturday's final jumping phase beginning at approximately 3:30 p.m.
Competition at the Capital Challenge Horse Show continues on Saturday beginning at 7:15 a.m. with the age group equitation divisions and culminating for the day with the USHJA 3'3" Jumping Seat Medal Final in the Show Place Arena.
Release by Jump Media LLC