Applications Open for 2023 Marshall & Sterling Insurance/USHJA National Championships at the Las Vegas National CSI4*-W
Las Vegas, Nev.—Aug. 7, 2023—The U.S. Hunter Jumper Association is pleased to open applications for the 2023 Marshall & Sterling Insurance/USHJA National Championships at The Las Vegas National CSI4*-W, November 13-19, in Las Vegas, Nevada. The USHJA invites members across the country to apply for a chance to qualify for the Championships through points and classes in their zone, through their USHJA Affiliate organization, or through the USHJA Outreach program. Members interested in attending must apply and pay the $100 nonrefundable application fee by September 12, 2023, in order to be eligible to qualify.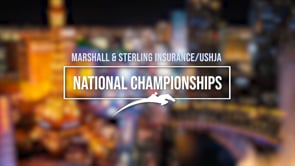 Click to Play
The USHJA National Championships offer competition from 2' Hunters to 1.30m Jumpers and feature National Championship opportunities for Hunters, Jumpers and Equitation riders. The USHJA National Hunter Championships will include individual championships for Amateur Owner Hunters, Junior Hunters, Pony Hunters, Adult Amateur Hunters, Children's Hunters and Green Hunters. Specialty classes for Hunters include two $25,000 USHJA National Hunter Derbies, one restricted to Juniors and Amateurs and one Open, and 3'0"/3'3" and 3'6"/3'9" USHJA Green Hunter Incentive Stake classes.
The USEF/USHJA National Jumper Championships will offer $108,000 in prize money across nine sections of competition from 1.00m to 1.30m for Junior, Amateur and Open Jumper competitors. Each Jumper section will consist of a Welcome class, Speed class and a Grand Prix.
Competition will also include the USHJA National Equitation Championships for Juniors and Amateurs, and three Equitation medal classes—the 3'3" USHJA Hunter Seat Medal, 3'3" EMO Insurance/USHJA Jumping Seat Medal class and USHJA 3'3" Adult Jumping Seat Medal.
Members of USHJA Affiliate Organizations and USHJA Outreach members have an opportunity to compete at the Championships in the Affiliate Championship sections, which are open to Junior and Amateur Hunter, Jumper and Equitation riders. Affiliate competition includes Hunters and Equitation from 2' to 2'6" and 0.70m to 1.00m Jumpers.
Affiliate competitors are selected through each individual Affiliate organization based on which entrants they deem most qualified to compete and represent their organization. Affiliate Organizations must submit their nominations by August 20, 2023. Horses and riders do not have to be registered or members of USHJA to participate in these sections, and qualifying procedures vary by Affiliate. Outreach members who have been awarded the Outreach Golden Backstage Pass by being the highest pointed Gold level rider in their Zone based on points calculated as of September 1, 2023, are invited to compete and enjoy advanced registration for all education sessions.
Affiliate representatives will be emailed an application link to share with their nominated riders once the Affiliate Nomination Form for the USHJA Affiliate Championships is received by USHJA.
Outreach Golden Backstage Pass winners will be emailed the application link after September 1, 2023, for participation in the USHJA Affiliate Championships.
Members qualify for the rated sections largely based on Zone Horse of the Year points or Zone events between December 1, 2022, and September 12, 2023, with qualifying requirements differing based on the division. Members interested in qualifying must apply for the Championships by September 12 with a non-refundable $100 application fee. Applications are available online through ryegate.com. Qualifying lists will be made available after applications close September 12, 2023. Click here to view and download the prize list.
The Championships will take place during The Las Vegas National, CSI4*-W, held at the South Point Hotel, Casino, & Spa's unique Arena & Equestrian Center. The Center offers an exceptional experience where riders and horses stay under one roof and exhibitors can also enjoy the spa, tables and slots, 64 bowling lanes, and nine dining establishments. The hotel room group code will be provided to competitors along with stall assignments once final show entries are made with the Blenheim Equisports show office.
The USHJA extends its thanks to current supporting and division sponsors of the USHJA National Championships, including Title Sponsor Marshall & Sterling Insurance; USHJA Official Sponsors Nutrena, CWD and Parlanti; and USHJA Championship Sponsors Charles Owen, Exhibitor's, SmartPak, Human Touch, Prize Possessions, Essex Classics, Helite and Boy O Boy Bridleworks.
For more information about the Marshall & Sterling Insurance/USHJA National Championships, visit ushja.org/NationalChampionships.