2023 USHJA Young Jumper Championships Crown Top Jumper Prospects
Traverse City, Mich.—Sept. 13, 2023—The Traverse City Fall Horse Show played host to the third annual USHJA Young Jumper Championships on September 5-10. With age-based competition for 4- to 8-year-old horses, the Championships awarded five new titles and over $100,000 in prize money to talented Jumper prospects.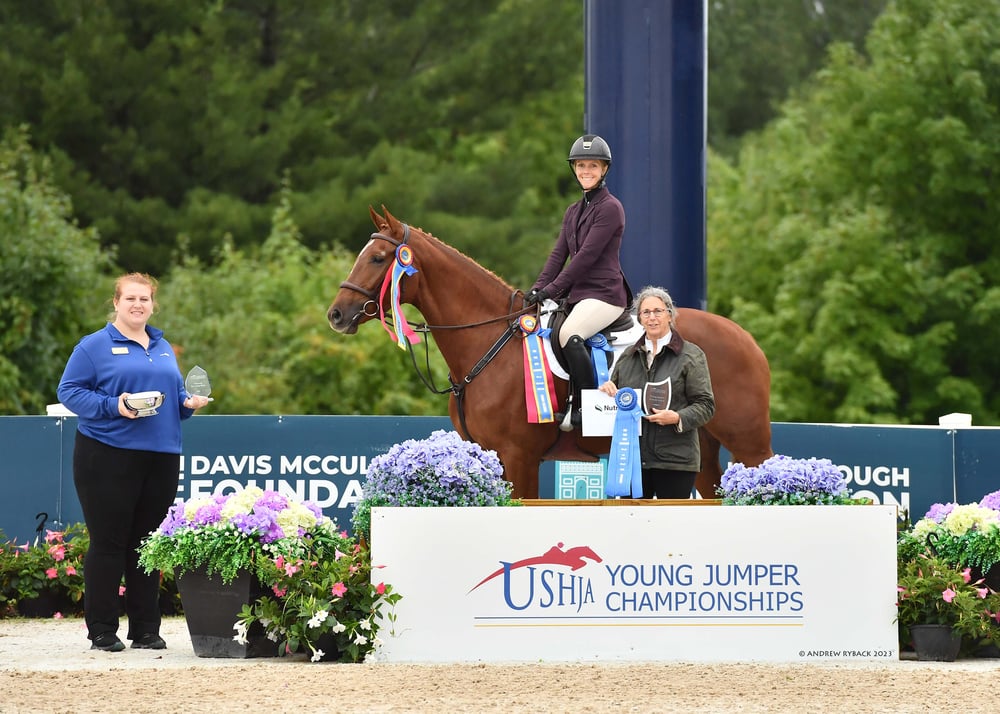 4-Year-Old Championship
The first Young Jumper crowned of the week was Orchid De L'Isle (Quabri De L'Isle x Sophia), bred by John Van Den Bosch and owned by Rose All Day LLC. Trainer and rider Danielle Urban, of Elkhorn, Nebraska, rose to the top with the Dutch Warmblood mare in the Qualifier and held on to the lead in the Final Round to take the title and Best Young Horse title. Based on jumping penalties and style points over both rounds, the pair finished with an impressive score of 261—a seven-point lead over reserve.
"This was just a fun new experience for us. I think it's a really exciting event for the young horses and it tests their capabilities at the end of the year after seeing how much preparation you've put into them over the summer," said Urban of the Championships.
"When I picked up the trot on Orchid in the schooling ring today, I thought, 'Wow, she's really fresh!' And I was a little bit worried for a bit because I thought maybe it had been a mistake not to get her out a little earlier," she continued. "As she started jumping, I felt her kind of get right back in her focused self and when she went out in the ring, she was all business."
Taylor Flury, of Minooka, Illinois, finished in reserve with Bliss Starlite (Bliss MF x Quick Starlite). Bred and owned by Melissa Hirt, Bliss Starlite was named the Best U.S. Bred Horse and earned the U.S. Breeders Bonus Award.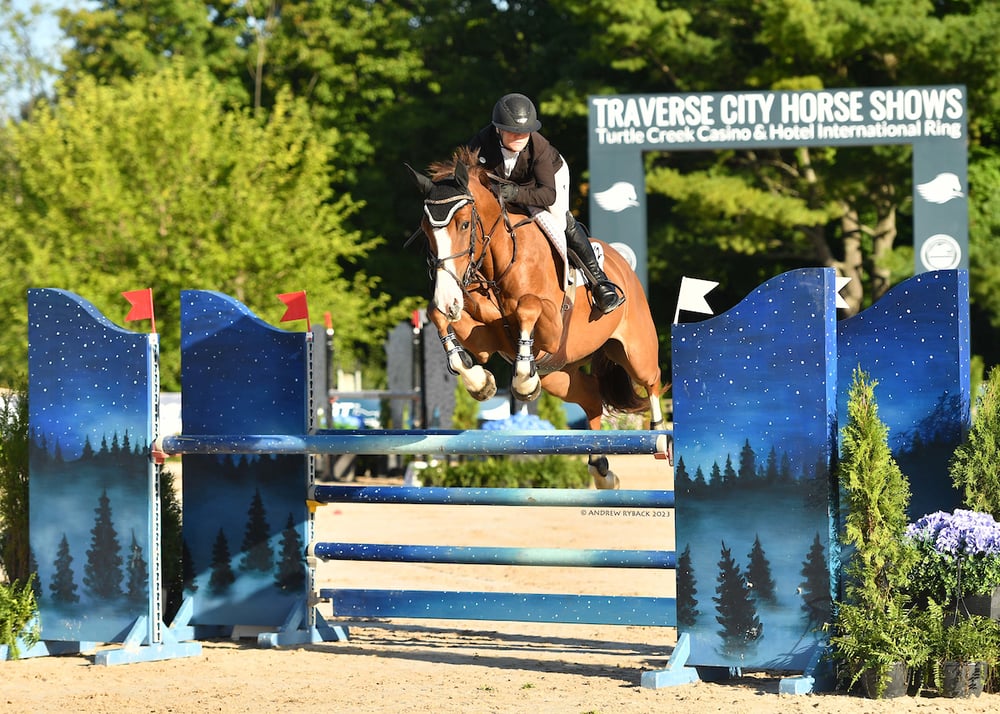 5-Year-Old Championship
The 5-Year-Old Championship was the first to wrap up on Saturday with Voila BF (Baloubet du Rouet x Chaselle) taking the title and Best Young Horse honor. Penny Brennan, of Ocala, Florida, piloted the Selle Francais gelding, owned by Trish McNamara and bred by Guillaume Billecart and Fabienne Jourdain Thomas to three clear rounds, as well as the top of the Second Qualifier, to take the win.
"He did his first 1.20m three weeks ago. He did his first triple [combination] the day before we came to this horse show and the light has turned on," said Brennan. "He has so much scope without even feeling him using it. He just canters and grows wings. He doesn't even bounce, he just takes to the air. I think for sure he's going to go all the way and I'm praying I get to share him with Guillaume and Trish down the road."
"He's just a horse with a huge heart and huge scope," she continued. "He's always looking to please. He's always looking for a cookie. He's always picking something up and throwing it at you. He's a bit of a clown and a little bit goofy sometimes. But I think he's definitely a superstar in the making."
Michel T (Comme II Faut x Centa 12), owned and ridden by Pablo Barriga, of Pearland, Texas, took reserve. The Best U.S. Bred Horse and U.S. Breeders Bonus Award went to third-placed S Aliblue ABF (Carrasca Z x For His Glory), owned by Blue Chip Bloodstock, bred by AliBoo Farm, Inc. and ridden by Flury.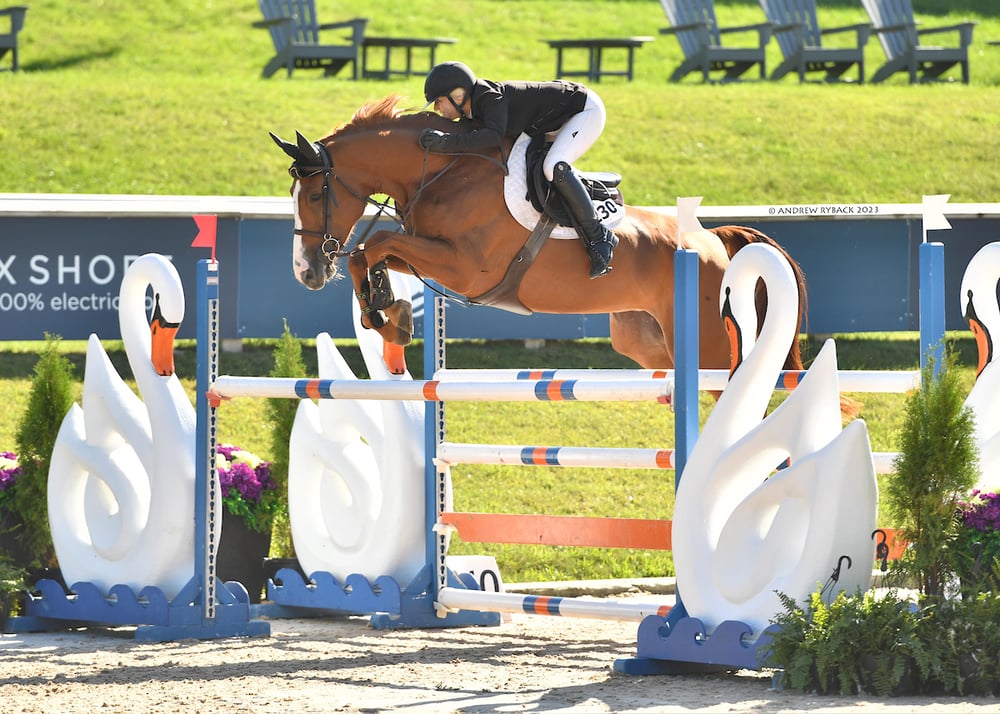 6-Year-Old Championship
Brennan continued her winning ways and streak of clear rounds in the 6-Year-Old Championship aboard Enchante BF (Clarimo x Morea Rouge). Owned by McNarama and bred by S.A.R.L. Elevage de Choizy, the Zangersheide mare earned the Best Young Horse title as well as the blue in the Second Qualifier.
"This is a day we'll never forget," said owner McNamara. "She's unbelievable. She's a fighter. She just never has any faults. She obviously has jumping talent and we love her. She's a great sweetheart of a mare."
Montana (Casall x Pipaix du Hoissoit) owned by North Star Sport Horses LLC and ridden by Aaron Perrin, of East Aurora, New York, took reserve. The Best U.S. Bred Horse was Romeo B (Heartbreaker x Fiona B), owned and ridden to third place by Lisa Goldman-Smolen, and breeder Bannockburn Farm was presented the U.S. Breeders Bonus Award.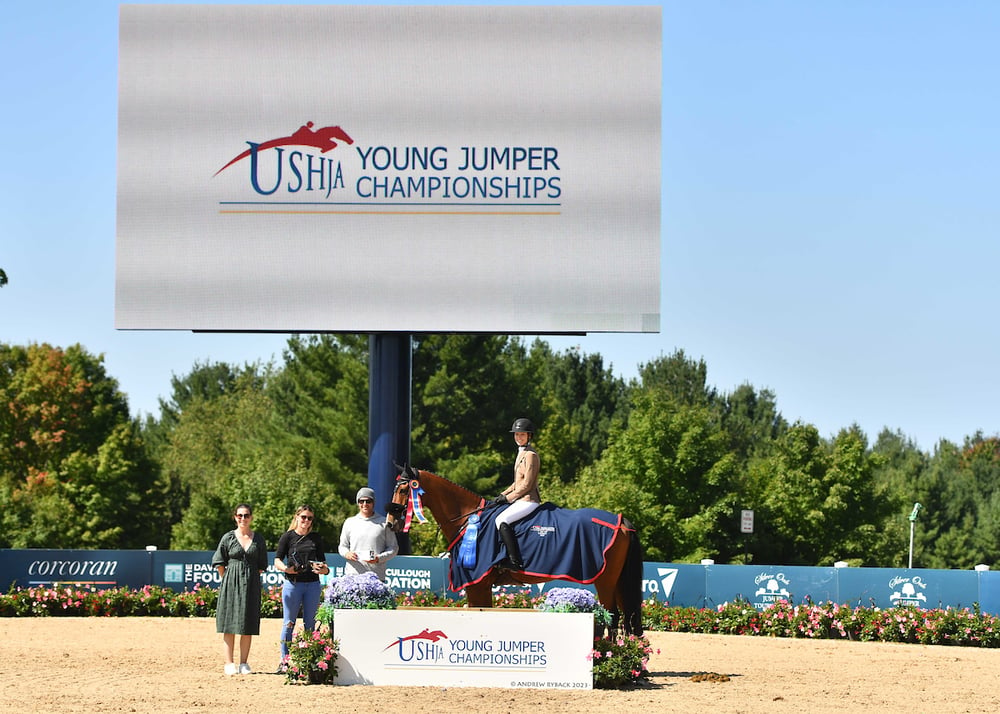 7-Year-Old Championship
The 7-Year-Old Championship concluded with Charlotte Jacobs collecting the tricolor with Pablo C (Pollux de Muze x Chino C) as one of two combinations to complete three clear rounds. For their efforts, the East Aurora, New York, rider rode the Irish Sport Horse gelding bred by Jordan Campbell and owned by North Star Sport Horses LLC to Best Young Horse honors.
"When you're producing a horse, you want consistency and this format really rewards that. You have to jump three rounds clear or be the most consistent horse to win, and I think that's a great format," said Jacobs of the Championship. "It's exciting and it's great that they reward the U.S. breeders and it really promotes the U.S. horses."
"For me, bringing along the younger horses is really, really rewarding. When you see a horse go from the paddock as a foal all the way on to being 7, 8, 9, 10, it's really great," she continued. "When we sell them, it's great to see them be successful with other riders. And when we keep them for ourselves, it's just that extra love you have for them seeing them grow up in your backyard."
Just .6 seconds behind Jacobs, reserve and Best U.S. Bred Horse honors went to Ty Simpson, of Wellington, Florida, and Quaralia EVS (Diktator Van de Boslandhoeve x Celine). As owner and breeder, Tara Gallagher was presented the U.S. Breeders Bonus Award.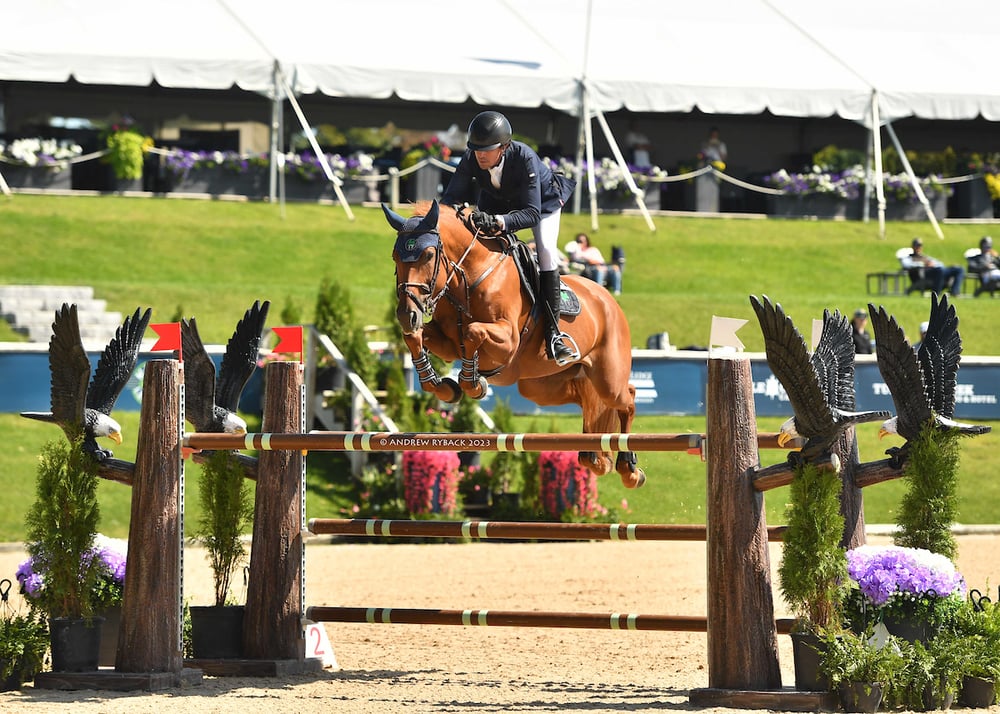 8-Year-Old Championship
The 8-year-old competition wrapped up with Roberto Teran Tafur aboard Kamea DV (Arezzo VDL x Tina) taking the championship and Best Young Horse title. The Wellington, Florida, rider held the lead in each round with the Dutch Warmblood mare owned by Trefoil Farm LLC and bred by R. De Vries, winning with over three seconds to spare in the final jump-off.
"I have been riding Kamea for a year and a half now. She is a really fast, careful and competitive horse," said Teran Tafur of his ride. "Kamea is doing great. She is already moving up to do some National Grands Prix soon. And this is a perfect set-up to keep moving up."
"This championship is great, the way the horses have a chance to compete only against their age. They're not competing with more developed horses, and it's a great test."
Dalman Show Jumping's Karlysolde (Harley VDL x Anisolde) bred by D. Carlberg & Son Intressenter AB and ridden by Sandra Dalman of Wellington, Florida, collected reserve.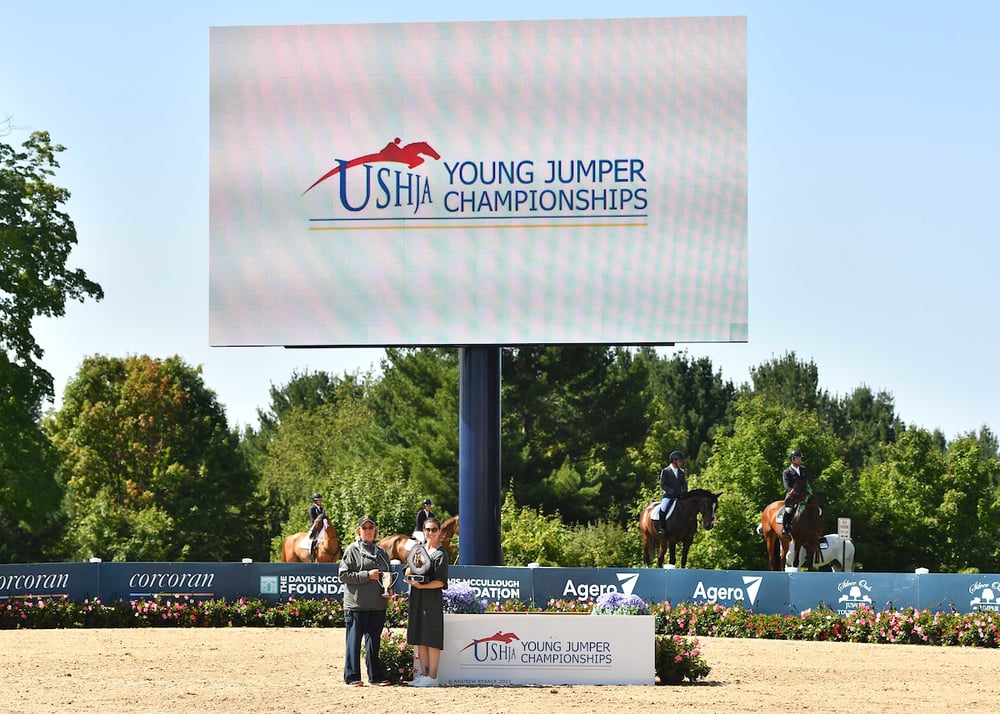 Throughout the event, the groom of each Champion horse was presented with a Young Jumper Grooms Award.
A range of special awards were presented at the conclusion of the Championship. The Leading Owner Award, presented to the owner with the highest-placed horses across all age groups, was North Star Sport Horses LLC, of East Aurora, New York. Bannockburn Farm, of Bowling Green, Indiana, was presented the Leading U.S. Breeder award as the U.S. breeder with the highest-placed horses across all age groups and the Breeder's Cup Perpetual Trophy, donated by DiAnn Langer and Red Top Farm and presented to the leading overall breeder based on money won from all their bred horses across all age groups. Brennan was named the Leading Young Jumper Rider, which is presented to the rider with the highest-placed horses across all age categories. The Leading Young Jumper Trainer Award was presented to Matthew Calderwood, of Wellington, Florida, as the trainer with the highest-placed horses across all age categories. Finally, The Overall teading Breed Registry based on registered horses and their placing in all classes for each age group was KWPN.
The USHJA Young Jumper Championships serve as the national championship
for young Jumpers in the United States, allowing talented prospects to be showcased by
owners, breeders and riders and shown at the national level. The competition offers separate Championships for 4-, 5-, 6-, 7- and 8-year-olds. Four-year-olds compete in a Style and Jumping Championship, which includes a First Qualifier and Final set at .90-1.00m. Five- through 8-year-olds compete over a three-round format that features First and Second Qualifiers and a Final set from 1.20-1.45m based on each age section. In addition to prize money through tenth place, incentives and bonus prize money is offered for U.S. breeders and American-bred horses.
The USHJA extends a special thanks to the Traverse City Horse Shows team for hosting the Championships. The USHJA also thanks Official Sponsors CWD, Nutrena and Parlanti and Supporting Sponsors Grayson-Jockey Club Research Foundation and Helite US.
For more information about the USHJA Young Jumper Championships, visit ushja.org/YoungJumper.
Photos: Andrew Ryback Photography