USHJA Trainer Certification Program
The USHJA Trainer Certification Program was developed to preserve the American Hunter/Jumper Forward Riding System by offering a comprehensive educational program for professional horse trainers. Becoming a Certified Trainer confirms a commitment to continuing professional development, which leads to an ever-increasing group of well-rounded and knowledgeable horsemen.
In order to receive and maintain certification, trainers are tested on a broad spectrum of relevant professional information, including training techniques, safety of horse and rider, horsemanship skills and business ethics. The hope of the TCP Committee is the knowledge imparted during the Trainer Certification process will be passed along from the trainers to the students, who are the future of the equine industry.
Find a Certified Trainer in Your Area
Click the directory below to begin your search.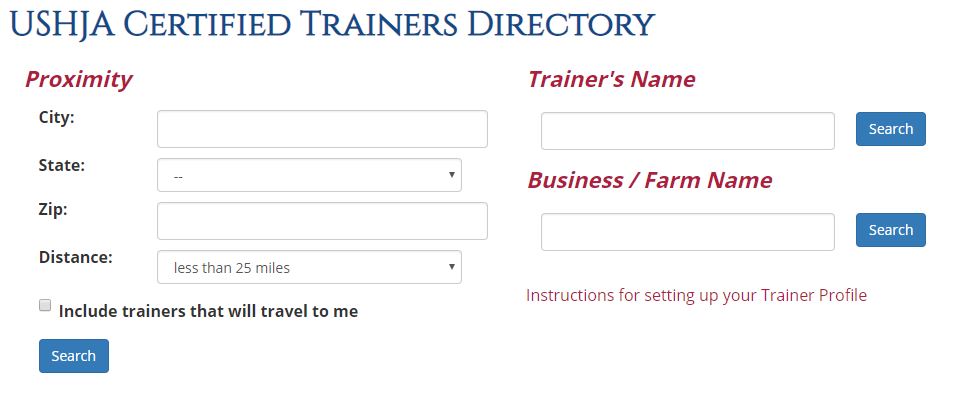 Trainer Certification Program Statement
The USHJA Trainer Certification Program is a voluntary education and certification program developed by USHJA for the benefit of its professional trainers, its members and the general public. The program is the sole and exclusive property of USHJA. USHJA reserves all rights to determine the program's specifications, requirements and procedures and to review and amend those specifications, requirements and procedures as deemed necessary in its sole discretion.
USHJA reserves all rights to require periodic updating of its certified trainers' biographical and demographic information, qualifications, continuing education, insurance and other requirements, and it further reserves all rights to suspend or revoke certification upon failure of the Certified Trainer to provide the above information.
USHJA, as the nationally recognized affiliate of the United States Equestrian Federation for the hunter and jumper disciplines and in accordance with USHJA By-Laws, agrees to reciprocity with USEF, and any suspensions of USHJA Certified Trainers by USEF will be honored by USHJA. Therefore, an individual's USHJA Trainer Certification will be suspended by USHJA for the same time period imposed by USEF.
USHJA reserves all rights to review any claims, statements, allegations or other information submitted to it in writing by any USHJA member or member of the general public regarding any act, conduct or behavior by a USHJA Certified Trainer which may be considered prejudicial to the best interests of the USHJA or the sport of equestrian and, if it deems necessary or appropriate in its sole discretion, to forward the same to USEF for further administrative determination and action pursuant to USEF General Rules.
---