Archive: The Mrs. A.C. Randolph Owners Legacy Award 2014-2011
2015 Harry and Mollie Chapman
Though lifetime enthusiasts, over the last few years Harry and Mollie Chapman have become more familiar names in several areas of equestrian sport. Harry grew up relearning from several dyed-in-the-wool horsemen and horsewomen, in his native Oregon. His early experience came with western rider Lee Warren, who instilled old fashioned knowledge and his first show experience on a lesson horse named "Spyder".
Harry affectionately says that Spyder had a head the size of a bathtub, but nevertheless gave him the lifetime affliction for showing. He next learned Saddle Seat from Jo Biles (a native from the saddlebred hotbed of Kentucky). Those early experiences came aboard his walk/trot horse "Sally Ran" and his gaited horse "Vic Vienna" who Harry also remembers fondly. In the Jumper realm, he remembers first trainer, top Northwest rider & University of Oregon student Jerry Pearson. Jerry's method drew on survival instinct, by lunging Harry over 4' verticals with no stirrups OR reins! In this scenario, balance is no longer optional. In the years that followed Harry would credit Johnny Johnson, Jerry Smith, Claudia Cojarcan , and Joan Karen Curtin with advancing his skill and love for the sport. Some of his favorite mounts would be: all around hunter AND jumper champion Mary Jane Churchill, the well-known 1953 team hopeful Spendthrift, his daughter's butt kicker Mississippi Mud, Lou Thomas professional ride Computerized, and more of Harry's personal mounts Big Frank, and Just Right.
But it may be that earliest jumper experience that really brings Harry into our purview. After all, if Miss Pearson's unconventional methods hadn't given Harry the jumping bug at 16, who knows if he & Mollie would have had the occasion to team with Rich Fellers, in the purchase and training of the living legend – Flexible decades later? Just imagine how different a world would be without the perennial comeback kid, who three times stood in the face of injury and retirement, to subsequently earn 2012 World Cup victory, and a spot on the Olympic squad as the highest ranked American at 7th, among countless other big wins. Flexible's inspiring story would never come without dedicated, visionary owners like Harry & Mollie Chapman.
But that's only part of the story. While they can't say enough about their beloved Flexible, Harry & Mollie are also inspired by their connection to great horses like Reno, Zlano, Amos, Gyro, and 2006 horse of the year McGuiness. They also continue to show in saddlebred and Roadster classes, while still sharing their horses with professionals who are capable of winning. They continue to do the same at the highest levels of Showjumping, because they absolutely love the experience, and feel honored to offer their support, they have the utmost confidence in these professionals to do justice by their horse's talent and hard work. The ride continues for the great couple from Oregon, with a hot prospect named Lux Lady on the horizon. Harry advises us to keep eyes on the 10-year-old mare, and with his record, we'd be wise to listen.
2014 R. Bruce Duchossois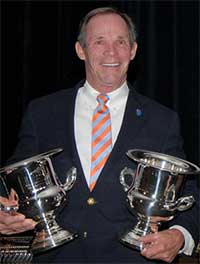 Much like Mrs. A.C. Randolph, Bruce's impact on the equestrian world can be felt on many fronts. As a rider, one of his first major accomplishments came aboard Kim's Song, who among other things earned notoriety through the 1973 Pennsylvania National, Washington International, and National Horse Show Amateur Championship, on his way to the AHSA Horse of the Year honors in 1974.
Decades later he'd remain one of the most established winners of his division on recognizable mounts like Regall, Dialog L, Gotcha and Que Sera. And while he was well known in the hunter ring, he also had a passion for riding to hounds, as well as eventing, and combined driving. But as much as Bruce loved to ride, he'd equally enjoy offering others the same chance, supporting professionals who would pilot his horses in many ranks both in and outside of the hunter/jumper realm. Even laymen in the equestrian world recognize his patronage as owner of Phillip Dutton's Rolex-Kentucky Three Day winner, Pan-Am Gold, and Olympic mount Connaught (one of several horses he'd offer to the sport.) And while this multi-discipline involvement is a glimpse at Bruce's varied interests, they barely scratch the surface of his involvement with both the animals and sport he loved, along with causes far from it.
In addition to backing the U.S. Team with horses, Bruce served in roles for the USET Foundation, most recently as its Vice President. To ensure the sport continued moving forward, he served on the USHJA Zone 4 committee as well. And with signature Bruce Duchossois generosity, he was a member of the Equestrian Aid Foundation Board of Directors, while also contributing finances and personal time to programs such as Vinceremos Therapeutic Riding, and animal welfare organizations such as Danny & Ron's Rescue and the ASPCA. These public endeavors barely scratched the surface; there are undoubtedly many acts of kindness that, due to Bruce's humility, will forever remain undisclosed.
Perhaps the most bittersweet of Mr. Duchossois lasting legacies, is the recent realization of his 15-year vision to create a dedicated horse park in his home town of Aiken, South Carolina. For more than a century Aiken has been an equestrian colony, home to prominent Thoroughbred and Standardbred training installations, a vibrant polo circuit, and enthusiasts from combined driving, dressage, fox hunting, and hunter jumper disciplines. But, as with any location in a world on the move, progress and development threatened to encroach on one of its signature landmarks, The Aiken Steeplechase Track. Best known for its leg of the Carolina Triple Crown which attracted spectators ranging in the tens of thousands, the facility also hosted several other events throughout the years. All of them were at risk of being pushed out if something wasn't done. So, Bruce swooped in, in 2000, to purchase, set plans to forever preserve the historic location, and make improvements that would attract additional and wider-ranging events. Many times Bruce would be on the verge of securing his dream, but it would not be until a few months after his passing that that his hopes would be realized with the facility's ground-breaking and dedication ceremony happening on November 8, 2014. And while I may have called the event bittersweet, it's timing may well be just one more symbol of Bruce's true lasting legacy; One that doesn't comprise just physical contributions, but also contributions of spirit, and the example of humility. You see, Bruce didn't want the credit for this work, just that the work would be done, so that others could enjoy what he loved so much.
2013 Wilhelmine Stewart Kirby Waller
Often referred to as the Grand Dame of Bedford (NY), Wilhelmine Stewart Kirby Waller was a genuine force for good, until her death at age 90 in 2004.
Growing up on a lush family property, Wilhelmine inherited her father and grandfather's deep love and understanding of the importance of land and protecting it. In 1942 she married Thomas Waller and together they bred horses and ponies on their 250 acre Tanrackin Farm. Her passion for the equestrian life kept her connected to the outdoors and led an extension of protecting community lands. She worked on the Nature Conservancy, became the national president of the Garden Club of America, served on the National Advisory Committee on Highway Beautification and later a member of the Advisory Committee to the Secretary of State for the United Nations Conference on Human Environment. During her lifetime Mrs. Waller knew six American presidents, from Lyndon Johnson to George Bush, Sr through her work on environmental legislation, which began in the 1960's. Waller held a seat on the President's Citizen Advisory Council on Environmental Quality under three presidents – Nixon, Ford and Bush.
Mrs. Waller had the same amount of passion and care for breeding and show stock. The horses always came first. Unlike many in the horse show world, Mrs. Waller was not motivated by the blue ribbon. It was a personal matter of pride that matter.
Mrs. Waller was behind the creation of the regular working hunter division that became a staple at the horse shows for decades. Originally, there had been only a regular conformation division. Her motivation for change came from her wonderful horse who had great jump, but was somewhat lacking in the conformation department. Waller became tired of her and other talented horses being on top only to be moved down the line behind fancier models, so she spearheaded the regular working division to create recognition for talent.
There was no point chasing at Tanrackin Farm. Mrs. Waller was known to lament on the disappointment of attending the indoor shows and see, as she was often quoted, "broke to-death" horses cantering the arena with little to no spark, almost like lifeless drones. When Waller's horses went to the fall shows, the expectation was to have brilliance, to exhibit an air of excitement in their performance. It was about seeing a happy horse galloping-not cantering at a snail's pace around a course with life in his performance.
Years ago Mrs. Waller gave the town of Bedford Guard Hill a 20 acre parcel, the highest peak in Bedford, and under an agreement with the Westchester Land Trust she was able to preserve 56 acres for farming and equestrian use. Anne French, the former Director of the Mianus Gorge Preserve, a friend of Waller's since 1955 said of her generosity, "There was no reason for her to do that except for her sense of moral issue. She was there for a while, as her grandfather and father had been fore her. She wasn't the owner of Tanrackin, she was a steward of the land." The differences Mrs. Waller made for the horses, the show world and our very environment are her best legacy.
2012 Harry Gill
Harry Rittenhouse Gill is a lifelong horseman, who has been a major force in the horse show world. A longtime supporter of many of America's leading riders, he has owned many of the sports' most famous horses. He has served the sport he loves by improving horse show venues, sponsorship, organizing competitions and serving on the boards of major competitions. Harry is a bit different than most horse owners. Born in 1929, he has spent his entire life riding, training and owning horses. He has never shirked any of the care involved with owning horses. Riding, mucking out stalls and driving the van have always been part of his love of horses.
An avid fox-hunter, he served as a whipper-in at several hunt clubs for many years. He can drive a team of work horses. He has also owned race horses.
As a trainer, he ran his own show stable until his father died and he took over the operation of the family owned Gill Quarries, it was at that time he hired Rodney Jenkins to ride his horses. Harry assisted his wife with the training of her Dressage horses, and it is interesting to note Marjorie Haines Gill was the first woman to compete for the USET at the Olympic Games.
Over the years, Harry has bought hundreds of horses for different riders. The thoroughbred horse is his favorite, and his success with Idle Dice, Gustavus, Number One Spy, Bean Bag, Robin Hood, Gustavis, Ping Pong, Sloopy ( Olympic medalist - sold to Patrick Butler ) and Philco ( Sold to British rider David Broome, who was an Aachen Grand Prix winner and Multiple time European Champion ) as well as many others prove that out. Harry Gill's horses have won many year end awards including AHSA and USEF Horse of the Year Awards, FEI International Champion Idle Dice, AGA Year end Awards winners, and Nations Cup Classes. His horses have competed for the USET for many years. The list of his riders reads like a Who's Who of the sport.
For 18 years, Rodney Jenkins and Harry Gill rewrote the the record books with the amazing number of hunter and jumper wins. During their time together, Rodney was the first professional to ride for the USET, competed in the Men's World Championships, Nations Cup Classes, and virtually every major competition in the United States.
Katie Monahan Prudent rode for Bean Bag, to Grand Prix and Horse of the Year wins.
Michael Matz rode for Harry as a young man, before he became the show jumping star, and later showed jumpers for him.
Beezie Madden rode French Rapture and won The Hampton Classic Grand Prix with Ping Pong, among others during the time she rode for Harry.
Debbie Stephens rode many of the young horses Harry started.
Todd Minikus who had great success with Flier and Sasha among others.
McClain Ward rode Viktor to AGA Horse of the Year honors, Twist du Valon Grand Prix and Selle Francais Breeder Award winner, as well the more than 50 horses Harry purchased for him during their time together.
Harry Gill was voted into the Show Jumping Hall of Fame ( His show Jumper Idle Dice is also a member of the Show Jumping Hall of Fame ). He is also a Member of The National Show Hunter Hall of Fame.
Harry has also contributed to the sport by creating Horse Sports with his friends Leonard A. King and D. Jerry Baker, a Pennsylvania corporation which owned and managed The American Gold Cup and The Philadelphia Horse Show. Horse Sports created The Upperville Grand Prix and The Valley Forge Grand Prix.
He served as a member of the Devon Horse Show Grounds Committee and Horse Show Committee for many years.
He played an enormous role as a member of the Organizing Committee of the 1981 World Cup Finals in Baltimore, Maryland, helping to bring World Cup Finals to the United States for the first time. He also was a member of the Organizing Committee for the World Cup Finals in Tampa, Florida.
He served on the Board of Stadium Jumping, Committees at The USET and AHSA, The American Grand Prix Association, Pennsylvania Horse Shows Association, and The Pennsylvania Horse Breeders Association.
He helped many young horsemen get a start in the horse business, including Milton "Junie" Kulp who later owned All Around Farm.
Harry Gill is a horseman who has contributed to horse sports as few other people have. He has loaned a horse, purchased a pair of boots or a coat for youngsters. He sent loads of stone from his quarries to local horse shows that needed the driveway fixed. He shipped friends' horses on his vans and paid their entry fees when they didn't have the money to spend. He is quietly generous in his sponsorship of events.
He is what is missing in horse shows today - a genuine sportsman who truly loves horses.
~submitted by Sherry Robertson
2011 Helen Lenahan
When the announcement of the new Mrs. A.C. Randolph Owners Legacy Award – established to honor an owner who has been or currently is a devoted patron of the hunter/jumper industry - one name was submitted over and over by her peers. The numerous letters of recommendation flooding into USHJA shared a common belief: Helen Lenahan, of Buffalo, NY, embodies the very spirit of this award's namesake.
Helen has devoted more than 70 years to her love of horses. In our sport, she's revered for spotting talent in both horses and riders, giving them tremendous support in achieving their best.
In return, three horses have gifted Helen with National Horse of the Year titles-Logically, Roses are Red and Gabriel-while many others have accumulated championships year after year at some of the country's most prestigious events-the National Horse Show, Pennsylvania National, Washington International and Devon. Many past and current iconic riders, such as Joe Darby, Kevin Lenehan, Buddy Brown, Louise Serio and, for the past 20 years, Jennifer Alfano, have attained success in and out of the show arena thanks, in part, to Helen's faith and encouragement.
"As a young professional starting out, Helen really gave me a chance, letting me ride some of her amazing horses. As the years pass, she continues her support and loyalty. Helen will always be by my side, cheering me on and having top horses for me to show. She is the best owner you could have and an even better FRIEND."-Jennifer Alfano.
Similar sentiments about Helen have been expressed by top trainers, judges and riders throughout the equine community. "Helen is a believer in tradition. She is a class act who has brought so much to our hunter world."–Frank Willard R Judge.
Helen's history is much more than that of an owner. She began riding at the age of 3 and over the years, has been a fierce competitor in multiple disciplines-showing in the American Saddlebreds (three- and five-gaited), side saddle, pleasure driving ponies and, of course, hunters.
Currently, Sting and Miss Lucy successfully compete with Jennifer Alfano in the USHJA International Hunter Derby Series. If these equine partners could speak, there's no doubt it would be a unanimous chorus of praise and appreciation for Helen's care, love and devotion to their well-being. "Helen always makes sure her horses are retired with dignity and well cared for."-Scott Williamson, R Judge.
Considered by so many as the "ultimate owner," Helen continues to build a legacy of generosity and dedication to our sport, to her horses, to her extended equestrian family and to young riders with big dreams. USHJA is deeply appreciative of Helen's devotion to our sport and proud to honor her as the first recipient of the Mrs. A.C. Randolph Owners Legacy Award.